#PreMarket Primer: Monday, December 8: Falling Oil Prices Could Be A Positive For International Economies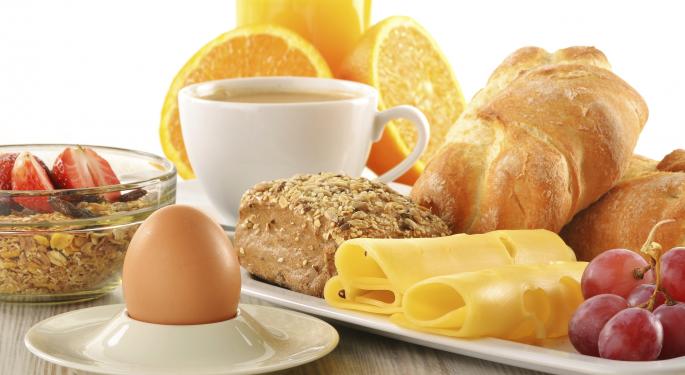 Oil prices have been suffering since last month's OPEC meeting when the cartel decided against cutting output and instead allowed the market to determine prices. Now, policy makers say that the commodity's near five-and-a-half-year lows could give the global economy the boost it needs to get back on track.
Stanley Fischer, the vice chairman of the Federal Reserve said the tumbling prices could give consumers and manufacturers a break, and are more likely to boost U.S. GDP than lower it. According to the IMF, exporting nations are bearing the brunt of the economic hardship, while importing nations like Italy and Germany could see as much as a percentage point increase in GDP due to the supply glut.
In other news around the markets:
Non-farm payrolls data out on Friday all but confirmed that the U.S. labor market is back on track with employers adding 321,000 jobs in November. The figure marks the largest increase in new jobs since January 2012, and puts the nation on track to have the fastest rate of job growth since 1999. The unemployment rate remained constant at 5.8 percent, more than 1 percent below last year's 7 percent.
Protests across the United States raged on over a grand jury's decision not to press charges against a white police officer for his role in choking an unarmed African-American man to death. The decision came just days after a different jury dismissed criminal charges against another white police officer who shot an unarmed African-American teenager in August. Mostly peaceful demonstrations turned violent in Berkeley, California, as protesters threw rocks at police and looted at least three local businesses.
After accusations that North Korea was behind the recent hacking attack on Sony Pictures Entertainment, the nation responded by denying any involvement. However, the nation's KCNA news agency said the cyber break-in could have been carried out by supporters of North Korea who sympathize with the nation's struggles.
Revised data out on Monday showed that the Japanese economy performed worse than initially reported in the third quarter. The figure showed that the economy contracted 1.9 percent, the nation's second consecutive quarterly decline, meaning that Japan has fallen into a technical recession. The revised figure surprised, as most expected the decline to be less than the 1.6 percent that the Japanese government had estimated.
Asian Markets
Asian markets were mostly higher with the exception of the KOSPI, which fell 0.39 percent. The NIKKEI was up 0.08 percent, the Shanghai composite gained 2.86 percent, the Shenzhen composite was up 1.88 percent and the Hang Seng index rose 0.19 percent.
European Markets
European Markets were down across the board; the FTSE fell 0.55 percent, the STOXX 600 was down 0.29 percent, the DAX lost 0.26 percent and the CAC 40 lost 0.41 percent.
Energy futures sank lower; Brent futures were down 1.40 percent and WTI futures lost 1.03 percent.Gold and silver were both higher, up 0.45 percent and 0.66 percent respectively. However, industrial metals were down across the board; copper lost 0.26 percent, aluminum was down 0.63 percent, zinc fell 0.04 percent and tin was down 1.00 percent.
The euro continued to slide against the dollar, falling to $1.2256. The common currency also lost 0.05 percent against the pound and 0.48 percent against the yen.The dollar was also lower against the yen, down 0.26 percent, but the green back gained 0.06 percent against the pound and 0.38 percent against the Australian dollar.
Earnings
Notable earnings released on Friday included:
Bank Of Nova Scotia (NYSE: BNS) reported fourth quarter EPS of $1.39 on revenue of $5.75 billion, compared to last year's EPS of $1.31 on revenue of $5.49 billion.
Genesco Inc. (NYSE: GEN) reported third quarter EPS of $1.28 on revenue of $723.00 million, compared to last year's EPS of $1.43 on revenue of $666.33 million.
Big Lots, Inc. (NYSE: BIG) reported a third quarter loss of $0.06 per share, compared to last year's loss of $0.16 per share on revenue of $1.11 billion.
Stocks moving in the premarket included:
Notable releases expected on Monday include:
IDT Corporation (NYSE: IDT) is expected to report EPS of $0.42 on revenue of $415.00 million, compared to last year's EPS of $0.32 on revenue of $420.67 million.
Diamond Foods, Inc. (NASDAQ: DMND) is expected to report first quarter EPS of $0.25 on revenue of $253.54 million, compared to last year's EPS of $0.18 on revenue of $234.67 million.
H&R Block Inc (NYSE: HRB) is expected to report a second quarter loss of $0.42 per share on revenue of $142 million, compared to last year's loss of $0.42 per share on revenue of $134.34 million.
Economics
Monday's economic calendar will be relatively thin with economic releases expected on including German industrial production and the Japanese current index.
For a recap of last week's market action, click here.
Tune into Benzinga's pre-market info show with Dennis Dick and Joel Elconin here.
View Comments and Join the Discussion!
Posted-In: Earnings News Guidance Emerging Markets Eurozone Futures Commodities Previews