#PreMarket Primer: Wednesday, November 19: Burst Of Cold Creates Chaos In New York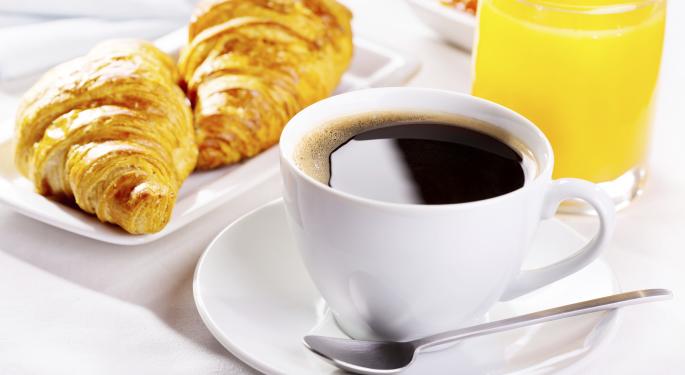 All 50 U.S. states saw temperatures at or below freezing on Tuesday, marking the nation's coldest November since 1976.
The early arrival of winter brought about dangerous driving conditions with some parts of New York receiving up to 60 inches of snow.
Ten New York counties declared a state of emergency and four people's deaths have been attributed to the cold.
The icy temperatures could provide a much needed boost for crude prices, though any effect is likely to be minimal.
However, with the holiday shopping season on its way and the highly anticipated Black Friday kick off coming up next week, large retailers are hoping this week's burst of cold is not an indication of a harsh winter ahead.
In other news around the markets:
As Dollar General Corp (NYSE: DG) moves ahead with its acquisition of Family Dollar Stores Inc. (NYSE: FDO), the discount retailer may have to shut down around 4,000 stores. The company has already agreed to divest 1,500 stores as part of its acquisition offer, but the New York Post reported that the U.S. Federal Trade Commission may force Dollar General to more than double that figure in order to win approval.
In spite of a massive lobbying effort, a bill that would force the approval of the Keystone XL pipeline was stopped in the Senate, falling just short of the 60 votes needed for approval. The $8 billion project had the support of all 45 republican senators and 14 democrats. President Obama has been vocal about his disapproval of the bill, saying that a full review of the project needs to be completed before moving forward and that he would veto the pipeline if it significantly increases greenhouse gas emissions.
Despite recent reports showing that Japan fell into recession in the third quarter, the Bank of Japan said Wednesday that it was maintaining its view that the economy was experiencing moderate recovery. The bank reassured markets that the recent struggles due to April's sales tax hike are only temporary, a contrast to Prime Minister Shinzo Abe's announcement earlier this week that he was holding off on another tax hike to give the economy time to adjust.
AutoZone Inc. (NYSE: AZO) was found guilty of mistreating one of its female employees based on gender on Monday in a landmark case for employee-discrimination suits. Rosario Juarez alleged that she was demoted after the company learned that she was pregnant, before being eventually fired. She was awarded $800,000 in damages last week, but on Monday the jury set punitive damages at $185 million. Following the verdict, AutoZone said it would go back to court next week to try to reduce the amount.
Asian Markets
Asian markets were mostly lower with the exception of the Shenzhen composite, which gained 0.46 percent. The NIKKEI was down 0.32 percent, the Shanghai composite fell 0.21 percent, the KOSPI was down 0.01 percent and the Hang Seng index fell 0.66 percent.
European Markets
European markets were mostly higher with the exception of the FTSE and the IBEX, which lost 0.20 percent and 0.11 percent respectively. The STOXX 600 was up 0.09 percent, the DAX rose 0.32 percent and the CAC 40 was up 0.15 percent.
Energy futures were mixed; Brent futures gained 0.52 percent and WTI futures were down 0.13 percent. Gold and silver gained 0.05 percent and 0.10 percent respectively, while industrial metals were mostly lower with the exception of copper, which rose 0.08 percent. Aluminum was down 0.89 percent, zinc lost 0.44 percent and tin was down 0.63 percent.
Ahead of the release of the Federal Reserve's meeting minutes, the dollar gained 0.64 percent against the yen and 0.91 percent against the Australian dollar, but lost 0.24 percent against the pound. The euro was steady at $1.2534 and gained 0.66 percent against the yen, but lost 0.20 percent against the pound.
Earnings
Notable reports released on Tuesday included:
Stocks moving in the Premarket included:
Notable releases expected on Wednesday include:
Economics
All eyes will be on the Federal Reserve's policy meeting minutes on Wednesday as investors look for any clues about the bank's plans to raise interest rates. Other notable releases will include U.S. building permits, U.S. oil inventory data, U.S. housing starts, Japanese manufacturing PMI, Chinese manufacturing PMI and the Japanese trade balance.
For a recap of Tuesday's market action, click here.
Tune into Benzinga's #PreMarket Prep with Dennis Dick and Joel Elconin here.
Posted-In: Earnings News Guidance Emerging Markets Eurozone Futures Commodities Previews
View Comments and Join the Discussion!