#PreMarket Primer: Friday, October 31: BOJ Spooked By Lackluster Growth And Inflation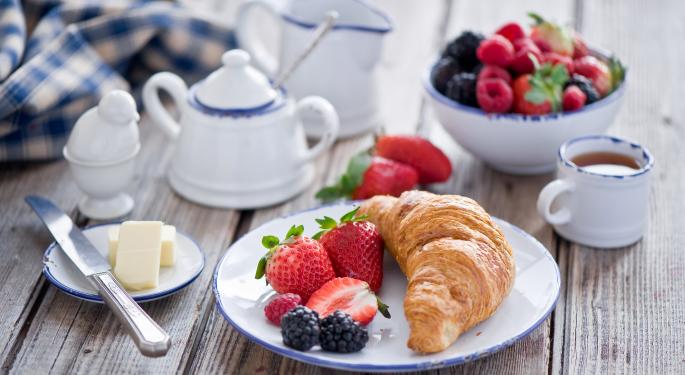 On Friday, the Bank of Japan surprised investors by announcing a new round of stimulus in an effort to kickstart the nation's flagging growth and combat weak inflation.
After a hefty sales tax increase in April, the nation's economy has struggled to get back on track, and the central bank has been hesitant to add to its already large quantitative easing package.
However, the bank voted to increase its government bond purchases by 30 trillion to 80 trillion yen per year. BOJ Governor Haruhiko Kuroda said the increased spending was a preemptive measure aimed at helping the bank reach its goals earlier than expected, though many saw the stimulus as proof that Kuroda's plan to buoy the Japanese economy had failed.
In news around the markets:
Data Show U.S. Economy Is Growing
Despite expectations that the U.S. economy stumbled in the headwinds from a stalling global economy, the nation's third quarter GDP was unexpectedly upbeat. On Thursday, a report showing that the U.S. economy grew 3.5 percent from July to September rather than the 3.0 percent that was forecast helped boost investor confidence in the nation's recovery. Though the figure, itself, was encouraging, many economists were concerned that consumer spending remained troubled and that the increase came mostly from increased defense spending and inventories. With the global economy still struggling, many worry that if demand abroad drops off, the U.S. economy will do an about face.
German Data Worry Investors
Germany has become a source of worry for the eurozone, as the region's largest economy and steam engine throughout the crisis looks to be failing. German inflation data out on Thursday showed an unexpected fall, and retail sales figures for September also disappointed. The Federal Statistical Office released a report on Friday showing that Germany's September retail sales were down 3.2 percent from August's figures, a far cry from the 0.8 percent loss that was forecast.
Tim Cook Makes Public Statement About Sexual Orientation
On Thursday, Apple Inc. (NASDAQ: AAPL) CEO Tim Cook said he was "proud to be gay," his first open admission since taking over one of the most valuable companies on Wall Street. The news was unsurprising to most, as rumors about Cook's sexuality have been circulating for years. In a BusinessWeek essay, Cook wrote that he had been reluctant to discuss the matter in the past because he wanted to keep his personal life private, but that he hopes by publicly coming out he can help others come to terms with themselves and break down some of the stigmas attached to gay businesspeople.
Wal-Mart Considers Price-Matching Program For Holiday Shopping
In gearing up for the holiday shopping season, Wal-Mart Stores, Inc. (NYSE: WMT) is looking to compete with online retailers like Amazon.com, Inc. (NASDAQ: AMZN) by implementing a price-matching program. Brick and mortar retailers have long struggled against the low pricing and convenience of their online counterparts, but Wal-Mart is hoping to break through that barrier by offering its customers a low-price guarantee. However, the program is still in the testing phase, and Wal-Mart executives are working to determine if the company will lose significant profits if the program is rolled out nationwide.
Asian Markets
Asian markets were higher; the Shanghai composite gained 1.25 percent, the Shenzhen composite rose 0.33 percent, the KOSPI was up 0.28 percent, the Hang Seng index gained 1.25 percent and the NIKKEI had the largest gain, up 4.83 percent.
European Markets
European markets were up across the board; the FTSE rose 1.07 percent, the STOXX 600 was up 1.22 percent, the CAC 40 gained 1.79 percent and the DAX rose 1.59 percent.
Energy futures were lower; Brent futures lost 0.90 percent and WTI futures were down 0.70 percent. Gold and silver lost 0.91 percent and 2.04 percent, respectively, but industrial metals were mixed. Copper gained 0.82 percent and zinc was up 0.22 percent, but aluminum lost 0.25 percent and tin was down 0.12 percent.
The dollar soared against the yen on Friday as the two nations' central banks moved in opposite directions. The greenback gained 2.17 percent against the yen, 0.13 percent against the pound and 0.28 percent against the Australian dollar. The euro was also higher against the yen, up 1.70 percent, but lost 0.45 percent against the dollar and 0.33 percent against the pound.
Earnings
Notable earnings released on Thursday included:
Stocks moving in the #PreMarket included:
Notable earnings expected on Friday include:
Economics
Notable economic releases expected on Friday include Chinese manufacturing PMI, U.S. consumer sentiment, Canadian GDP, Italian CPI and the Spanish current account.
For a recap of Thursday's market action, click here.
Tune in to Benzinga's #PreMarket info show with Anne-Marie Baiynd, Todd Sullivan & Dr. Mikhail Melnik here.
Posted-In: Amazon.com Apple Inc.Earnings News Commodities Forex Pre-Market Outlook Markets
View Comments and Join the Discussion!