Logistics Giant Prologis Shares Global Industrial Outlook During Q3 Earnings Call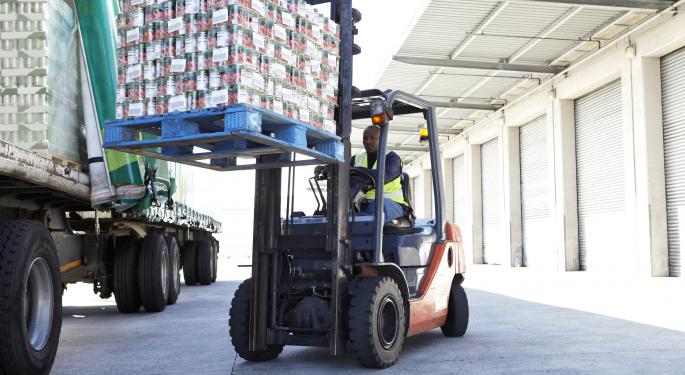 San Francisco, CA-based Prologis Inc (NYSE: PLD) owns and operates more than 2,800 Class-A industrial/distribution facilities serving 4,700 corporate customers, located in 21 countries around the globe.
Prologis sports a $20-billion market cap, making it the largest U.S. industrial real estate trust (REIT) with more than $50 billion of total assets under management.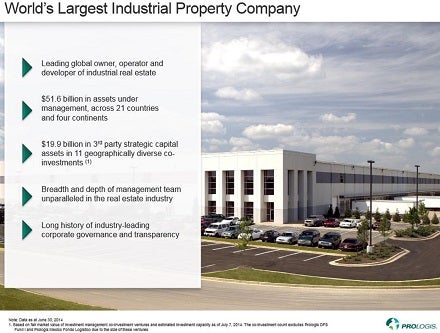 Related Link: Simon Property Group Q3 Earnings Call: What Retail Investors Need To Know
Prologis is actively involved in developing new industrial real estate projects -- both wholly-owned and in joint ventures -- with ~10,000 acres of land banked for future development. This land is anticipated to support more than 550 million SF of future development activity worldwide.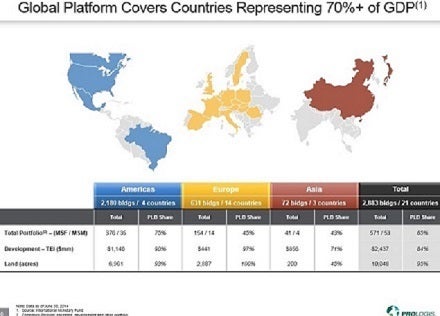 The Prologis customer base represents a broad cross-section of diverse industries worldwide. This gives Prologis a rather unique perspective on the health of the global economy on a region by region basis.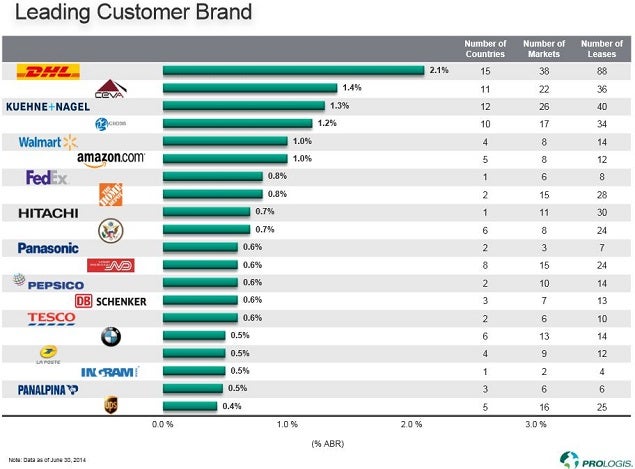 Prologis Operating Highlights
Prologis appears to be hitting on all cylinders operationally year over year (Y/Y): occupancy, customer retention, net effective rent increases and increases in same store net operating income (NOI).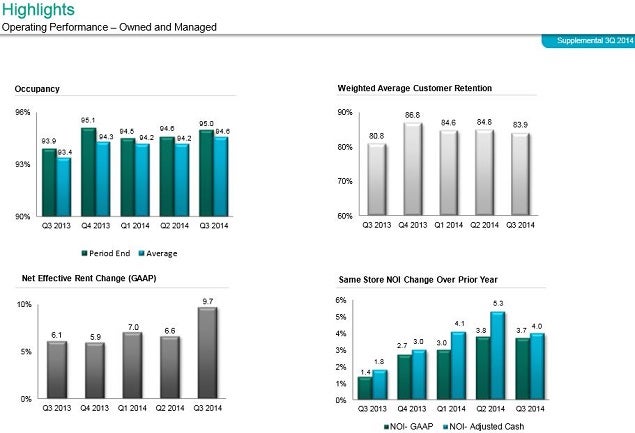 NOI breakout: The U.S. accounts for 72 to 73 percent, Europe 23 percent and Asia 4 to 5 percent. This is the seventh consecutive quarter of net positive rent-rollovers, up just under 10 percent across the entire portfolio. Occupancy was up to 95 percent by the end of the quarter.
Updated Guidance - Full Year 2014
CEO and Chairman Hamid Moghadam opened his prepared remarks with this observation: "Despite cautious macroeconomic headlines, our global markets continue to benefit from decent demand with occupancy and rents rising." Key takeaways included:
Core FFO midpoint increased from $1.82 to $1.86 per share to $1.85 to $1.86 per share. This represents a Y/Y growth of more than 12 percent, which will result in full year core adjusted funds from operations (AFFO) growth of more than 20 percent.
Year-end occupancy guidance increased to a range between 95.5 to 96 percent.
Increasing the range of third-party building acquisitions to $1.5 to $1.7 billion. (That figure excludes its U.S. NAIF fund investment).
Total capital deployment of between $2 billion to $2.2 billion.
Prologis U.S. Markets Update
Overall net absorption for Class-A industrial space is running at nearly double the pace of new product delivery. Vacancies are at an all-time low in many U.S. industrial markets, excluding Indianapolis, Houston and Dallas (where increased supply will cause vacancies to trend higher in 2015).
U.S. markets with strong demand characteristics compared to new supply include: Seattle, which has flipped to a big deficit of Class-A space; South Florida (Miami) and Washington D.C. where the absorption rate of industrial space is outpacing the delivery of new product.
The acquisition market for stabilized institutional quality properties remains competitive in the U.S., with cap rates below 5 percent in some core markets.
Prologis Global Trends Update
Prologis said that European demand is improving despite macro-economic uncertainty:
Northern Europe and United Kingdom lead the way with higher occupancy and rent levels, while London was singled out as being an exceptionally strong submarket -- even stronger than core U.S. markets.
Southern Europe, Central Europe, and Eastern Europe lag behind, showing signs of recovery and consolidation -- but no rental rate pricing power.
Hungary, France and Italy: All three have been lagging but have begun to show signs of improvement.
CEO Moghadam added regarding Europe, "The key is to be nimble in this changing landscape, with the window for portfolio acquisition closing." Moving forward in Europe the Prologis focus will likely be on more "one-of" acquisitions.
Prologis gave its perspective on other regions:
Brazil: Operating performance is better than the headlines. Despite downward revisions of forecasted GDP, demand for Class-A logistics space exceeds supply. Prologis has a robust pipeline of development deals in Brazil.
Mexico: The market has been healthy for Prologis industrial projects.
Japan and China: Both continue to be a strong markets for Prologis. Demand still exceeds supply in Japan and China. Prologis pricing power on lease roll-overs has been very strong in China.
Bottom Line
On market perceptions Moghadam observed that everybody had written Europe off "as a dead continent, and I think they are wrong."
Prologis markets in the Americas have been strong performers. "Six of our markets are at an all-time high and 10 of our larger markets are 97 percent leased or better." He said, "I can't think of a better environment for pushing rents…" However, this opportunity is not going to last forever.
Moghadam went on to caution, "So, I think people are too optimistic about the U.S. in the long-term, and too pessimistic speaking about Europe."
Posted-In: Hamid MoghadamEarnings News REIT Guidance Global General Real Estate Best of Benzinga
View Comments and Join the Discussion!