#PreMarket Primer: Wednesday, October 8: IMF Cuts Global Growth Prospects, Puts A Damper On Wall Street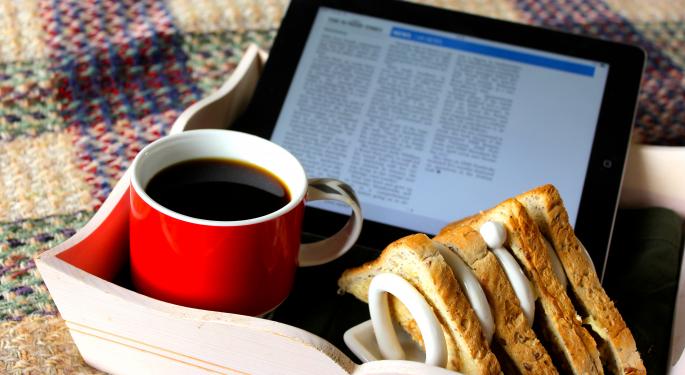 On Tuesday, the International Monetary Fund reduced its global economic growth forecast for the current year for the ninth time in the past three years.
The fund reduced this year's growth expectation to 3.3 percent and also trimmed its 2015 forecast to 3.4 percent, citing slackening growth in developed economies like the eurozone and Japan, as well as weaker growth in large emerging markets like Brazil.
The IMF also warned of the perils that lie ahead as monetary policy changes to accommodate the expanding U.S. economy. As the Federal Reserve continues to tighten, there are concerns about a market crash when the bank raises interest rates.
The fund warned that U.S. regulators will have a big job on their hands and need to be prepared to deal with the fallout of a rate hike.
In other news around the markets:
Wal-Mart Cuts Health Care Coverage For Part-Time Workers
With this fall being the first time employers can access the full benefit of the federal health care plans, Wal-Mart Stores Inc. (NYSE: WMT) announced that it was cutting its health insurance for 30,000 part-time workers and that other employees would see a rise in premiums. The decision underscores the growing practice of employers shifting health care costs on to their employees as taxes are expected to rise on generous health care plans.
Key Syrian City Still At Risk From Islamic Militants
With Islamic State militants closing in on the Syrian border town of Kobani, the U.S. and its allies launched another round of airstrikes that reportedly pushed the extremist fighters back to the edges of the town. ISIS drove nearly 200,000 Kurdish residents across Turkey's border as the town looked likely to fall into the group's hands. Despite the success of Wednesday's strikes, most defense experts believe that ISIS cannot be stopped without the addition of ground forces.
Actavis Makes Another Bid For Allergan
On Wednesday, Reuters reported that Actavis plc (NYSE: ACT) is planning to make another acquisition offer to Allergan, Inc. (NYSE: AGN), and that this time the pharmaceutical company responsible for Botox may be open to a sale. Allergan has been fending off offers from Valeant Pharmaceuticals International Intl Inc (NYSE: VRX), but may accept Actavis' offer if it values the company at more than $200 per share.
Spain Grapples With New Ebola Case
Spanish healthcare officials are looking to get ahead of an Ebola scare after a Spanish nurse was hospitalized having tested positive for the disease. This case marks the first transmission of Ebola outside West Africa and raises serious questions about the preparedness of the international community to take on the disease. While Spanish officials search for the reason for the spread, the nation's already struggling economy could face even more hardship as this scare is likely to keep some from visiting the nation, something that will depress income from tourism.
Asian Markets
Asian markets were mostly lower with the exception of China's Shanghai and Shenzhen composites, which gained 0.77 percent and 1.41 percent respectively. The NIKKEI was down 1.19 percent, the KOSPI fell 0.39 percent and the Hang Seng index fell 0.68 percent.
European Markets
European markets were down across the board; the FTSE lost 0.49 percent, the STOXX 600 fell 0.79 percent, the DAX was down 0.79 percent and the CAC 40 fell 0.48 percent.
Energy futures declined following the IMF's reduced global economic growth forecast. Brent futures lost 1.13 percent and WTI futures were down 1.24 percent. Gold and silver rose 0.54 percent and 0.93 percent respectively, while industrial metals were mixed. Copper lost 0.44 percent and tin was down 0.76 percent, but aluminum gained 1.35 percent and zinc was up 0.48 percent.
Currency markets were relatively quiet; the euro continued to weaken, losing 0.02 percent to the dollar and 0.07 percent to the yen. The dollar gained 0.07 percent against the pound and 0.19 percent against the Australian dollar, but lost 0.02 percent against the yen.
Notable earnings released on Tuesday included:
Yum! Brands, Inc. (NYSE: YUM) reported third quarter EPS of $0.87 on revenue of $3.35 billion, compared to last year's EPS of $0.85 on revenue of $3.47 billion.
Landec Corporation (NASDAQ: LNDC) reported first quarter EPS of $0.09 on revenue of $133.60 million, compared to last year's EPS of $0.18 on revenue of $109.48 million.
Stocks moving in the #PreMarket included:
Notable earnings releases expected on Wednesday include:
Economics
Wednesday will be another quiet day for economic releases with reports including U.S. oil inventory data, Spanish industrial production and the U.S. FOMC meeting minutes.
For a recap of Tuesday's market action, click here.
Tune into Benzinga's pre-market info show with Fari Hamzei, Antonio Figueiredo & Brett Steenbarger here.
Posted-In: ActavisEarnings News Commodities Forex Pre-Market Outlook Markets Movers
View Comments and Join the Discussion!