#PreMarket Primer: Tuesday, October 7: Negotiations In Hong Kong Expected To Be Difficult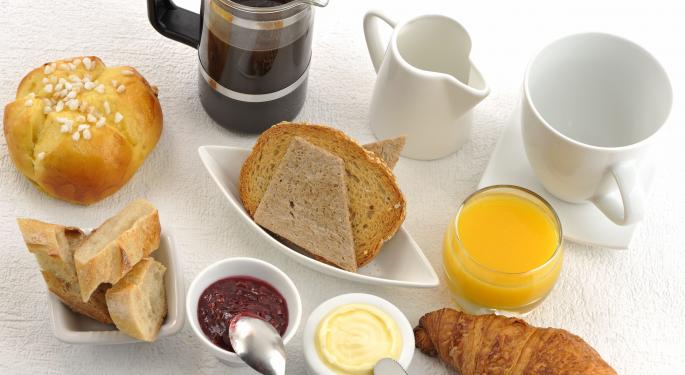 Student protesters and Hong Kong government officials are planning to hold another round of negotiations on Tuesday, but the two sides are showing no signs of reaching common ground.
For the moment, the talks have centered on how to approach the issues rather than resolution, but both sides have been amicable.
Meanwhile, protesters throughout the city have started to disperse, but traffic remains an issue as some streets are still closed or partly blockaded.
In news around the markets:
Hewlett-Packard Confirms Split
On Monday, Hewlett-Packard Company (NYSE: HPQ) confirmed rumors that the company was planning to divide its printer and personal computer business from its software and consulting operations into two separate businesses. The two companies, expected to be roughly the same size after the separation, will be aimed in different directions. Following the announcement, the company's stock gained momentum and rose 5.9 percent.
Facebook Finalizes Deal For WhatsApp
Facebook Inc (NASDAQ: FB) sealed the deal to acquire WhatsApp on Monday in an agreement worth $22 billion.The messaging service's founder Jan Koum is to receive around $2 billion in stock while the rest of the company's 70 employees will gain 46 million grants in restricted stock units that will vest over a four-year time period.
Islamic State Forces Advance In Syria
Islamic State militants continued their push across Syria's border and assaulted Kobani, a Kurdish border town. While thousands of the town's residents fled to Turkey, Kurdish forces remained to protect the city. On Monday, the Kurdish fighters said Islamic militants had advanced 300 meters inside the eastern district of Kobani.
German Industrial Production Falls 4 Percent
German industrial production figures disappointed this week and sent yet another signal to the European Central Bank that more stimulus is needed. Germany's factory output fell 4 percent in August, a huge drop from estimates of just a 1.5 percent decline.
Asian Markets
Asian markets were mixed; the NIKKEI was down 0.67 percent and the Shanghai composite was flat, but the Shenzhen composite rose 0.54 percent, the Hang Seng index gained 0.46 percent and the KOSPI was up 0.23 percent.
European Markets
European markets were down across the board; the FTSE lost 0.73 percent, the STOXX 600 was down 0.91 percent, the DAX lost 0.85 percent and the CAC 40 was down 0.97 percent.
Energy futures were lower; Brent futures lost 0.45 percent and WTI futures were down 0.37 percent. Gold and silver gained 0.18 percent and 1.54 percent, respectively, and industrial metals were also higher with the exception of copper, which lost 0.20 percent. Aluminum was down 0.78 percent, zinc fell 1.94 percent and tin was down 0.64 percent.
The euro continued to decline against its peers, falling 0.21 percent against the dollar, 0.19 percent against the pound and 0.54 percent against the yen. The dollar gained 0.03 percent against the pound, but lost 0.32 percent against the Australian dollar and 0.27 percent against the yen.
Earnings
Notable earnings released on Monday included:
IDT Corporation (NYSE: IDT) reported EPS of $0.39 on revenue of $420.70 million, compared to last year's EPS of $0.13 on revenue of $411.13 million.
Team, Inc. (NYSE: TISI) reported first quarter EPS of $0.34 on revenue of $188.12 million, compared to last year's EPS of $0.123 on revenue of $174.31 million.
Stocks moving in the #PreMarket included:
Notable earnings releases expected on Tuesday include:
Yum! Brands, Inc. (NYSE: YUM) is expected to report third quarter EPS of $0.89 on revenue of $3.48 billion, compared to last year's EPS of $0.85 on revenue of $3.47 billion.
Landec Corporation (NASDAQ: LNDC) is expected to report first quarter EPS of $0.09 on revenue of $121.91 million, compared to last year's EPS of $0.18 on revenue of $109.48 million.
Economics
Notable releases expected on Tuesday include, the U.S. Redbook, British industrial production, British manufacturing production and the Japanese Current Account.
For a recap of Monday's market action, click here.
Tune in to Benzinga's #PreMarket Prep show with Nic Chahine, Mark Melin & Rande Howell here.
View Comments and Join the Discussion!
Posted-In: Earnings News Commodities Forex Economics Pre-Market Outlook Markets Movers