#PreMarket Primer: Thursday, October 2: Hong Kong Protests Threaten To Escalate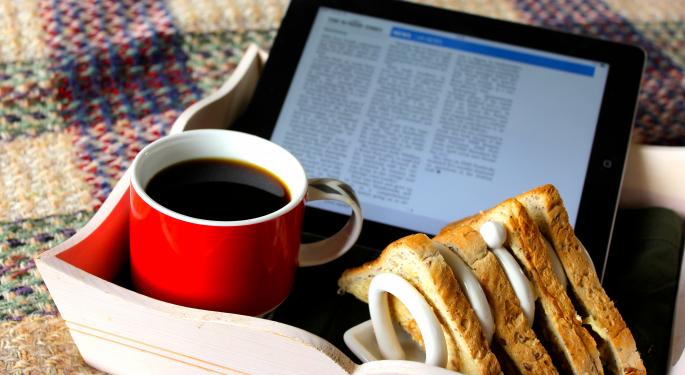 On Thursday, tens of thousands remained throughout the streets of Hong Kong calling for the region's Chief Executive Leung Chun-ying to resign.
The protesters have been blockading Hong Kong's roadways for days now, pushing for full democracy and the ability to elect their own candidates.
Now, some are threatening to escalate the demonstrations if Leung doesn't step down by midnight. Government officials have said Leung will not consider stepping down, but has offered to meet with protesters in order to open the lines of communication.
In other news around the markets:
U.S. Works To Contain Domestic Ebola Outbreak
U.S. health officials are attempting to keep a recent Ebola scare in the U.S. contained by monitoring those who may have come into contact with the disease. A Liberian man who visited his family earlier in September arrived back in the states on September 20, began showing symptoms of Ebola and was hospitalized days later. On Wednesday, officials said a small group of adults and five children who may have been in contact with the man are being closely monitored to ensure there is no further spread.
Coca-Cola Revises Executive Compensation Plan
The Coca-Cola Company (NYSE: KO) is revising its executive compensation plan after receiving harsh criticism from Warren Buffett and several of its shareholders, who said the plan was excessive. Now Coca-Cola will dial down the stock options available to executive-level employees and instead offer cash-based performance awards.
Pepsi Partners with Amazon, Introduces Pepsi True
PepsiCo, Inc. (NYSE: PEP) is teaming up with Amazon.com, Inc. (NASDAQ: AMZN) to sell its latest product, Pepsi True. The drink is a mid-calorie beverage sweetened with both sugar and stevia, and will be available exclusively on Amazon. The drink is expected to be released in mid-October and follows Coca-Cola's decision to sell its own throwback beverage, Surge, on Amazon in September.
Secret Service Director Resigns
On Wednesday, the U.S. Secret Service director resigned amid criticism that she left the president vulnerable to several avoidable risks during her 18-month stint as head of the Secret Service. U.S. policymakers have been calling for her resignation since mid-September when an Iraq war veteran scaled the White House fence and made his way into the mansion before being stopped by an off duty Secret Service agent.
Asian Markets
Asian markets were mostly lower with the exception of the Shenzhen composite, which gained 0.54 percent. The NIKKEI was down 2.61 percent, the KOSPI fell 0.77 percent, the Hang Seng index lost 1.28 percent and the Shanghai composite was flat.
European Markets
Europe's markets began the day on a low note; the FTSE fell 0.40 percent, the STOXX 600 was down 0.63 percent, the DAX fell 0.47 percent and the CAC 40 was down 0.51 percent.
Energy futures were moderately lower; Brent futures lost 0.06 percent and WTI futures were also down 0.06 percent. Gold gained 0.35 percent but silver was down 0.02 percent and industrial metals were mostly lower with the exception of tin, which gained 0.17 percent. Copper fell 0.49 percent, aluminum was down 1.99 percent and zinc fell 0.79 percent.
Currency markets were quiet on Thursday; the euro was steady at $1.2625 and lost 0.06 percent against the pound. The dollar was down 0.09 percent against the pound and 0.56 percent against the Australian dollar, but remained flat against the yen and gained 0.02 percent against the franc.
Earnings
Notable earnings released on Wednesday included:
Acuity Brands, Inc. (NYSE: AYI) reported fourth quarter EPS of $1.26 on revenue of $668.70 million, compared to last year's EPS of $1.03 on revenue of $579.80 million.
AZZ Incorporated (NYSE: AZZ) reported second quarter EPS of $0.53 on revenue of $193.40 million, compared to last year's EPS of $0.64 on revenue of $189.78 million.
Stocks moving in the #PreMarket included:
Notable earnings expected on Thursday include:
Constellation Brands, Inc. (NYSE: STZ) is expected to report second quarter EPS of $1.16 on revenue of $1.64 billion, compared to last year's EPS of $0.96 on revenue of $1.46 billion.
McCormick & Company, Incorporated (NYSE: MKC) is expected to report third quarter EPS of $0.81 on revenue of $1.03 billion, compared to last year's EPS of $0.78 on revenue of $1.02 billion.
Global Payments Inc (NYSE: GPN) is expected to report first quarter EPS of $1.14 on revenue of $675.46 million, compared to last year's EPS of $1.00 on revenue of $629.68 million.
Economics
The European Central Bank's policy meeting will take center stage on Thursday's economic calendar as investors wait to see whether or not the bank decides to ease further in the face of a waning economy's falling inflation. Other notable releases will include U.S. initial and continuing jobless claims, U.S. factory orders and China's non-manufacturing PMI figures.
For a recap of Tuesday's market action, click here.
Tune in to Benzinga's #PreMarket Prep show with Harlan Pyan, Adam Sarhan & Cate Long here.
Posted-In: Amazon.com Coca-Cola Co.Earnings News Commodities Forex Pre-Market Outlook Markets
View Comments and Join the Discussion!