#PreMarket Primer: Wednesday, October 1: First Case Of Ebola In The US Confirmed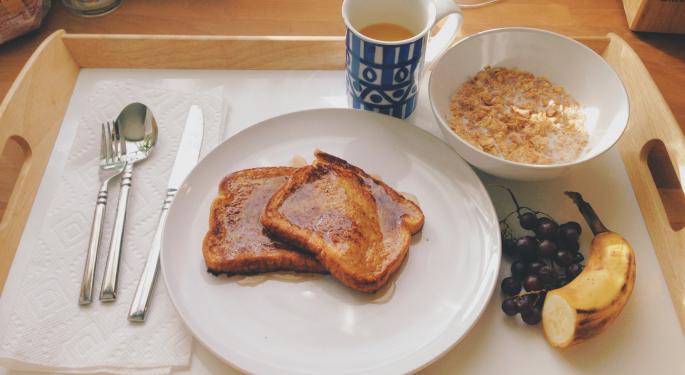 On Tuesday, the Centers for Disease Control and Prevention (CDC) confirmed the first case of Ebola in the U.S.
The patient, whose name has not been released, began to develop symptoms on September 24 and was admitted to a Texas hospital's isolation unit on September 28.
The patient contracted the disease while visiting family in Liberia and may have infected a handful of others, but officials from the CDC don't expect to see an outbreak in the U.S. as public health measures are much more stringent and protect against the spread of such a disease.
In other news around the markets:
EBay To Spin Off Electronic Payment System
On Tuesday, eBay Inc (NASDAQ: EBAY) announced that it was planning to split from its electronic payment system, PayPal, as competition within the mobile payment sector grew. The decision came just months after activist investor Carl Icahn pushed for the company to spin off its payments division, something eBay previously fought against.
China Works To Boost Housing Market
Beijing revealed new stimulus measures this week and decided to cut mortgage rates and down payments in an effort to help boost the sagging housing market. The nation also released better-than-expected PMI figures with a September reading of 51.1. Although China is still struggling to adapt to a changing economic environment where exports are no longer supporting the nation's growth, many see the new stimulus measures as a sign that Beijing is willing to do more to help the nation meet its 7.5 percent growth target this year.
Adidas Announces Shareholder Return Program
On Wednesday, Adidas announced that it is planning a shareholder return program that will total 1.5 billion euros over the next three years. The company is planning to begin share buybacks in the fourth quarter, and continue until the end of December 2017.
Hong Kong Protests Continue Through Chinese Holiday
The number of protesters in Hong Kong continued to increase on Wednesday, China's National Day holiday. The tens of thousands of people that gathered in the streets were calling for the city's Chief Executive Leung Chun-ying to resign by midnight. Leung instead urged protesters to disperse peacefully, but the masses moved to the Golden Bauhinia Square, where National Day celebrations were taking place.
Asian Markets
Asian markets were mixed. The NIKKEI was down 0.56 percent, the KOSPI lost 1.41 percent and the Hang Seng index fell 1.28 percent. However, China's Shanghai and Shenzhen composites were up 0.26 percent and 0.54 percent, respectively.
European Markets
Europe's markets were mostly lower with the exception of the DAX and the IBEX, which gained 0.08 percent and 0.11 percent, respectively. The FTSE was down 0.37 percent, the STOXX 600 fell 0.10 percent, the CAC 40 was down 0.16 percent and the MIB lost 0.24 percent.
Energy futures were higher. Brent futures gained 0.25 percent and WTI futures rose 0.36 percent. Gold and silver lost 0.32 percent and 0.30 percent, respectively and industrial metals were also lower with the exception of copper, which gained 0.12 percent. Aluminum was down 0.15 percent, zinc lost 0.09 percent and tin was down 0.44 percent.
The euro continued to slide on Wednesday, falling 0.13 percent against the pound and 0.14 percent against the dollar. The dollar was moving in the opposite direction, up 0.18 percent against the yen, 0.02 percent against the pound and 0.55 percent against the Australian dollar.
Earnings
Notable earnings released on Tuesday included:
Walgreen Company (NYSE: WAG) reported fourth quarter EPS of $0.74 on revenue of $19.06 billion, compared to last year's EPS of $0.73 on revenue of $27.94 billion.
TravelCenters of America LLC (NYSE: TA) reported second quarter EPS of $0.36 on revenue of $2.08 billion, compared to last year's EPS of $0.54 on revenue of $2.02 billion.
Stocks moving in the #PreMarket included:
Ford Motor Company (NYSE: F) was up 0.74 percent in premarket trade after falling 8.53 percent over the past five days.
Gilead Sciences, Inc. (NASDAQ: GILD) gained 0.15 percent in premarket trade after choppy trading took the stock up 1.01 percent over the past five days.
eBay Inc. (NASDAQ: EBAY) was down 1.89 percent in premarket trade after announcing that it will spin off its electric payment system PayPal.
Notable earnings expected on Wednesday include:
Acuity Brands, Inc. (NYSE: AYI) is expected to report fourth quarter EPS of $1.22 on revenue of $647.87 million, compared to last year's EPS of $1.03 on revenue of $579.80 million.
AZZ Incorporated (NYSE: AZZ) is expected to report second quarter EPS of $0.63 on revenue of $208.18 million, compared to last year's EPS of $0.64 on revenue of $189.78 million.
Economics
PMI data will dominate Wednesday's economic calendar with manufacturing PMI data due out from Spain, Italy, France, Germany, the U.K., the eurozone and the U.S. Other notable economic releases will include U.S. oil inventory data and U.S. construction spending.
For a recap of Tuesday's market action, click here.
Tune into Benzinga's #PreMarket Prep show with Fari Hamzei, Sean Udall & Dan Cook here.
Posted-In: Adidas Centers for Disease Control and PreventionEarnings News Commodities Forex Pre-Market Outlook Markets
View Comments and Join the Discussion!