#PreMarket Primer: Monday, September 29: Protesters Vow To Continue Fighting For Democracy In Hong Kong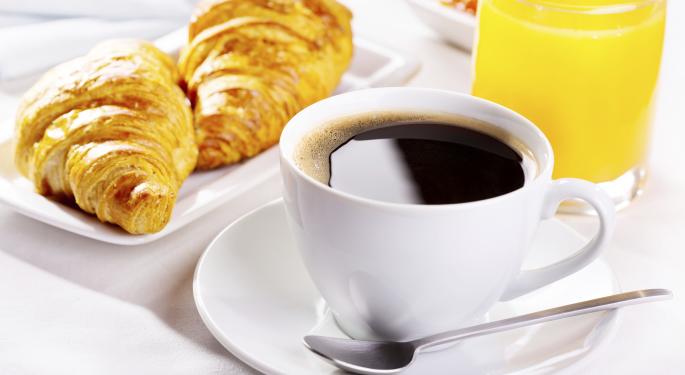 On Monday, riot police withdrew in Hong Kong after nearly 80,000 people took to the streets over the weekend protesting China's limited democracy rule in the former British colony.
Hong Kong has been ruled as a part of China but allowed a limited democracy since 1997. Now, protesters are demanding a full democracy and the ability to nominate their own political candidates. Police clashed with protesters for three nights over the weekend, but withdrew amid relative calm on Monday afternoon.
Hong Kong government officials have asked protesters to disperse peacefully, but some say they will continue to fight for their rights. China will be toeing a fine line in fighting this uprising as too strong of a response would diminish investor confidence in Hong Kong, a global business and financial hub.
In other news around the markets:
Airstrikes In Syria Continue
Over the weekend, a U.S.-led coalition continued with airstrikes in northern Syria in an effort to stem Islamic militants' advances across the Middle East. The strikes are said to have hit and damaged three oil refineries used by ISIS, something the U.S. is hoping will help cut the group's funding. However, information on the impact of the airstrikes has been limited, and reports that the group continued its advance into a Kurdish town near the border of Turkey suggests that this offensive could drag on for an extended period.
Fed Official Shares Concern Over Bank's Plan
On Sunday, the Federal Reserve's Richard Fisher admitted that he is worried about the bank's plans for a rate hike, saying that the Fed could wait too long and make financial markets unstable. Fisher cautioned that as the U.S. economy continues to pick up, the Fed will need to reconsider its timeline for a rate hike.
SoftBank Looks To Acquire DreamWorks
SoftBank Corp (OTC: SFTBF) has begun talks to take over DreamWorks Animation Skg Inc (NASDAQ: DWA), something that would provide SoftBank with even more exclusive content. The talks came just weeks after SoftBank abandoned its efforts to acquire T-Mobile in August. While no details about the negotiations have been released yet, Dreamworks' current market value is around $2 million.
Lenovo Moves Closer To Closing IBM Deal
Lenovo Group Ltd has given October 1 as the date it will close its acquisition of the International Business Machines Corp (NYSE: IBM) x86 server division. The deal, valued at $2.1 billion, will likely give Lenovo a leg up in the market and help the company continue to diversify as the personal computer market wanes.
Asian Markets
Asian markets were mixed. Protests in Hong Kong brought the Hang Seng index down 1.90 percent, and the KOSPI also fell 0.25 percent. The NIKKEI was higher, up 0.50 percent, and China's Shanghai and Shenzhen composites increased 0.49 percent and 0.77 percent, respectively.
European Markets
European markets began the day on a low note; the FTSE fell 0.37 percent, the STOXX 600 was down 0.30 percent, the DAX lost 0.32 percent and the CAC 40 was down 0.42 percent.
Energy futures were lower; Brent futures were down 0.59 percent and WTI futures lost 0.78 percent. Gold gained 0.39 percent and silver was up 0.10 percent, but industrial metals were mostly lower with the exception of zinc, which was flat. Copper lost 0.40 percent, aluminum was down 0.13 percent and tin fell 1.08 percent.
Currency markets were relatively quiet; the euro made up some ground against the yen and gained 0.35 percent, but remained flat against both the pound and the dollar. The greenback was also higher against the yen, up 0.35 percent, and rose 0.54 percent against the Australian dollar.
Earnings
Notable earnings released on Friday included:
BlackBerry Ltd (NASDAQ: BBRY) reported a second quarter loss of $0.02 on revenue of $916.00 million, compared to last year's loss of $0.47 on revenue of $1.57 billion.
Finish Line Inc (NASDAQ: FINL) reported second quarter EPS of $0.54 on revenue of $466.90 million, compared to last year's EPS of $0.54 on revenue of $436.03 million.
Stocks moving in the #PreMarket included:
Notable earnings expected on Monday include:
SYNNEX Corporation (NYSE: SNX) is expected to report third quarter EPS of $1.48 on revenue of $3.40 billion, compared to last year's EPS of $1.24 on revenue of $2.73 billion.
Cintas Corporation (NASDAQ: CTAS) is expected to report first quarter EPS of $0.75 on revenue of $1.10 billion, compared to last year's EPS of $0.63 on revenue of $1.12 billion.
Economics
European data will be the focus of Monday's economic calendar with releases including Spanish retail sales, British consumer credit, eurozone consumer confidence and German CPI. Other notable releases will include U.S. pending home sales and U.S. personal spending data.
For a recap of Friday's market action, click here.
Tune in to Benzinga's #PreMarket Prep show with Kate Stalter, Brad Thomas & Vlad Karpel here.
View Comments and Join the Discussion!
Posted-In: Earnings News Futures Commodities Forex Economics Pre-Market Outlook Markets