#PreMarket Primer: Tuesday, September 23: First Airstrikes In Syria Begin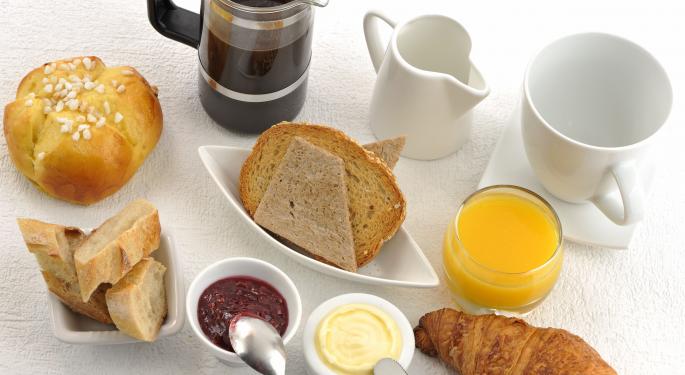 The U.S., alongside its Gulf Arab allies, began the first in a series of airstrikes against Islamic State militants in Syria on Tuesday.
Reuters reported that Saudi Arabia, the United Arab Emirates, Jordan and Bahrain are all taking part with Qatar providing support as needed.
The strike is expected to have killed at least 20 ISIS fighters, but many believe that the group has moved underground and vacated its previous offices and weapons storage after President Barack Obama announced the airstrikes on September 11.
In news around the markets:
Germany Reports Low Manufacturing PMI
German manufacturing PMI came in at its lowest reading since June last year, adding to pressure on the European Central Bank to roll out an asset purchase program and ease further. The figure fell to 50.3, far below economist expectations and dangerously close to slipping below the 50-point mark that indicates expansion. French service PMI returned to stagnation after posting two months of growth with a 49.4 reading.
Koninklijke Philips NV Plans To Split
Koninklijke Philips NV (NYSE: PHG) announced plans to break into two new companies on Tuesday, saying that more details about ownership structures will be available next year. The split is forecast to save the company 100 million euros in 2015 and 200 million euros in 2016.
Allergan Turns Down Actavis Bid, Pursues Salix
Allergan Inc. (NYSE: AGN) turned down an acquisition offer from Actavis PLC (NYSE: ACT) as it continued its pursuit of Salix Pharmaceuticals Ltd (NASDAQ: SLXP). Many expect to hear that Salix has accepted Allergan's bid, estimated at more than $10 billion in cash, later this week as the two wrap up talks about the takeover.
Chinese PMI Data Show Promise, But Could Mean Further Easements
Chinese PMI data out on Tuesday showed that the nation's manufacturing sector could be on the mend after its September reading surpassed expectations at 50.5. However, data also showed that factory employment fell to a more than five-year low, leading many to believe that Beijing could ease further in the coming weeks.
Asian Markets
Asian markets were mixed; the Nikkei fell 0.71 percent, the KOSPI lost 0.51 percent and the Hang Seng index fell 0.49 percent. Meanwhile, China's Shanghai and Shenzhen composites rose 0.87 percent and 1.17 percent, respectively.
European Markets
Europe's markets were down across the board; the FTSE was down 1.02 percent, the STOXX 600 fell 0.94 percent, the DAX lost 0.85 percent and the CAC 40 fell 1.23 percent.
Energy futures picked up; Brent futures were up 0.31 percent and WTI futures gained 0.29 percent. Gold and silver gained 0.44 percent and 0.26 percent, respectively, while industrial metals were mostly lower with the exception of copper, which gained 0.26 percent. Zinc lost 1.54 percent, tin was down 0.47 percent and aluminum was flat.
The euro made some progress against the dollar, up 0.27 percent, and gained 0.29 percent against the pound. However, the common currency lost out to the yen, down 0.16 percent. The dollar was also lower against the yen, down 0.44 percent, but gained 0.04 percent against the pound.
Earnings
Notable earnings released on Monday included:
AutoZone, Inc. (NYSE: AZO) reported fourth quarter EPS of $11.28 on revenue of $3.05 billion, compared to last year's EPS of $10.42 on revenue of $3.10 billion.
Stocks moving in the Premarket included:
Notable earnings expected on Tuesday include:
Economics
PMI data will dominate Tuesday's economic calendar manufacturing PMI due out from France, Germany and the eurozone; and services PMI due out from the eurozone and Germany. Other notable economic releases will include the U.S. Redbook, U.S. crude inventory data and British mortgage approvals.
For a recap of Monday's market action, click here.
Tune into Benzinga's pre-market info show with Nic Chahine, Nate Tobik & David Katz here.
Posted-In: Earnings News Emerging Markets Eurozone Futures Commodities Previews Forex
View Comments and Join the Discussion!