#PreMarket Primer: Monday, September 22: Scotland Seeks To Repair Divide Following Referendum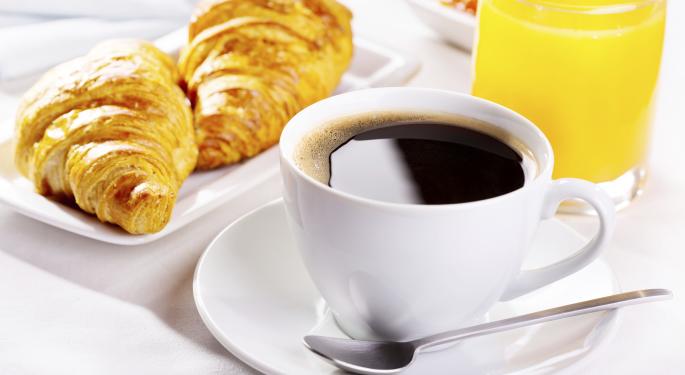 Over the weekend, a rally in Scotland designed to bridge the gap between separatists and unionists took a turn for the worse when the two sides began to argue, resulting in 11 arrests. The final vote, a close 55 percent to 45 percent, has divided the nation and left separatists with a bitter taste moving forward.
Now, Scottish politicians must try to narrow the divide between the two parties by promising changes to the way the country is governed. Moving forward, the nation will be watching Prime Minister David Cameron, as during the vote, he promised to give the nation more power over its taxation and spending.
In news around the markets:
Strike At Air France
Air France has been forced to cancel about 60 percent of its flights since last Monday as pilots continued a strike over the company's decision to expand Transavia, a budget carrier. The strike has been costing the company between 10 and 15 million euros per day and looks set to continue this week as pilots work to extend the benefits and working conditions available for Air France employees to those working for Transavia.
Catalonia Seeks Referendum
On Friday, the Catalonian government made the decision to allow a referendum vote that will likely spark a larger controversy across the nation. Catalonia will vote on whether or not the region will remain a part of Spain, but Madrid is likely to issue an injunction, saying that the vote goes against the Spanish constitution.
Siemens Looks To Acquire Dresser-Rand
Reuters reported that Siemens AG is working towards an agreement to acquire Dresser-Rand Group Inc (NYSE: DRC) for more than $6 billion in cash. The German industrial company may finalize the deal as early as Monday and pay between $80 and $85 per share.
Clashes Continue In Ukraine Despite Ceasefire Agreement
Despite an agreement over the weekend, the Ukrainian government refused to recall its troops in the eastern part of the nation. Kiev said it was unwilling to pull back military support until rebel fighters abided by the nation's ceasefire agreement. On Sunday, Mariupol, a Ukrainian port city, was reportedly experiencing gunfire as pro-Russian separatists continued their push to take it over.
Asian Markets
Asian markets were down across the board; the NIKKEI lost 0.75 percent, the Shanghai composite fell 1.48 percent, the KOSPI was down 0.86 percent, the Shenzhen composite was down 1.30 percent and the Hang Seng index fell 1.33 percent.
European Markets
Europe's markets opened lower on Monday; the FTSE was down 0.50 percent, the STOXX 600 fell 0.37 percent, the DAX lost 0.40 percent and the CAC 40 was down 0.32 percent.

Commodities
Energy futures continued their losing streak with Brent futures down 0.54 percent and WTI futures down 0.39 percent. Gold and silver lost 0.21 percent and 1.68 percent, respectively, and industrial metals were also lower with the exception of zinc, which rose 0.44 percent. Copper lost 1.57 percent and aluminum was down 0.28 percent, while tin was flat.
The euro recovered modestly against the dollar, trading at $1.2860, but continued to lose out to the pound, down 0.18 percent. The dollar was also lower against the pound, down 0.40 percent, and the greenback also fell 0.22 percent against the yen and 0.27 percent against the franc.
Earnings
No notable earnings released on Friday.
Stocks moving in the Premarket included:
Notable earnings expected on Monday include:
AutoZone, Inc. (NYSE: AZO) is expected to report fourth quarter EPS of $11.26 on revenue of $3.07 billion, compared to last year's EPS of $10.42 on revenue of $3.10 billion.
Economics
Monday's economic calendar will be relatively quiet with notable releases including Italian industrial sales, Eurozone consumer confidence and U.S. existing home sales.
For a recap of last week's market action, click here.
Tune in to Benzinga's pre-market info show with Anne-Marie Baiynd, Guy Spier & Greg Harmon here.
Posted-In: Air France Dresser-Rand Group Inc.Earnings News Commodities Forex Pre-Market Outlook Markets
View Comments and Join the Discussion!