#PreMarket Primer: Thursday, August 21: Tension Between Russia And The West Mounting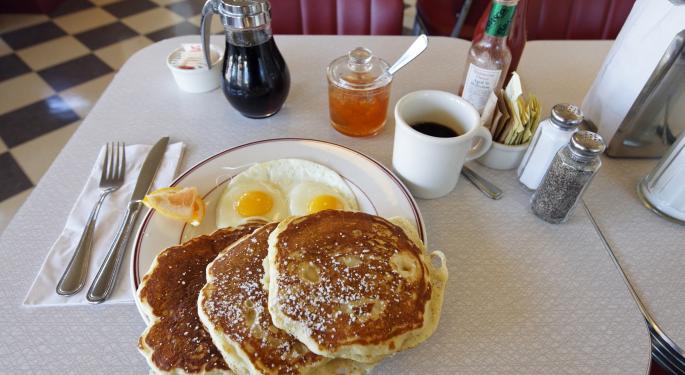 Four McDonald's (NYSE: MCD) restaurants in Moscow have been closed down due to sanitary violations, something U.S. policy makers say is Russia's way of hitting back against the latest round of sanctions.
The franchise in Pushkin Square was the company's most visited locations, as its opening in 1990 marked the end of the cold war, but the restaurant was one of the four that has been closed. Its closure sent a powerful message to the West, indicating that the nation is ready to abandon Western goods rather than back down on its stance in Ukraine.
In other news around the markets:
On Thursday, Hamas militants in Gaza reported that Israeli airstrikes had killed three military commanders. The two sides returned to war on Tuesday after a truce that lasted nearly 10 days was broken. The ongoing conflict has killed more than 2,000 people on the Gaza strip, most of them civilians.
The Wall Street Journal reported that Bank of America (NYSE: BAC) will likely pay its record-breaking $17 billion settlement with the U.S. justice department this week. The bank was involved in a case centered around its mortgage lending practices, which ended with the largest ever settlement between the U.S. and a private company to date.
On Wednesday, Iraqi forces continued their push to retake northern Iraq into the rebel-held city of Tikrit. U.S. airstrikes near the Mosul Dam have helped the country's military advance against the Islamic State militants, but came at a price as the rebel group has released a video depicting the beheading of American journalist James Foley. Now, the Iraqi military says that Islamic State commanders are fleeing across the border to Syria, where the group maintains an unchallenged base.
PMI data out on Thursday showed that eurozone business growth sputtered in August, putting more pressure on the European Central Bank to ease further. The region's composite flash PMI fell to 52.8 in August from 53.8 in July. Though the figure surpassed the 50-point mark that indicates expansion, it was much lower than the expected 53.4 reading.
Asian markets were mostly lower with the exception of the NIKKEI, which gained 0.85 percent. The Shanghai composite lost 0.44 percent, the KOSPI fell 1.38 percent, the Shenzhen composite fell 0.14 percent and the Hang Seng index lost 0.66 percent.
European Markets
European markets were up across the board; the FTSE gained 0.21 percent, the STOXX 600 rose 0.38 percent, the DAX gained 0.42 percent and the CAC 40 was up 0.54 percent.
Brent futures lost 0.42 percent, but WTI futures were flat at $96.07 per barrel. Gold and silver were down 1.12 percent and 0.86 percent, respectively, and industrial metals rose with the exception of Copper, which lost 0.55 percent. Aluminum rose 1.81 percent, zinc gained 2.35 percent and tin was up 0.09 percent.
Currency markets were quiet on Thursday; the euro gained 0.03 percent against the dollar and 0.16 percent against both the pound and the yen, but lost 0.04 percent against the franc. The dollar advanced 0.12 percent against the yen, 0.13 percent against the Australian dollar and 0.14 percent against the pound.
Earnings
Notable earnings released on Wednesday included:
Stocks moving in the Premarket included:
Notable earnings expected on Thursday include:
Gap (NYSE: GPS) is expected to report second quarter EPS of $0.69 on revenue of $3.97 billion, compared to last year's EPS of $0.64 on revenue of $3.87 billion.
Hormel Foods (NYSE: HRL) is expected to report third quarter EPS of $0.49 on revenue of $2.23 billion, compared to last year's EPS of $0.42 on revenue of $2.16 billion.
Dollar Tree (NASDAQ: DLTR) is expected to report second quarter EPS of $0.64 on revenue of $2.01 billion, compared to last year's EPS of $0.56 on revenue of $1.85 billion.
Economics
Notable economic releases expected on Thursday include U.S. existing home sales, U.S. manufacturing PMI, eurozone consumer confidence, British retail sales, eurozone services PMI, eurozone manufacturing PMI, German services PMI, German manufacturing PMI and French manufacturing PMI.
For a recap of Wednesday's market action, click here.
Tune into Benzinga's pre-market info show with Fari Hamzei, Michael Hewson & Kiana Danial here.
Posted-In: Bank of America McDonald'sEarnings News Eurozone Commodities Pre-Market Outlook Markets
View Comments and Join the Discussion!