#PreMarket Primer: Wednesday, August 20: Chilling ISIS Video Surfaces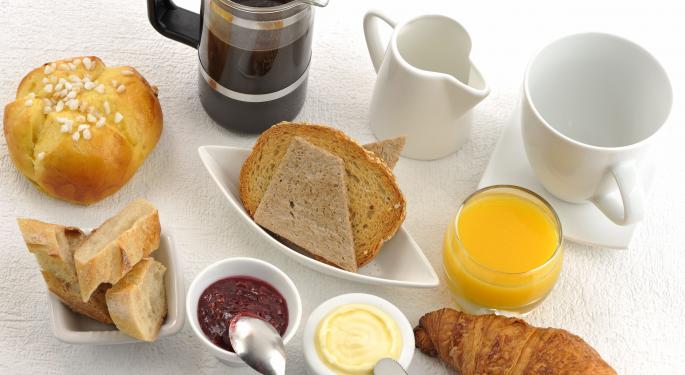 On Tuesday, a video surfaced on social media showing an Islamic State militant beheading U.S. journalist James Foley. Called "A Message To America," the video claims that the group is holding another American journalist and that his life depends on U.S. actions in Iraq.
The video comes just days after U.S. air strikes helped Kurdish and Iraqi forces retake the Mosul Dam, a key turning point in the conflict. While it has not been authenticated yet, the video threatens further consequences if the U.S. continues its involvement in the war.
In other news around the markets:
On Tuesday, the Kremlin announced that Russian President Vladimir Putin is planning to meet with Ukrainian President Petro Poroshenko next week. The meeting marks a vital turning point in the Ukrainian crisis, as Russia is finally making a move to intervene diplomatically after months of international pressure.
Inflation in the U.K. dropped 1.6 percent in July, adding to speculation that the Bank of England will hold off on a rate hike. Last week, the British central bank reduced its wage growth forecast, leading investors to believe that the bank would be cautious about a rate increase in 2014. However, following the inflation data, there is little hope that the bank will tighten its policy further for the remainder of the year.
After spending $2 billion to purchase the L.A. Clippers basketball team, Steve Ballmer has said his new responsibility as team owner, among other things, will leave him no time to serve on Microsoft's board. The former CEO quit his position as director on Tuesday via a public letter to Microsoft's current CEO Satya Nadella.
The NFL has narrowed down its list of possible Super Bowl half time performers to include Rihanna, Katy Perry and Coldplay. However, in a surprising new twist, the organization plans to ask the artists to pay in order to perform. While the NFL has never paid its half time acts, this is the first year the artists have been asked for a financial contribution.
Asian markets were mixed; the NIKKEI was up 0.03 percent, and the KOSPI rose 0.08 percent, but the Shanghai composite and the Shenzhen composite lost 0.23 percent and 0.03 percent, respectively.
European Markets
European markets were lower; the FTSE was down 0.27 percent, the STOXX 600 lost 0.10 percent, the DAX fell 0.40 percent and the CAC 40 fell 0.43 percent.
Energy futures were higher on Wednesday, Brent futures rose 0.53 percent and WTI futures were up 0.81 percent. Gold lost 0.15 percent, but silver was up 0.17 percent. Industrial metals were higher with the exception of tin, which lost 0.11 percent. Copper gained 0.58 percent, aluminum rose 0.99 percent and zinc was up 0.88 percent.
The euro sunk even lower on Wednesday, trading at $1.3291. The common currency lost 0.36 percent against the pound and 0.04 percent against the franc, but gained 0.12 percent against the yen. The dollar also lost against the pound, down 0.17 percent, but gained 0.34 percent against the yen.
Earnings
Notable earnings released on Tuesday included:
Stocks moving in the Premarket included:
Notable earnings expected on Wednesday include:
Economics
Wednesday's economic calendar will be relatively thin with notable economic releases including U.S. oil inventory data and German PPI.
For a recap of Tuesday's market action, click here.
Tune into Benzinga's pre-market info show with Harlan Pyan, Sang Lucci, Kate Stalter & Russell Rhoads here.
Posted-In: Earnings News Commodities Forex Events Pre-Market Outlook Markets Movers
View Comments and Join the Discussion!