#PreMarket Primer: Tuesday, August 19: Dollar General Incites Bidding War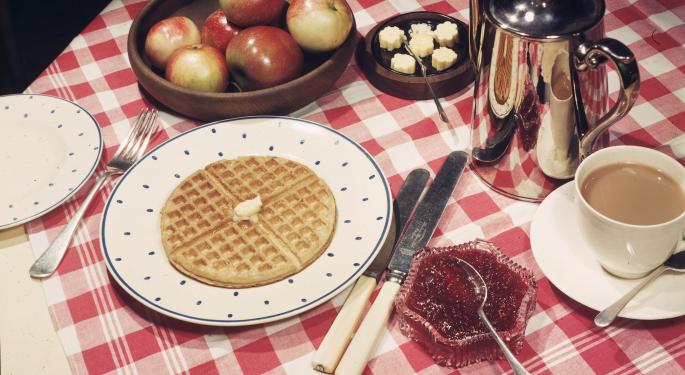 On Monday, Dollar General (NYSE: DG) foiled Dollar Tree's (NASDAQ: DLTR) plans to acquire Family Dollar (NYSE: FDO) by entering its own bid for the second-largest dollar-store chain.
Dollar General, the largest of the three, has offered $9 billion in cash for its rival, saying the deal would help the company better cope with the market's slow traffic and over saturation. Family Dollar has agreed to review the offer, which has many expecting to see bids escalate in the coming days.
In other news around the markets:
With the help of U.S. air support, Iraqi and Kurdish forces were able to drive Islamist militants away from the nation's Mosul Dam, a major turning point in the battle to retake the northern part of the country. U.S. President Barack Obama has said he will continue to support Iraqi forces through targeted air strikes in the coming months as long as Iraqi and Kurdish forces continue to work together.
The reputation of Heinz food products suffered a major blow on Monday after the company recalled four batches of infant cereal when it was found to have excessive lead content. The recall will likely hurt the company's sales as recalls in children's foods tend to linger on parents' minds.
Although Israel and Hamas were able to agree on a last-minute 24-hour extension to the ceasefire in Gaza early on Tuesday, the two sides have made little progress toward a lasting peace agreement. The two are unable to agree to each other's demands, making a truce in such a short time very unlikely. Officials working to broker the agreement in Cairo have said that if no agreement is reached, the violence in Gaza will likely continue.
Ukrainian nationalist forces continued their push to retake Eastern Ukraine from pro-Russian separatists, but their progress came at a steep price. A convoy of refugees was hit by rocket fire on Monday as civilians attempted to flee the fighting. Ukrainian officials have said the attack killed dozens of people and blamed the rebels, but separatist leaders have denied responsibility, and in some cases, that the attack even took place.
Asian markets were up across the board. The NIKKEI was up 0.83 percent, the Shanghai composite rose 0.26 percent, the KOSPI gained 0.88 percent, the Shenzhen composite rose 0.24 percent and the Hang Seng index was up 0.86 percent.
European Markets
European markets were also higher. The FTSE gained 0.44 percent, the STOXX 600 was up 0.49 percent, the DAX rose 0.89 percent, the CAC 40 gained 0.37 percent and the IBEX rose 0.31 percent.
Energy futures gained modestly after losing heavily on Monday. Brent futures were up 0.26 percent, and WTI futures rose 0.50 percent. Gold was up 0.07 percent, but silver lost 0.05 percent. Industrial metals were mostly higher; copper gained 0.29 percent, aluminum rose 0.95 percent and zinc gained 0.44 percent.
Currency markets were relatively quiet. The euro lost 0.09 percent against the dollar and 0.07 percent against the yen, but gained 0.01 percent against the pound. The dollar was up 0.03 percent against the yen and 0.16 percent against the pound, but lost 0.10 percent against the Australian dollar.
Earnings
Notable earnings released on Monday included:
Urban Outfitters (NASDAQ: URBN) reported second quarter EPS of $0.49 on revenue of $811.00 million, compared to last year's EPS of $0.51 on revenue of $758.52 million.
Perfect World (NASDAQ: PWRD) reported second quarter EPS of $0.52 on revenue of $149.60 million, compared to last year's EPS of $0.27 on revenue of $115.44 million.
Stocks moving in the Premarket included:
Economics
Tuesday's economic calendar will be relatively busy with the U.S. set to release CPI, the Redbook, oil inventory data and housing starts. From Europe, investors will be watching for British PPI, British CPI and the eurozone's current account.
For a recap of Monday's market action, click here.
Tune into Benzinga's pre-market info show with Nic Chahine, Vlad Karpel & Cate Long here.
View Comments and Join the Discussion!
Posted-In: Earnings News Eurozone Commodities Previews Forex Pre-Market Outlook Markets