#PreMarket Primer: Monday, July 28: Tension Between U.S. And Israel On The Rise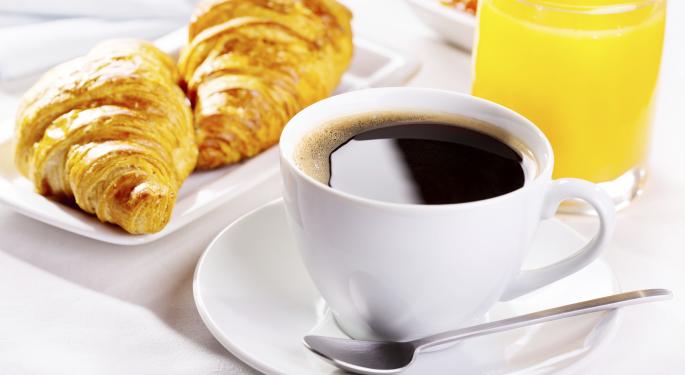 With the fighting between Israeli forces and Hamas militants temporarily on hold due to a 24 hour pledge to stop the fighting, many are criticizing U.S. Secretary for State John Kerry for being too accommodative of Hamas in the truce agreement.
On Monday, Israeli officials said the nation doesn't need a cease fire in Gaza while Prime Minister Benjamin Netanyahu began a meeting with his cabinet to decide how to proceed.
The cabinet is reviewing several proposals including continuing the nation's military push onto the Gaza strip, which has already claimed the lives of more than 1,000 people, many of which were civilians.
In other news around the markets:
Chinese data out on Monday showed that the nation's economy may be on the upswing. The National Bureau of Statistics reported that industrial Chinese firms' June profits were up 17.9 percent annually and 8.9 percent since May. The figures reinforced speculation that the Beijing's mini-stimulus plan was enough to help the nation get through its recent economic weakness.
The latest acquisition attempt in a string of U.S. firms' inversion deals was Hospira Inc.'s proposal to buy Danone SA's medical nutrition unit. Hospira shares have gained over 25 percent this year, something that may help the company move forward with the deal, which is expected to total around $5 billion and help Hospira avoid U.S. taxes.
In an effort to push forward its bid to acquire Time Warner, 21st Century Fox has offered some of its board seats to Time Warner shareholders. The offer came amid concerns from Time Warner shareholders who worry that they would have no say over how the company would be run following the acquisition, but many say the offer is merely for show as Fox Chairman Rupert Murdoch is in control of most of the company's decisions with little involvement from the board.
The international investigation into the Malaysian airlines passenger jet that was shot down in Ukraine has been slow going as increased fighting in the region has made it difficult for investigators to access the crash site. The U.S. has accused Russia of providing separatists with the missiles used to shoot down the plane, and claim that Moscow is continuing to send arms to Ukrainian separatists. The U.S. and the EU are expected to announce another round of stricter sanctions against Russia in the coming days as a result of the growing tension.
Asian markets started off the week on a high note, the NIKKEI rose 0.46 percent, the KOSPI was up 0.74 percent and the Hang Seng index was up 0.88 percent. China's Shanghai and Shenzhen composites had the most impressive performances, up 2.41 percent and 2.04 percent respectively.
European Markets
Europe's markets were mostly lower with the exception of the FTSE and the CAC 40, which gained 0.04 percent and 0.25 percent respectively. The STOXX 600 was down 0.10 percent, the DAX lost 0.20 percent and the MIB was down 0.26 percent.
Energy futures lost momentum; Brent futures were down 0.41 percent and WTI futures were down 0.35 percent. Gold and silver were moderately lower, down 0.01 percent and 0.05 percent respectively, while industrial metals were mostly higher with the exception of aluminum, which lost 1.43 percent. Copper gained 0.06 percent, zinc was up 0.08 percent and tin gained 0.38 percent.
Currency markets were quiet to begin the week; the euro was steady at $1.3434 and gained 0.06 percent against the pound and 0.09 percent against the yen. The dollar was also higher against the yen, up 0.04 percent, but lost 0.07 percent to the franc.
Earnings
Notable earnings released on Friday included:
Stocks moving in the Premarket included:
Hospira (NYSE: HSP) gained 0.68 percent in premarket trade following news that the company is trying to acquire Danone SA.
Facebook (NASDAQ: FB) rose 0.05 percent in premarket trade after gaining 9.89 percent last week.
Gilead Sciences (NASDAQ: GILD) was down 0.04 percent in premarket trade after falling 0.77 percent on Friday.
Notable earnings releases expected on Monday include:
Economics
Notable economic releases expected on Monday include, Italian business confidence, U.S. services PMI and U.S. pending home sales.
For a recap of last week's market action, click here.
Tune into Benzinga's #PreMarket Prep today to hear Greg Michalowski, Alan Brochstein & Shane Parrish by clicking here!
Posted-In: Earnings News Eurozone Futures Commodities Previews Forex Events
View Comments and Join the Discussion!