Microsoft: Time To 'Sell The News'?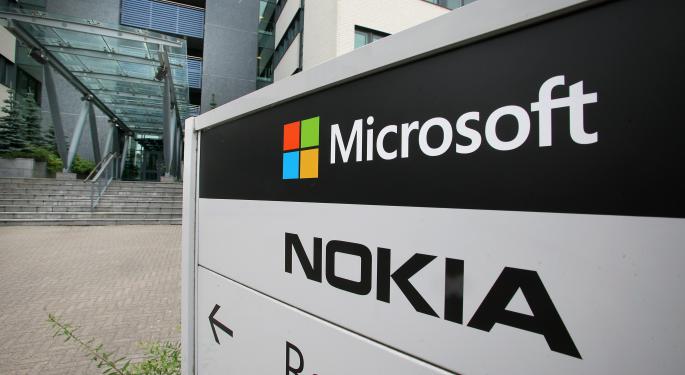 When Microsoft (NASDAQ: MSFT) rallies a point and half in one trading session and then attempts to rally nearly another two points in premarket trading the following day, one has to wonder if it is time to sell the news.
Beside the bullish comments by Morgan Stanley analyst Keith Weiss on Wednesday, who reiterated his Equal-Weight rating and his expectations for a solid Q4, there were other news items adding to the momentum.
First of all, the blow-out earnings from Intel (NASDAQ: INTC) strongly reinforced the thesis that old school tech is the place to be. INTC, which added nearly three points in Wednesday's session, is now trading at levels not seen since February 2001. Similarly, the rally to $45.71 early in Thursday's series has Microsoft at levels not seen since March 2000.
Along these lines, the Apple (NASDAQ: AAPL) agreement with IBM (NYSE: IBM) reveals new technology and old technology teaming up together in the marketplace.
Although AAPL has retreated from its major resistance at $97.00, IBM continued to surge higher in Thursday's session, adding another three points on top of Wednesday's nearly four-point rally.
Related: How To Play Defensive Issues On Big Down Openings
After the old shorts got steamrolled on Wednesday, the new ones initiated were blind-sided by the company's restructuring plan, announced Thursday morning. Microsoft plans to simplify its operations and to integrate its newly-acquired Nokia Devices and Services with the company's overall strategy.
Massive Job Cuts
What is lost in this announcement is the fact that the company is eliminating 18,000 jobs in the technology sector, which is an unprecedented move in this supposed growth sector. Hopefully, the pattern of technology companies slashing nearly 20 percent of their workforce will not derail the rebound in recent employment figures.
With back-to-back huge volume days, one has to evaluate whether or not it is new longs finally identifying hidden value, massive short positions being covered, or longs ringing the cash register in the usually slow-moving and stodgy issue.
If the recent news is coaxing you into buying the issue, do not go "all in" at this elevated level. The huge move on Wednesday, the biggest rally in years, followed by Thursday's rally, has the issue in beyond overbought territory.
By taking a nibble at this level, you may be able to add to your positions at lower prices. In fact, it would not be out of the ordinary for the issue to drift back to the $42.50 level, as that was the former resistance level before the recent news events.
Back-To-Back Good News?
The monster volume of the last two days is no doubt an indication of massive short covering. Its 1.22 percent short float does not accurately reflect all the day-traders trapped in the issue or the outstanding short calls open interest. Also, short open interest figures are a lagging indicator and may take some time to factor in the activity from the last few days.
Most likely, many long-term investors in the issue are taking the rare opportunity to take some profits for a few different reasons. First of all, Microsoft-- which for the most part has been a laggard in the rally since 2009 -- is finally catching up and may be susceptible to a sharp decline if the overall market goes into reverse.
Also, it is not very often that there is positive Microsoft news on back-to-back days hitting the wires. With earnings due out on July 22, it is an opportunity to sell the "good news," even if it turns out to be "bad" news after all.
Posted-In: Earnings News Technicals Movers & Shakers Events Intraday Update Tech Trading Ideas Best of Benzinga
View Comments and Join the Discussion!