#PreMarket Primer: Wednesday, July 2: Hopes For A United Iraq Fade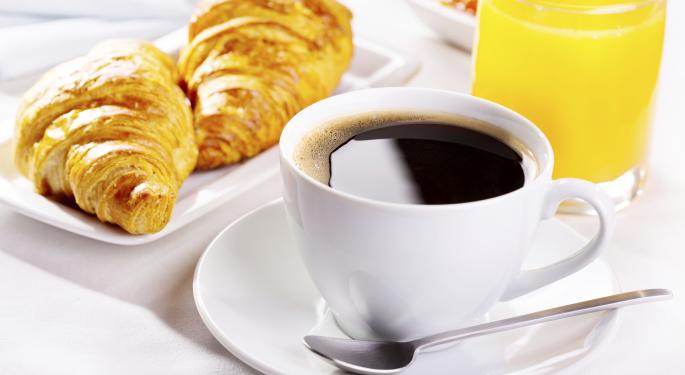 On Tuesday, the Iraqi government held its first session with its new parliament including representation from Sunnis and Kurds.
However, both groups walked out of the meeting after the Shi'ite government did not announce Prime Minister Nouri al-Maliki's replacement. Meanwhile, fighting throughout northern Iraq continued as Sunni insurgents tried to expand their stronghold.
Reuters reported that the Iraqi parliament is not expected to reconvene for a least a week, leaving the nation divided without any cohesive leadership at a time when it is most needed.
In other news around the markets:
After Ukrainian President Petro Poroshenko announced that he was planning to launch an offensive against pro-Moscow rebels and end the nation's week-long ceasefire, Kiev reported that it had forcefully regained control of two of the nation's eastern cities previously held by rebel groups. Poroshenko is hoping to secure the nation's borders and force rebel groups into agreeing to his peace plans.
With six world powers and Iran finishing up negotiations over Tehran's nuclear capabilities this week, companies from around the world are preparing to jump into one of the largest markets in the Middle East should the sanctions be lifted. However, ending the decade old dispute over Iran's nuclear program has not been easy, with both sides struggling to agree to the terms of a permanent agreement. Instead, many are anticipating that the negotiators will extend the July 20 deadline by six months.
Nestle sold its Juicy Juice brand to Brynwood Partners in what Brynwood has said was the company's largest purchase in 30 years. While the financial details of the deal are not public knowledge, The Wall Street Journal reported that sources close to the deal claim it couldn't have exceeded $200 million.
Swiss pharmaceutical company Roche is planning to acquire Seragon Pharmaceuticals for $725 million in cash. Seragon, a private company which focuses primarily on breast cancer research, could draw up to $1 billion more as the deal develops.
Asian markets were moderately higher with the exception of China's Shanghai and Shenzhen composites, which lost 0.21 percent and 0.19 percent respectively. The NIKKEI rose 0.36 percent, the KOSPI was up 0.57 percent and the Hang Seng index gained 1.03 percent.
European Markets
European markets were up across the board; the FTSE and the STOXX 600 both gained 0.29 percent, the IBEX rose 0.21 percent, the DAX was up 0.27 percent and the MIB gained 0.29 percent.
Energy futures were modestly higher; Brent futures gained 0.02 percent and WTI futures were up 0.03 percent. Gold and silver lost 0.05 percent and 0.36 percent respectively and industrial metals also fell lower with the exception of tin, which gained 1.13 percent. Copper was down 0.44 percent, aluminum fell 0.37 percent and zinc lost 1.42 percent.
Currency markets were quiet on Wednesday; the euro lost 0.08 percent against the dollar and 0.11 percent against the pound. The dollar was lower against the Australian dollar, down 0.44 percent, but rose 0.09 percent against the yen.
Earnings
Notable earnings released on Tuesday included:
Paychex (NASDAQ: PAYX) reported fourth quarter EPS of $0.40 on revenue of $639.00 million, compared to last year's EPS of $0.38 on revenue of $585.30 million.
A. Schulman (NASDAQ: SHLM) reported third quarter EPS of $0.66 on revenue of $627.50 million, compared to last year's EPS of $0.74 on revenue of $645.70 million.
Acuity Brands (NYSE: AYI) reported third quarter EPS of $1.00 on revenue of $603.90 million, compared to last year's EPS of $0.97 on revenue of $541.50 million.
Stocks moving in the Premarket included:
Exxon Mobil (NYSE: XOM) was up 0.24 percent in premarket trade after a week of choppy trading took the stock down 1.33 percent.
Apple (NASDAQ: AAPL) rose 0.04 percent in premarket trade after gaining 3.59 percent over the past five days.
Harley-Davidson (NYSE: HOG) was down 0.87 percent in premarket trade after rising 0.69 percent on Tuesday.
Notable earnings expected on Wednesday include:
Synnex Corporation (NYSE: SNX) is expected to report second quarter EPS of $1.36 on revenue of $3.17 billion, compared to last year's EPS of $0.81 on revenue of $2.59 billion.
UniFirst Corporation (NYSE: UNF) is expected to report third quarter EPS of $1.42 on revenue of $349.24 million, compared to last year's EPS of $1.43 on revenue of $335.76 million.
Constellation Brands (NYSE: STZ) is expected to report first quarter EPS of $0.93 on revenue of $1.41 billion, compared to last year's EPS of $0.38 on revenue of $673.40 million.
Economics
Notable economic releases due out on Wednesday include China's non-manufacturing PMI, US oil inventory data, eurozone GDP and British construction PMI.
For a recap of Tuesday's market action, click here.
Tune into Benzinga's #PreMarket Prep today to hear Dennis Gartman, Harlan Pyan & Todd Schoenberger by clicking here!
Posted-In: Earnings News Eurozone Futures Commodities Previews Forex Events Best of Benzinga
View Comments and Join the Discussion!