#PreMarket Primer: Monday, June 23: BNP Expected To Pay $9 Billion For Sanctions Violations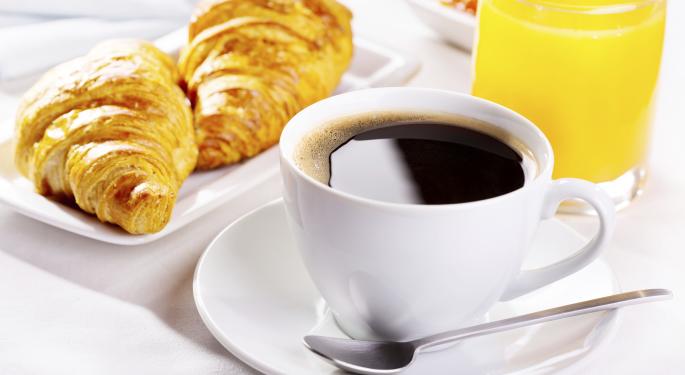 US prosecutors and BNP Paribas SA are likely to reach an agreement which will force the bank to pay between $8 and $9 billion in penalties for violating US sanctions.
The Wall Street Journal reported that the two sides have agreed to broad terms which include the bank's admission of guilt and a ban on its operations in US dollars in addition to the financial penalty. BNP was accused of covering up its dealings with Sudan by routing billions of dollars through various bank accounts in East Africa and the Middle East.
The ongoing investigation has heightened tension between the US and France as French President Francois Hollande has said the penalty being sought is "unfair" and not commensurate with the crime.
In other news around the markets:
After months of tepid growth, the Chinese economy finally saw a bright spot when PMI figures showed that the nation's factory activity picked up as the government's "mini-stimulus" began to make an impact. China's HSBC Flash Manufacturing Purchasing Managers' Index rose to 50.8 in June, the first time the nation's PMI score has surpassed the 50 point mark that indicates growth since December.
General Electric overcame the final obstacle in its efforts to purchase Alstom SA's energy assets after Paris made a deal with Bouygues SA to buy up to a 20 percent stake in Alstom on Sunday. On Friday, GE revamped its offer to buy Alstom's energy assets in order to give the French government more control over the company's future. Following the revised bid, Alstom's board officially accepted GE's offer on Saturday as the government continued to negotiate with Bouygues over becoming Alstom's largest shareholder.
As the crisis in Iraq worsened over the weekend, Iran's Supreme Leader Ayatollah Ali Khamenei condemned US offers to help end the nation's uprising, saying that the Iraqi government is capable of handling the situation, and that US intervention is unwarranted. Meanwhile, Sunni militants headed towards Baghdad after taking control of Syrian border posts.
After a seven-day ceasefire was declared in Ukraine on Friday, Ukrainian forces and pro-Russian separatists raised their weapons once again just two days later. Reports of fighting between the two sides on Sunday proved that there is still work to be done before the crisis is resolved. Russian President Vladimir Putin has urged the Ukrainian government to hold talks with the rebel forces while his counterpart, Ukrainian President Petro Poroshenko is asking for Putin's support on the peace plan that he announced on Friday.
Asian markets began the week mixed; the NIKKEI was up 0.13 percent, the KOSPI rose 0.35 percent and the Shenzhen composite rose 0.61 percent. However, the Hang Seng index was down 1.68, the Shanghai composite fell 0.11 percent and New Zealand's NZ 50 was down 0.37 percent.
European Markets
European markets were down across the board; the UK's FTSE fell 0.46 percent, the eurozone's STOXX 600 lost 0.56 percent, Italy's MIB was down 1.31 percent, the German DAX fell 0.81 percent and France's CAC 40 fell 0.74 percent.
Crude futures rose as problems in Iraq continued to stoke supply worries. Brent futures were up 0.47 percent and WTI futures gained 0.30 percent. Gold and silver were down 0.05 percent and 0.50 percent respectively while industrial metals were mixed. Copper gained 0.82 percent and zinc was down 1.11 percent, but aluminum lost 0.16 percent and tin was down 0.11 percent.
The euro was on the decline Monday morning, losing 0.14 percent against the dollar, 0.38 percent against the yen and 0.18 percent against the pound. The dollar was also lower, down 0.23 percent against the yen and 0.30 percent against the Canadian dollar.
Earnings
Notable earnings released on Friday included:
CarMax (NYSE: KMX) reported first quarter EPS of $0.76 on revenue of $3.75 billion, compared to last year's EPS of $0.64 on revenue of $3.31 billion.
Darden Restaurants (NYSE: DRI) reported fourth quarter EPS of $0.84 on revenue of $2.32 billion, compared to last year's EPS of $1.01 on revenue of $2.30 billion.
Stocks moving in the Premarket included:
Notable earnings expected on Monday include:
Micron Technology (NASDAQ: MU) is expected to report third quarter EPS of $0.68 on revenue of $3.87 billion, compared to last year's EPS of $0.04 on revenue of $2.32 billion.
Sonic Corporation (NASDAQ: SONC) is expected to report third quarter EPS of $0.29 on revenue of $149.77 million, compared to last year's EPS of $0.26 on revenue of $146.63 million.
Economics
Monday kicks off a busy week for PMI data with Services and Manufacturing PMI figures due out from Germany, France, the eurozone. Also notable will be the US' release of existing home sales and Hong Kong's CPI.
For a recap of Friday's market action, click here.
Tune into Benzinga's #PreMarket Prep show today to hear Lydia Idem Finkley, Lawrence McMillan, Michael Pachter and Anka Metcalf by clicking here!
View Comments and Join the Discussion!
Posted-In: Earnings News Guidance Eurozone Futures Commodities Previews Forex Best of Benzinga