#PreMarket Primer: Friday, June 20: Obama Administration Focuses On Underlying Causes In Iraq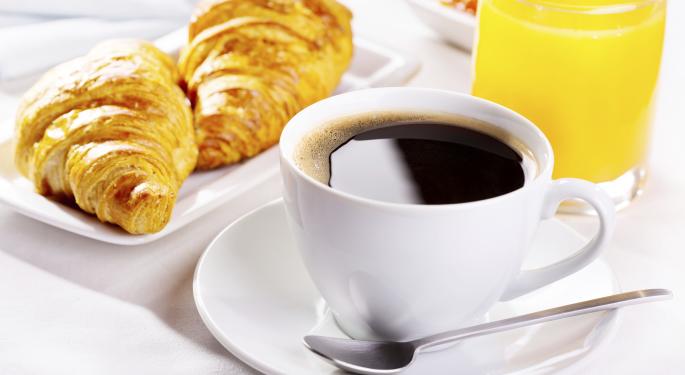 The crisis in Iraq continued to escalate this week, with militants from the Islamic State of Iraq and al-Sham, or ISIS, surrounding the nation's largest oilfield and threatening to completely dismember the country.
Amid calls from the Iraqi government for a US airstrike, the Obama administration has decided to send 300 special forces to Iraq, saying the President would consider airstrikes in the future if necessary.
Instead, Obama says he wants to resolve the underlying political issues by helping Iraq form a more inclusive government that gives minority groups more of a voice. In this way, the administration said, radical groups like ISIS will not have the same level or support.
In other news around the markets:
US drug-maker AbbVie said on Friday that its latest cash proposal to buy UK based Shire was rejected. AbbVie's latest offer was for £27.2 billion, valuing the company's shares at £46.26. Representatives from AbbVie confirmed that discussions between the two had come to a halt and that although no deal has been made, the company may consider an offer that includes both cash and shares.
The bidding war for Alstom SA's energy business heated up on Friday after Siemens AG and Mitsubishi Heavy Industries Ltd. reworked their joint offer and added $1.6 billion in cash to their valuation for the company's energy assets, bringing the total to $14.6 billion. The new proposal came shortly after General Electric tried to assuage the French government's reluctance to approve GE's bid by offering to create three new joint ventures that would be jointly held with Alstom. GE's new offer would give France more control, something the nation's policymakers have expressed concern about.
Despite what looked like progress towards a ceasefire between Moscow and Kiev, Ukrainian troops and pro-Russian separatists remain engaged in fierce battles in the nation's eastern cities. On Thursday, rebel commanders reported heavy losses but showed no willingness to lay down their weapons. Earlier in the week, the US said it was considering further sanctions against Russia if Moscow didn't use its influence over the rebel groups to end the fighting.
Reuters reported that Apple's new iWatch will go into production in July as anticipation for its expected October release grows. Investors are skeptical about the watch, as it could struggle as a niche product being released at a time when tech gadgets sales are on the decline. However, Apple has maintained that its new product lines are the company's most innovative and exciting to date, which has generated a massive buzz around both the watch and the rumored iPhone 6.
Asian markets were mostly lower with a few exceptions including the Shanghai composite, which gained 0.15 percent, and the Shenzhen composite, which rose 0.74 percent. The NIKKEI fell 0.08 percent, the KOSPI was down 1.20 percent and Australia's ASX 200 was down 0.89 percent.
European Markets
Europe's markets were mixed; the UK's FTSE gained 0.22 percent and the STOXX 600 was up 0.12 percent. However, the German DAX lost 0.05 percent, France's CAC 40 was down 0.15 percent and the Spanish IBEX fell 0.20 percent.
Energy futures were bolstered by the continuing crisis in Iraq, WTI crude was up 0.13 percent at $106.57 while Brent was steady at $114.93. Gold fell 0.13 percent while silver gained 0.25 percent, but industrial metals were up across the board. Copper gained 0.59 percent, aluminum was up 0.85 percent and zinc rose 0.80 percent.
Currency markets began the day quietly; the euro was steady at $1.3610, but lost 0.06 percent against the pound. The dollar gained 0.04 percent against the yen, but lost 0.07 percent against both the pound and the Australian dollar.
Earnings
Notable earnings released on Thursday included:
Stocks moving in the Premarket included:
General Electric (NYSE: GE) gained 0.63 percent in premarket trade after choppy trading took the stock down 0.11 percent this week.
Oracle (NYSE: ORCL) was down 5.69 percent in premarket trade after gaining 1.21 percent over the past week.
Notable earnings expected on Friday include:
CarMax (NYSE: KMX) is expected to report first quarter EPS of $0.67 on revenue of $3.60 billion, compared to last year's EPS of $0.64 on revenue of $3.31 billion.
Darden Restaurants (NYSE: DRI) is expected to report fourth quarter EPS of $0.94 on revenue of $2.33 billion, compared to last year's EPS of $1.01 on revenue of $2.30 billion.
Economics
Friday's economic calendar will be relatively quiet with only a few notable releases including Canadian CPI, Canadian retail sales, Italian industrial sales and German PPI.
For a recap of Thursday's market action, click here.
Tune into Benzinga's #PreMarket Prep today to hear Joe Gits, Leigh Jones and Dean Zayed by clicking here!
View Comments and Join the Discussion!
Posted-In: Earnings News Guidance Eurozone Futures Commodities Previews Forex Best of Benzinga