#PreMarket Primer: Tuesday, June 17: US Considering Air Strikes In Iraq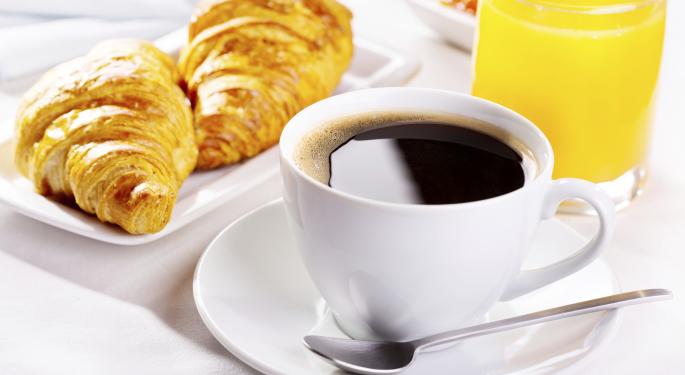 US President Barack Obama met with his top national security advisers on Monday to discuss how to move forward in Iraq.
Sunni insurgents have taken control of much of the north of the nation and have been joined by several other groups that oppose oppression by Maliki.
The UN has said that the rebel groups have committed war crimes such as holding mass executions of people who were not involved in the fighting over the past week.
Obama has yet to make a decision about how to respond to Iraq's calls for aid, but he has ruled out the possibility of sending US troops into combat. Secretary of State John Kerry said an airstrike may be on the table, though it wouldn't be the "whole answer."
In other news around the markets:
In an effort to fend off a $53 billion takeover bid by Valeant, Allergan released private communications from senior Morgan Stanley bankers degrading Valeant's business practices. However, Morgan Stanley is now working for Valeant, putting the finance firm in an awkward position. Allergan released the emails together with documents outlining why its shareholders should reject the deal.
Following late night talks organized by the European Union, Russian gas company Gazprom has cut off natural gas supplies to Ukraine over the nation's unpaid debts. The decision could topple Ukraine's already shaky economy and has raised concerns about energy shortages elsewhere in Europe. For the moment, Gazprom has said it will continue to ship its supplies through Ukraine to other parts of the EU. Next week EU policymakers are expected to discuss the issue at a summit in Brussels to try to resolve the dispute before the winter.
On Monday, Apple reached a settlement in a class action suit that accused Apple of overcharging customers by $280 million for e-books. A filing with a New York court confirmed the agreement, but the terms of the settlement are currently sealed and waiting for the approval of the court.
General Motors recalled 3.36 million more cars related to the ongoing ignition switch problem, nearly doubling the total number affected vehicles. To date, GM has recalled about 20 million vehicles in 44 recalls this year. That figure surpasses total vehicle sales in the US for an entire year.
Asian markets were mixed; the NIKKEI rose 0.29 percent and the KOSPI was up 0.40 percent, but the Shanghai composite lost 0.92 percent and the Shenzhen composite was down 0.93 percent. The Hang Seng index lost 0.42 percent and Australia's ASX 200 fell 0.22 percent, but New Zeland's NZ50 increased by 0.28 percent.
European Markets
Europe's markets were up across the board; the FTSE gained 0.19 percent, the STOXX 600 rose 0.35 percent, Germany's DAX gained 0.72 percent, Italy's MIB rose 0.58 percent and France's CAC 40 was up 0.42 percent.
Energy futures lost as investors took profits; Brent futures lost 0.41 percent and WTI was down 0.63 percent. Gold and silver were down 0.84 percent and 0.66 percent respectively, but industrial metals were up across the board with the exception of tin, which lost 0.69 percent. Zinc gained 0.74 percent, aluminum was up 0.43 percent and copper gained 0.10 percent.
The dollar gained as the US Federal Reserve began its two day policy meeting, up 0.17 percent against the yen, 0.12 percent against the pound and 0.48 percent against the Australian dollar. The euro also lost against the dollar, down 0.10 percent, but gained 0.07 percent against the yen.
Earnings
Notable earnings released on Monday included:
Korn/Ferry International (NYSE: KFY) reported fourth quarter EPS of $0.32 on revenue of $251.70 million, compared to last year's EPS of $0.32 on revenue of $238.68 million.
Layne Christensen Company (NASDAQ: LAYN) reported a first quarter loss of $1.41 on revenue of $191.20 million, compared to last year's loss of $0.81 on revenue of $226.45 million.
Amira Nature Foods (NYSE: ANFI) reported fourth quarter EPS of $0.47 on revenue of $186.60 million, compared to last year's EPS of $0.24 on revenue of $140.25 million.
Stocks moving in the Premarket included:
Notable earnings expected on Tuesday include:
Economics
Tuesday's economic calendar will be dominated by US releases including oil inventory reports, building permits, housing starts and the Redbook. Other notable releases include German ZEW economic sentiment, British PPI, Italian trade balance and British CPI.
For a recap of Monday's market action, click here.
Tune into Benzinga's #PreMarket Prep today to hear Andrew Giovinazzi, Serge Berger and David Peltier by clicking here!
Posted-In: Earnings News Eurozone Futures Commodities Previews Forex Events Best of Benzinga
View Comments and Join the Discussion!