#PreMarket Primer: Monday, June 16: Rebels Seize Another Iraqi City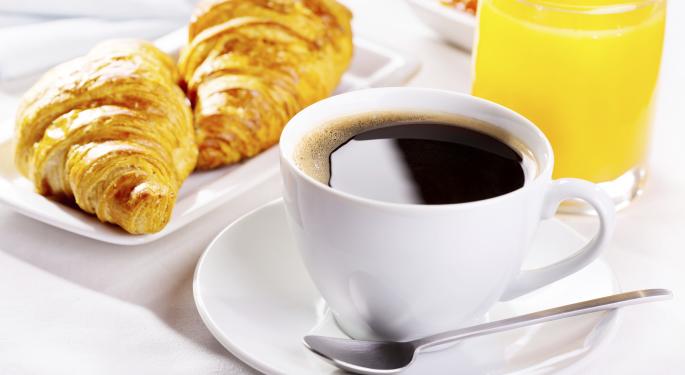 Sunni insurgents tightened their grip on northern Iraq over the weekend when they overtook Tal Afar, stirring worries that the nation may fall into a civil war.
Rebels from the Islamic State of Iraq seized the mostly ethnic Turkmen city on Sunday as they pressed closer to the capital.
The White House has evacuated some workers at the embassy increased security for diplomatic staff remaining in Baghdad while President Obama reviews options to assist Iraqi forces without sending US troops into combat.
In other news around the markets:
On Monday, Russian gas company Gazprom said that Ukraine did not pay its debts before the 6:00 GMT deadline, and that the nation would now be forced to pay for energy supplies upfront. Kiev's failure to meet Gazprom's deadline raises concerns that energy supplies to Ukraine could be cut off, something that would further complicate the already tense relationship between Moscow and Ukraine.
Medtronic Inc. announced on Sunday that it was planning to buy Covidien Plc for $42.9 billion in stocks and cash. Following the deal, the US medical device company is planning to move its executive base to Ireland where lower corporate tax rates could provide significant savings. The merger will create one of the largest businesses in the medical device space that could rival the current industry leader, Johnson & Johnson Co.
According to the Wall Street Journal, Siemens AG and Mitsubishi Heavy Industries are close to finalizing a joint bid for Alstom SA's energy business. Alstom has already tentatively approved a General Electric bid for $17 billion, though with much pushback from the French government. The Seimens-Mitsubishi bid, which could be released as soon as Monday, is expected to cater to the French government and allow Alstom to maintain its current structure while incorporating foreign partners. GE has given Alstom until June 23rd to formally accept its offer.
In an annual report on global energy statistics, BP PLC said oil consumption around the world increased faster than production last year. Consumption increased by 1.4 percent each day, slightly higher than the historical average, but oil production increased by only 0.6 percent. Energy demand was below the historical average with just 2.3 percent growth, something BP said was a result of weakening global economies.
Asian markets were mixed, the NIKKEI lost 1.09 percent and the Hang Seng index was down 0.08 percent; but the Shanghai composite gained 0.74 percent, the Shenzhen composite was up 0.47 percent and the Hang Seng index lost 0.08 percent.
European Markets
European markets were down across the board; the UK's FTSE lost 0.18 percent, the German DAX was down 0.35 percent, the eurozone's STOXX 600 fell 0.37 percent and the Italian MIB fell 0.72 percent.
Energy futures were higher, helped by the unfolding crisis in Iraq. Brent futures gained 0.27 percent and WTI futures were up 0.09 percent. Gold and silver gained 0.56 percent and 0.41 percent respectively and industrial metals were also up across the board. Copper gained 0.84 percent, zinc rose 0.51 percent and tin gained 0.13 percent.
The euro continued to struggle on Monday, down 0.09 percent against the dollar, 0.08 percent against the pound and 0.22 percent against the yen. The dollar also lost to the yen, down 0.20 percent, but gained 0.16 percent against the Australian dollar.
Earnings
Notable earnings released on Friday included:
Culp (NYSE: CFI) reported fourth quarter EPS of $0.27 on revenue of $74.00 million, compared to last year's EPS of $0.41 on revenue of $70.38 million.
Stocks moving in the Premarket included:
Notable earnings expected on Monday include:
Korn/Ferry International (NYSE: KFY) is expected to report fourth quarter EPS of $0.39 on revenue of $244.61 million, compared to last year's EPS of $0.32 on revenue of $238.68 million.
Layne Christensen (NASDAQ: LAYN) is expected to a report first quarter loss of $0.34 on revenue of $206.58 million, compared to last year's loss of $0.81 on revenue of $226.45 million.
Amira Nature Foods (NYSE: ANFI) is expected to report fourth quarter EPS of $0.33 on revenue of $162.20 million, compared to last year's EPS of $0.24 on revenue of $140.25 million.
Economics
Monday's economic calendar will be relatively quiet; but both the US and the eurozone have important reports to release. In the eurozone CPI data will be out while the US is set to release industrial production data.
For a recap of Friday's market action, click here.
Tune into Benzinga's #PreMarket Prep today to hear Anthony Alfidi, Cate Long and Eddy Elfenbein by clicking here!
View Comments and Join the Discussion!
Posted-In: Earnings News Eurozone Futures Commodities Previews Forex Global Best of Benzinga