Takeover Whispers Add To Achillion Pharmaceuticals' Momentum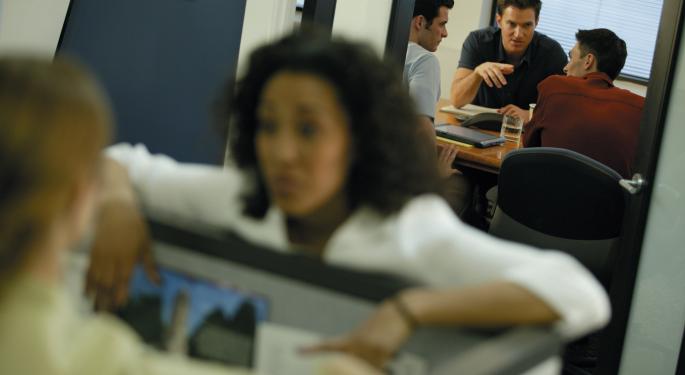 In this momentum-driven market, sector or company-specific news can have a significant impact on the price of individual issues.
Wall Street analysts weighing in on the issue may also add to the momentum already in place.
An example is Achillion Pharmaceuticals (NASDAQ: ACHN), where all of the above elements have contributed to a 150 percent increase in its share price since last Friday.
On Monday, Merck (NYSE: MRK) kickstarted the Hepatitis C company sector with its mind-boggling takeover of Idenix Pharmaceuticals (NASDAQ: IDIX). Merck's decision to purchase the company at a 226 percent premium ($7.23 close on Friday vs. $23.79 on Monday) had investors scrambling to find the next candidate to be purchased in the sector.
News Builds On Rumors
As usual, rumors began to circulate initiated by Leerink (a pharma-focused research firm) that Johnson & Johnson (NYSE: JNJ), AbbVie (NYSE: ABBV) and Bristol-Myers Squibb (NYSE: BMY) all may be targeting Achillion as a takeover target.
Related: Anne-Marie Baiynd Dishes Apple Strategy, Says Stock Is 'Coiled'
The end result was Achillion increasing in price 47 percent on Monday, from $2.88 to $4.25. Another potential catalyst for the issue on that day was an Upgrade from JMP Securities, from Market Perform to Market Outperform, with a $13.00 price target.
On Tuesday, with takeover rumors rampant, Achillion announced it had began dosing ACH-3422, a uridine-analog nucleotide polymerase inhibitor, for seven days to patients with genotype one chronic hepatitis C viral infection (HCV), in its ongoing Phase 1 clinical trial.
In other words, the company was making significant progress for the treatment of Hepatitis C.
This related news propelled the shares from $4.25 to $7.79, or another 83 percent on top of its 47 percent from Monday's trading. Also,Wall Street added fuel to fire as Baird upgraded Achillion from Neutral to Outperform, and increased its price target on the issue from $4.00 to $12.00.
With the issue closing only $0.02 from its high of the day at $7.79, many traders were anticipating continued follow-through in Wednesday's trading. With no more good news forthcoming, the issue backed off under $7.00 to $6.89 in early trading, but has since recovered to the mid seven dollar range.
Whispers of Takeovers
It should be noted that Achillion traded monster volume on Monday (48 million) and Tuesday (73 million), versus its usual one million shares per day. Therefore, many investors became convinced over the last two days that the move in Achillion is just getting started. On the other hand, the violent up-move certainly may have instigated short covering in the issue, with its outstanding short interest of 24.3 percent perhaps accounting for the spike in volume.
Another contributor to the unusually high volume may be shorter-term momentum players going with the flow of the news and building large positions, but who are planning on holding for a shorter time period and exiting with nice profits.
Perhaps investors want to emulate Baupost Group, which had a 35 percent stake in IDIX or 53.3 million shares, a bigger holder than Novartis, which has 22 percent in the company. Based on its disclosure from March 31, that would imply a paper gain of nearly $1 billion for Seth Klarman and his hedge fund.
For the move to continue, one or a combination of three things need to happen.
First of all, the company has to reverse its trend of negative earnings per share over the eight quarters. Alternatively, the company must continue to announce significant progress on its Hepatitis C treatment. Finally and perhaps most important are rumors that the company is a takeover target.
The longer it takes for a takeover to come to fruition, the more likely investors sitting on huge profits from its recent run will begin to ring the register. Keep in mind, the issue traded between $2.26 and $4.36 over the last eight months. The company initially cascaded from its all time high off its IPO at $20.00 in February 2007.
View Comments and Join the Discussion!
Posted-In: M&A News Upgrades Health Care Rumors Price Target Technicals Intraday Update Best of Benzinga