#PreMarket Primer: Tuesday, June 10: Ukraine And Russia Reach A 'Mutual Understanding'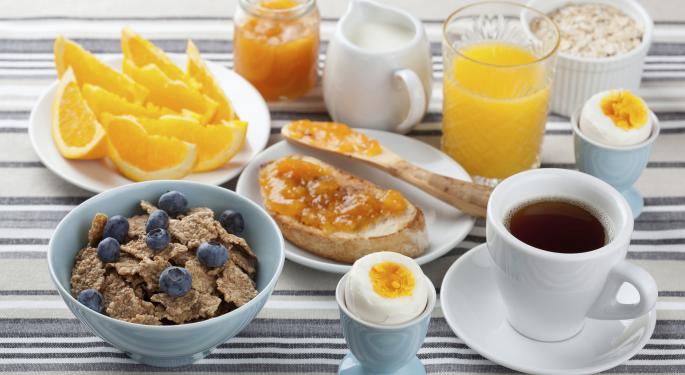 Newly Elected Ukrainian President Petro Poroshenko's plans to return the nation to peace inched forward after two days of talks with Moscow over the nation's divided eastern region.
The Ukrainian Foreign Ministry said on Monday that the two sides had reached a "mutual understanding" while discussing Poroshenko's plan to end the nation's violence, something that most are regarding as a momentous step in the right direction.
Though details of the plan and how it will be implemented are unknown, Germany's Foreign Minister released a statement saying this news was the first "light at the end of the tunnel" seen since the conflict began.
In other news around the markets:
When the dust settled on Monday following an intense bidding war to acquire Hillshire Farms between Tyson Foods and Pilgrim's Pride, it turned out that Tyson had paid hundreds of millions of dollars more than necessary. Tyson's offer of $63 a share far surpassed the $57.50 that would have been necessary to beat Pilgrim's Pride's offer of $55 per share. However, Tyson's CEO Donald Smith says the deal will be more than worth it for Tyson as it could cut around $300 million in annual costs and Hillshire's value to the company will appreciate with time.
GoDaddy Inc. has filed for an initial public offering in which it plans to raise up to $100 million to repay debt and use for general corporate purposes. The number of shares to be offered and the price range for the deal haven't been determined yet.
Chinese data saw another bright spot with reports showing that shoppers paid more for their goods in May. Data out on Tuesday showed that the nation's consumer price index increased 2.5 percent annually in May, compared to just a 1.8 percent rise in April. The figure met expectations and was well below Beijing's goal to keep inflation under 3.5 percent.
On Tuesday, Google and research foundation Autism Speaks are planning announce a deal in which the two will partner to accelerate autism research. Google will house a huge database which sequences 10,000 complete genomes and other clinical data and provide access and tools to analyze the data to all qualified researchers. The portal is expected to be available within a year, with the raw data expected to become available sooner.
Asian markets were mostly higher; the Shanghai composite gained 1.08 percent, the Shenzhen composite rose 1.29 percent, the KOSPI increased 1.09 percent and the Hang Seng index was up 0.86 percent. Only the NIKKEI and the NZ50 fell lower, down 0.85 percent and 0.15 percent respectively.
European Markets
Europe's markets were moderately higher with the exception of the FTSE and the IBEX, which lost 0.42 percent and 0.07 percent respectively. The STOXX 600 was up 0.15 percent, the DAX gained 0.21 percent and the MIB was up 0.48 percent.
Energy futures were mixed; Brent futures fell 0.21 percent while WTI futures gained 0.16 percent. Gold and silver lost 0.03 percent and 0.24 percent respectively while industrial metals rose across the board with the exception of copper, which fell 0.62 percent. Aluminum was up 1.70 percent, zinc gained 1.28 percent and tin gained 0.43 percent.
The euro plummeted on Tuesday losing 0.25 percent against the dollar, 0.25 percent against the pound and 0.44 percent against the yen. The dollar was also lower against the yen, down 0.18 percent but gained 0.22 percent against the franc.
Earnings
Notable earnings released on Monday included:
Pep Boys- Manny, Moe & Jack (NYSE: PBY) reported first quarter EPS of $0.03 on revenue of $538.80 million, compared to last year's EPS of $0.07 on revenue of $536.17 million.
Ferrellgas Partners, L.P. (NYSE: FGP) reported third quarter EPS of $0.57 on revenue of $722.12 million, compared to last year's EPS of $0.56 on revenue of $603.02 million.
Stocks moving in the Premarket included:
Notable earnings expected on Tuesday include:
United Natural Foods, Inc. (NASDAQ: UNFI) is expected to report third quarter EPS of $0.73 on revenue of $1.78 billion, compared to last year's EPS of $0.64 on revenue of $1.57 billion.
Ulta Salon, Cosmetics & Fragrance, Inc. (NASDAQ: ULTA) is expected to report first quarter EPS of $0.74 on revenue of $699.51 million, compared to last year's EPS of $0.65 on revenue of $582.71 million.
Economics
For a recap of Monday's market action, click here.
Tune into Benzinga's #PreMarket Prep to hear Ann Logue, Mark Melin and Todd Sullivan today by clicking here!
Posted-In: Earnings News Guidance Eurozone Futures Commodities Previews Forex Best of Benzinga
View Comments and Join the Discussion!