#PreMarket Primer: Wednesday, May 28: Poroshenko Moves To End Pro-Russian Rebellion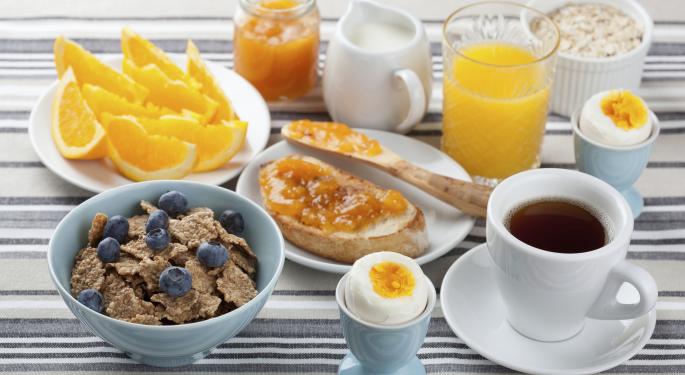 Newly elected Ukrainian President Petro Poroshenko looked to be making good on his promise to quash the pro-Russian rebellion in the nation's eastern region after he ordered an airstrike in the Donetsk region.
More than 50 separatist rebels have been reported dead with evidence of heavy firepower being used, an unprecedented show of strength from the Ukranian government.
The incident has markets on edge as they wait for Russian President Vladimir Putin's response to the assault. Though the Kremlin agreed to recognize Poroshenko's election as President, Putin said in the past that he was willing to defend anyone speaking out for Russia who is under threat.
In other news around the markets:
As the conflict in Libya showing no signs of easing, the US State Department has increased its security warning for US travelers, advising all US citizens to leave the North African nation immediately. With rebel groups refusing to recognize the nation's new government and several organizations targeting Americans, the State Department has limited its staffing at the embassy in Tripoli to emergency services only.
On Tuesday, Pimco announced that it had rehired Paul McCulley as the firm's chief economist, a newly created role. McCulley was previously a portfolio manager and worked as an analyst of US Federal Reserve policies. In a statement out on Tuesday, Pimco said McCulley will assume much of the company's public communications in his new role.
Google released a promotional video showing new prototype cars which are capable of fully autonomous driving. The car lacks a steering wheel as well as accelerator and brake pedals, and instead relies on sensors and software to navigate the roads.  The car's maximum speed is 25 miles per hour.
Pilgrim's Pride Corp. made a surprise $5.5 billion offer to acquire Hillshire Brands, a move which could interfere with Hillshire's recent plans to increase its market share by taking over Pinnacle Foods Inc. If the deal is followed through, Pilgrim's stands to become the second largest company in the meat market, following Tyson Foods Inc.
 Asian markets were up across the board; the NIKKEI gained 0.24 percent, the Shenzhen composite was up 1.24 percent, the Shanghai composite rose 0.77 percent, the KOSPI gained 0.97 percent and the Hang Seng index was up 0.59 percent.
European Markets
European markets were mostly lower with the exception of the MIB and the IBEX, which gained 0.48 percent and 0.14 percent respectively. The FTSE was down 0.09 percent, the STOXX 600 lost 0.14 percent and the CAC 40 fell 0.04 percent.
Energy futures were higher; Brent futures were up 0.22 percent and WTI futures rose 0.16 percent. Gold lost 0.13 percent, but silver was up 0.07 percent; while industrial metals increased across the board. Copper gained 0.24 percent, aluminum was up 0.77 percent and zinc was up 0.17 percent.
The euro was steady at $1.3622 on Wednesday, but the common currency struggled against the yen, down 0.17 percent. The dollar also lost against the yen, down 0.08 percent, but gained 0.26 percent against the pound and 0.14 percent against the franc.
Earnings
Notable earnings released on Tuesday included:
Bank of Nova Scotia (NYSE: BNS) reported second quarter EPS of $1.39 on revenue of $5.72 billion, compared to last year's EPS of $1.24 on revenue of $5.30 billion.
AutoZone (NYSE: AZO) reported third quarter EPS of $8.46 on revenue of $2.30 billion, compared to last year's EPS of $7.27 on revenue of $2.21 billion.
Stocks moving in the Premarket included:
Notable earnings releases expected on Wednesday include:
Bank of Montreal (NYSE: BMO) is expected to report second quarter EPS of $1.53 on revenue of $4.03 billion, compared to last year's EPS of $1.46 on revenue of $3.94 billion.
Michael Kors (NYSE: KORS) is expected to report fourth quarter EPS of $0.68 on revenue of $816.67 million, compared to last year's EPS of $0.50 on revenue of $597.15 million.
Toll Brothers (NYSE: TOL) is expected to report second quarter EPS of $0.27 on revenue of $829.70 million, compared to last year's EPS of $0.14 on revenue of $516.00 million.
Economics
The focus of Wednesday's economic calendar will be primarily on Europe, with several important releases including Italian business confidence, Germany's unemployment rate, Spanish retail sales, French consumer spending and German consumer climate.
For a recap of Tuesday's market action, click here.
Check out Herb Greenberg, John Melloy, Josh Brown and Rahul Saraogi's guest appearances on Benzinga's #PreMarket Prep today by clicking here!
View Comments and Join the Discussion!
Posted-In: Earnings News Eurozone Futures Commodities Previews Forex Events Best of Benzinga