#PreMarket Primer: Tuesday, May 27: Hope Rises In Ukraine Despite Increased Fighting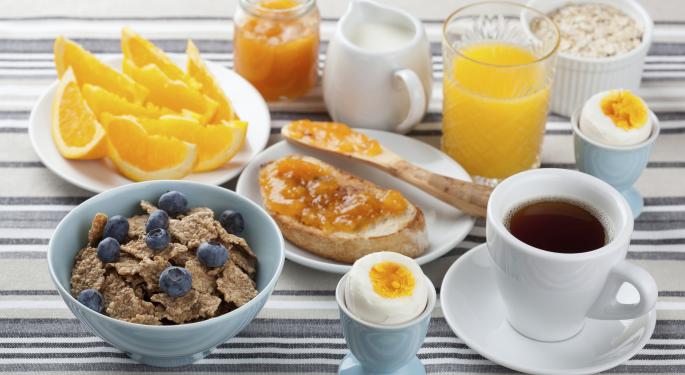 Following the election of billionaire Petro Poroshenko as President of Ukraine, diplomatic tensions seemed to be easing as Moscow agreed to recognize the vote; marking a turning point for the region's crisis.
Poroshenko has indicated that he is willing to engage with Russia in order to end the turmoil in Eastern Ukraine, but that he plans to move forward on integrating Ukraine with Europe.
Following his remarks on Monday, pro-Russian separatists overtook an airport in the Donetsk region, causing Poroshenko to launch an airstrike against the rebel groups.
The fighting indicates that the region still has a long way to go before the conflict is settled, but there is some hope as diplomatic efforts seem to be making some headway.
In other news around the markets:
Japanese Prime Minister Shinzo Abe told the Wall Street Journal on Friday that Japan's foreign policy will be assertive as he tries to rearrange the balance of power in Asia. Japan will try to increase its maritime aid for Vietnam to help the country stand its ground in its dispute over the ownership of parts of the South China Sea. Abe is also planning to maintain diplomatic relations with Russia despite President Vladimir Putin's shaky relationship with the West.
Pfizer has given up on its attempt to create the world's largest pharmaceutical company and take over British drug maker AstraZeneca. On Monday, Pfizer CEO Ian Read said the company was planning to focus on internal growth and other potential deals, and that he was unsure of whether or not the two would resume negotiations in the future.
European Parliamentary elections over the weekend showed a marked increase in votes for nationalist and anti-European parties, reflecting a growing dissatisfaction with what many see as a loss in sovereignty as immigration increases and job growth remains nearly non-existent. In France, the UK and Denmark, nationalist parties that strongly oppose the European Union's fundamental policies claimed first place in the election.
Tension between Vietnam and China continued to escalate on Tuesday as both nations accused the other of being responsible for a sunken Vietnamese finishing boat. The two nations are currently in the midst of a territorial dispute over a portion of the South China Sea, which has lead to several standoffs between boats from the two nations. However, up until Monday no ships had sunk.
Asian markets were down across the board with the exception of the NIKKEI, which gained 0.23 percent. The Shanghai composite was down 0.34 percent, the KOSPI lost 0.63 percent, the Shenzhen composite fell 0.27 percent and the Hang Seng index lost 0.08 percent.
European Markets
Europe's markets were mostly lower with the exception of the FTSE, which gained 0.29 percent and the IBEX which was up 0.01 percent. The STOXX 600 fell 0.06 percent, the CAC 40 was down 0.21 percent, and Italy's MIB was down 0.16 percent.
Energy futures were moderately lower; Brent futures lost 0.06 percent and WTI futures were down 0.10 percent. Gold and silver were down 0.51 percent and 0.68 percent respectively while industrial metals rose. Aluminum was up 1.03 percent, zinc gained 0.24 percent and tin was up 0.47 percent.
The euro was steady at $1.3645 following the US holiday, but the common currency lost 0.14 percent against both the pound and the yen. The dollar gained 0.14 percent against the pound and 0.22 percent against the Australian dollar, but lost 0.14 percent against the yen.
Earnings
No notable earnings released on Monday
Stocks moving in the Premarket included:
Pfizer (NYSE: PFE) was up 0.68 percent in premarket trade after gaining 1.27 percent last week.
Verizon Communications (NYSE: VZ) was up 0.52 percent in premarket trade after gaining 0.59 percent on Friday.
Equifax (NYSE: EFX) was down 5.01 percent in premarket trade after losing 1.70 percent over the past week.
Coca-Cola (NYSE: KO) fell 0.20 percent in premarket trade after choppy trading took the stock down 0.76 percent over the past five days.
Notable earnings releases expected on Tuesday include:
Bank of Nova Scotia (NYSE: BNS) is expected to report second quarter EPS of $1.33 on revenue of $5.57 billion, compared to last year's EPS of $1.24 on revenue of $5.30 billion.
AutoZone (NYSE: AZO) is expected to report third quarter EPS of $8.44 on revenue of $2.33 billion, compared to last year's EPS of $7.27 on revenue of $2.21 billion.
Economics
Tuesday's economic calendar will be dominated by US releases including consumer confidence, services PMI, durable goods orders, and the house price index. Other notable releases include Italian consumer confidence, French consumer confidence, and Swiss GDP.
Tune into Benzinga's #PreMarket Prep show with Dennis Dick and Joel Elconin here.
View Comments and Join the Discussion!
Posted-In: Earnings News Eurozone Futures Commodities Previews Forex Events Best of Benzinga