#PreMarket Primer: Friday, May 16: Wall Street Giants Take Up Positions In Telecom Sector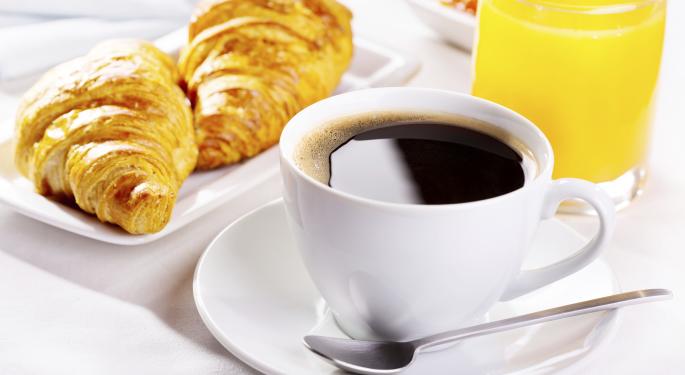 Big investment firms are taking large positions in the telecommunications space as several deals take shape throughout the sector.
Warren Buffett, Daniel Loeb and John Paulson all bought a sizable number of Verizon Communications shares and several dumped all or part of their stake in General Motors.
Buffett's firm, Berkshire Hathaway shed 10 million GM shares, while hedge fund manager David Einhorn completely eliminated the struggling car maker from his portfolio, selling all 17 million of his shares.
In other news around the markets:
With world powers and Iranian officials working together to end a decade long dispute over Tehran's nuclear capabilities, Iran appears to be pursuing the development of ballistic missiles. Reuters reported that a confidential UN report indicated that the nation has shown no signs of slowing down its missile program, something that could interfere with diplomatic efforts to reach an agreement on the country's atomic capabilities.
On Thursday, the Federal Communications Commission voted to advance new rules that will allow internet providers to charge companies a fee to give customers faster access to their websites. The FCC's decision will allow broadband providers to negotiate deals and give certain companies preferential treatment, but will keep the providers from blocking or slowing down websites.
Since Disney child star Brock Pierce was elected as a director for the Bitcoin Foundation last week, several members of the nonprofit group have resigned. Pierce's troubled past including lawsuits over his previous and now bankrupt company, Digital Entertainment Network, has largely been the cause of the controversy. Bitcoin is set to hold its annual conference on Friday, but at least 10 of the foundation's members will be missing.
On Thursday, the White House issued a strong statement warning China that its actions in the South China Sea were straining the nation's relationship with the US. Reuters reported that a US official has said that China's actions in the ongoing territorial dispute are worrisome as they indicate that the nation is using coercion and intimidation to resolve territory claims.
Asian markets were mixed, the Japanese NIKKEI was down 1.41 percent, the Hang Seng index fell 0.19 percent and the Shenzhen composite was down 0.03 percent. However, the Shanghai composite rose 0.08 percent and the South Korean KOSPI was up 0.16 percent.
European Markets
European markets were mostly higher with the exception of the eurozone's STOXX 600, which fell 0.01 percent. The UK's FTSE was up 0.12 percent, Italy's MIB gained 0.26 percent, the Spanish IBEX was up 0.08 percent and the German DAX rose 0.07 percent.
Energy futures were moderately higher as June contracts expired. Brent futures for July delivery gained 0.09 percent to trade at $109.19, and WTI futures for June delivery were up 0.16 percent to trade at $101.66. Precious metals were mixed with gold up 0.01 percent and silver down 0.71 percent, but industrial metals fell across the board. Aluminum lost 1.88 percent, zinc was down 2.09 percent and tin fell 0.19 percent.
Currency markets were quiet; the euro was steady at $1.3715 and gained 0.07 percent against the pound. The dollar lost 0.04 percent against the yen, 0.02 percent against the pound and 0.09 percent against the franc, but gained 0.19 percent against the Australian dollar.
Earnings
Notable earnings released on Thursday included:
Stocks moving in the Premarket included:
Verizon Communications (NYSE: VZ) was up 1.96 percent in premarket trade after falling 1.09 percent over the past week.
Bristol-Myers Squibb (NYSE: BMY) gained 0.45 percent in premarket trade after losing 6.12 percent on Thursday.
Carnival (NYSE: CCL) was down 0.75 percent in premarket trade after falling 1.10 percent on Thursday.
Notable earnings releases expected on Friday include:
Tsakos Energy Navigation (NYSE: TNP) is expected to report first quarter EPS of $0.12 on revenue of $89.16 million, compared to last year's EPS of $0.02 on revenue of $69.40 million.
Canadian Solar (NASDAQ: CSIQ) is expected to report first quarter EPS of $0.12 on revenue of $431.98 million, compared to last year's loss of $0.10 on revenue of $263.61 million.
Economics
US data will dominate Friday's economic calendar with releases including consumer sentiment data, building permits and housing starts.
For a recap of Thursday's market action, click here.
Tune into Benzinga's #PreMarket Prep show with Dennis Dick and Joel Elconin here.
Posted-In: Earnings News Eurozone Futures Commodities Previews Forex Events Best of Benzinga
View Comments and Join the Discussion!