#PreMarket Primer: Thursday, May 15: Eurozone GDP Highlights Uneven Recovery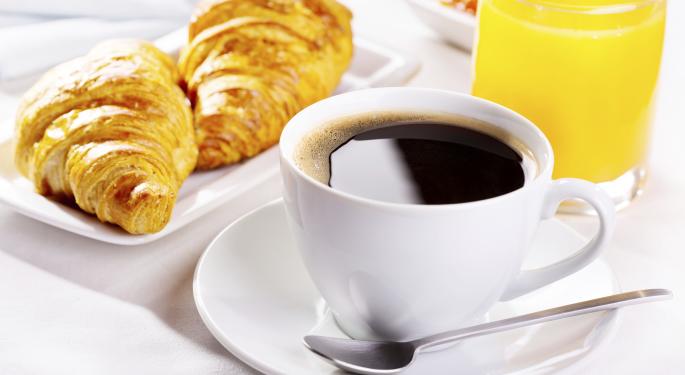 Eurozone first quarter GDP figures came in with mixed performances across the region. Germany, the bloc's largest economy, saw an 0.8 percent rise in gross domestic product.
The data marked the nation's fastest expansion since 2011. By contrast, the eurozone's second largest economy, France, grew just 0.2 percent.
Although that figure outpaced analysts' expectations of a 0.1 percent expansion, it highlighted the troubles the bloc is facing with an uneven recovery. As a whole, the region's GDP missed the mark, expanding just 0.2 percent, compared to analysts' expectations of 0.4 percent expansion.
In other news around the markets:
The Wall Street Journal reported that AT&T's deal team, a group of about 20 people tasked with working out the details of the company's mergers and acquisitions, is actively putting together a plan to acquire DirecTV for around $50 billion. Sources close to the deal have said that AT&T hired Lazard to advise the company throughout the process.
After China positioned an oil rig in a part of the South China Sea that has been claimed by Vietnam, Vietnamese people across the country erupted into protests. On Wednesday night, the demonstrations turned violent as protesters stormed the nation's largest steel plant following outbursts of looting and arson. The events left over 20 dead and hundreds injured and prompted Chinese living in the country to flee.
Data out on Thursday showed that better than expected capital spending data helped boost Japanese GDP in the first quarter by 5.9 percent. The figure was far above analysts' expectations of a 4.2 percent rise in GDP, which relieved some of the pressure on the Bank of Japan for more stimulus to support growth following the nation's April sales tax hike.
With General Electric in the process of acquiring Alstom SA's energy assets, French Prime Minister Manuel Valls signed a decree which allows the government to block any foreign takeover that it deems strategic. The decree will strengthen the government's ability to interfere with GE's bid if it is not happy with the terms of agreement.
Asian markets were mixed; the Japanese NIKKEI was down 0.75 percent, the Shanghai composite was down 1.12 percent and the Shenzhen composite lost 1.77 percent. However the Hang seng index gained 0.66 percent and Australia's ASX 200 rose 0.26 percent.
European Markets
European markets were down across the board; the UK's FTSE was down 0.14 percent, the eurozone's STOXX 600 lost 0.17 percent, Italy's MIB fell 1.32 percent and France's CAC 40 lost 0.31 percent
Energy futures retreated, Brent futures were down 0.17 percent and WTI futures lost 0.55 percent. Gold lost 0.06 percent and silver was down 0.18 percent, while industrial metals rose. Copper was up 0.13 percent, aluminum rose 1.57 percent and zinc was up 1.94 percent.
The euro continued to lose ground on Thursday, dropping to $1.3676 and losing 0.26 percent against the pound. The dollar lost 0.01 percent against the yen, but gained 0.06 percent against the sterling.
Earnings
Notable earnings released on Wednesday included:
Stocks moving in the Premarket included:
Kinder Morgan Inc. (NYSE: KMI) was up 0.99 percent in premarket trade after rising 2.25 percent on Wednesday.
Verizon Communications, Inc.(NYSE: VZ) was down 0.23 percent in premarket trade after losing 0.99 percent over the past five days.
Notable earnings releases expected on Thursday include:
Economics
Thursday will be a busy day for economic data with releases including US industrial production, US initial and continuing jobless claims, US CPI, eurozone GDP, Italian GDP, French GDP and German GDP.
For a recap of Wednesday's market action, click here.
Tune into Benzinga's #PreMarket Prep show with Dennis Dick and Joel Elconin here.
Posted-In: Earnings News Eurozone Futures Commodities Previews Forex Events Best of Benzinga
View Comments and Join the Discussion!