#PreMarket Primer: Friday, May 9: Separatist Vote Set To Go Ahead In Ukraine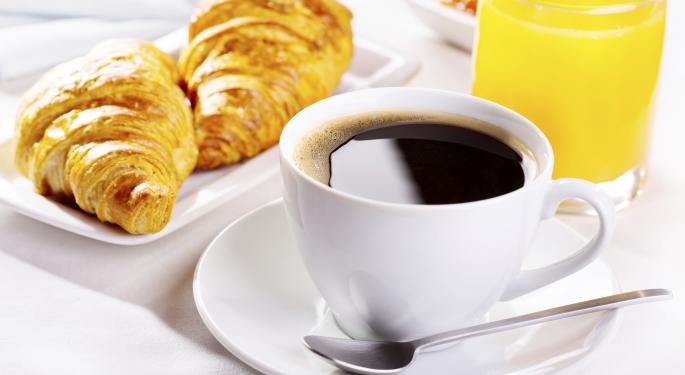 Pro-Russian separatists occupying cities across Ukraine are moving forward with a secession vote scheduled for Sunday despite Russian President Vladimir Putin's call for the vote to be postponed on Wednesday.
Putin's effort to de-escalate the growing tension in Ukraine was received skeptically by Western officials and Kiev claimed that Putin was simply trying to appear less aggressive to international leaders.
Kiev has accused Russia of sending in agents who are leading the separatists groups in an effort to cause a disruption and undermine the nation's pro-Western government. Now, with a controversial referendum on secession coming up this weekend, the country may be on the brink of a civil war.
In other news around the markets:
On Thursday, the European Central Bank didn't pull any punches and maintained its current monetary policy. However, bank President Mario Draghi surprised investors by saying the bank was "comfortable with acting next time." His remarks indicated, in an uncharacteristically blunt way, that the bank plans to ease further in June.
The Wall Street Journal's May survey of 48 economists indicated that the US economy is growing quickly this quarter, a marked improvement from the nation's first quarter stumble. The survey showed that the consensus forecast for  annualized real GDP growth was 3.3 percent, with some economists expecting growth of 4 percent or higher.
Omnicom Group Inc and Publicis Groupe SA have called off their $35 billion merger, saying that there were too many obstacles to overcome in order to create a cohesive business. Among other things, the two faced complex tax issues as well as divergent corporate cultures.
Reuters reported that Apple may pay $3.2 billion to acquire Beats Electronics. Apple is reportedly looking to launch a subscription based music service, which Beats launched earlier this year. The service provided by Beats has been well received as it boasts a human music curation system rather than the computer algorithms that control the collections for most of its rivals.
Asian markets were mixed; the Shanghai composite was down 0.21 percent and the Shenzhen composite lost 0.58 percent. However, the Japanese NIKKEI rose 0.25 percent, the Hang Seng index was up 0.02 percent and the South Korean KOSPI gained 0.31 percent.
European Markets
European markets were down across the board; the UK's FTSE lost 0.27 percent, the eurozone's STOXX 600 was down 0.30 percent, the German DAX lost 0.37 percent and Italy's MIB was down 0.60 percent.
Energy futures were higher; Brent futures gained 0.26 percent and WTI futures were up 0.32 percent. Gold and silver were up by 0.19 percent and 0.17 percent respectively and industrial metals also rose. Copper was up 0.26 percent, zinc gained 0.37 percent and tin was up 0.52 percent.
Currency markets were quiet on Friday; the euro lost 0.05 percent against the dollar but gained 0.01 percent against both the pound and the yen. The dollar rose 0.04 percent against the yen and gained 0.09 percent against the franc.
Earnings
Notable earnings released on Thursday included:
Stocks moving in the Premarket included:
Bank of America (NYSE: BAC) was up 0.47 percent in premarket trade after falling 2.10 percent over the past week.
Exxon Mobil (NYSE: XOM) was down 0.31 percent in premarket trade after losing 0.77 percent on Thursday.
Notable earnings releases expected on Friday include:
Economics
Friday's economic calendar will be quiet after a busy week. Notable releases will include British manufacturing production, British industrial production, the German trade balance and the British trade balance.
For a recap of Thursday's market action, click here.
Tune into Benzinga's #PreMarket Prep show with Dennis Dick and Joel Elconin here.
Posted-In: Earnings News Eurozone Futures Commodities Previews Forex Events Best of Benzinga
View Comments and Join the Discussion!