Biogen Raises Full-Year Earnings, But Is That The Entire Picture?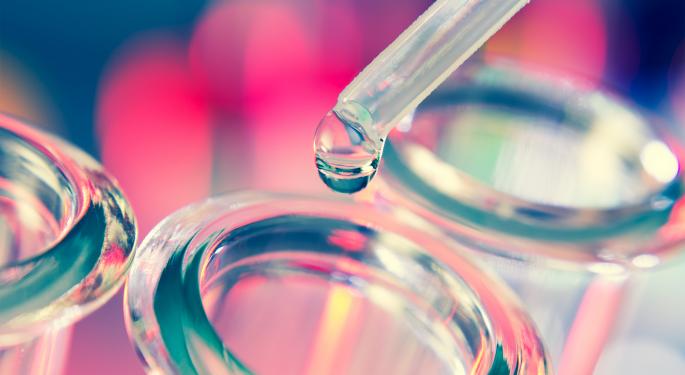 One of the best performers in the incredible bull run for the market has been the biotech sector.
Many of the stocks in the sector have doubled, tripled, quadrupled and, in the case of Biogen (NASDAQ: BIIB), decupled (ten times) in price.
BIIB, which bottomed in Nov. 2008 ($37.21) and peaked in March ($358.89), has since fallen back under $300.00. A pullback of this nature would not be that concerning if it had taken place under different circumstances.
Despite a $0.10 miss on higher revenue, the company released favorable full year guidance; informing Wall Street that FY 2014 EPS will be higher than expected ($11.35-$11.45 vs. $11.32 estimate).
Related: Exclusive: Lux Research's Sara Olson On Opportunities In Green Agriculture
That good news instigated a rally during the premarket session, which took the issue to $312.00. However, when the true liquidity entered the market at 9:30 a.m., the issue approached $310.00 and then collapsed. The ensuing decline took the issue to $295.49 before recovering to close slightly higher for the day at $306.75.
Whomever decided not to sell the good news Wedneday was doing it in Thursday's session. After a flat open, sellers came in once again. This push went well below $300.00 to $286.48, before rebounding to its current level ($295). A few closes under that the key psychological level ($300.00) may intensify the selling on weakness pressure on the issue. Keep in mind. there are still many investors in from lower prices and may still able to exit at a tidy profit -- instead of all of the investors that purchased the issue on its rapid decline from from $358.89 to $286.48.
After making its all-time high ahead of the broad market in March, BIIB fell from investors' graces on March 21. Two days removed from its all-time high, BIIB ended the session on March 20 at $347.04, only to cascade nearly $30.00 to close at $318.53.
The sharp drop may have been attributed to news related to Gilead Sciences (NASDAQ: GILD). The previous day a letter from three Democratic lawmakers on the House's Energy and Commerce Committee requested a briefing with Gilead, regarding the price of its new Hepatitis C drug, Sovaldi.
"Our concern is that a treatment will not cure patients if they cannot afford it," wrote Reps. Henry Waxman, Frank Pallone Jr. and Diana DeGette in the letter dated March 20.
GILD took a drubbing that day as well (five percent), but the move was pale in comparison to the haircut in BIIB shares (eight percent). On a side note, GILD posted blowout numbers Wednesday, but it was trading lower by nearly $5.00 ($75.88 vs. $73.45) from its Wednesday high to its current price.
Another reason for its decline may be concerns regarding continued scrutiny from the U.S. government on its Sales and Promotional Practices. The company revealed in its most recent 10Q Report disclosed that State and Federal authorities investigations were underway.
One has to look no further than the trading action in Herbalife (NYSE: HLF) and NuSkin (NYSE: NUS) to become associated with the volatility when such matters arise. Whether it be U.S. or overseas agencies conducting the inquiries, the market reacts to the tape, And when bad news hit the tape, whether true or not, the market will immediately react and reprice the issue in question.
Considering the lofty levels from which BIIB has fallen, any further inquires or actions by the government may trigger more selling. Along those lines, reduction in the prices of its key products may result in reduction in earnings.
With BIIB already having a price/earnings of 36, downward revisions may have a devastating effect on its share price.
View Comments and Join the Discussion!
Posted-In: Biotech Earnings News Technicals Movers & Shakers Intraday Update Tech Trading Ideas Best of Benzinga