How Greenbrier's Saudi JV Will Expand Its Middle East Presence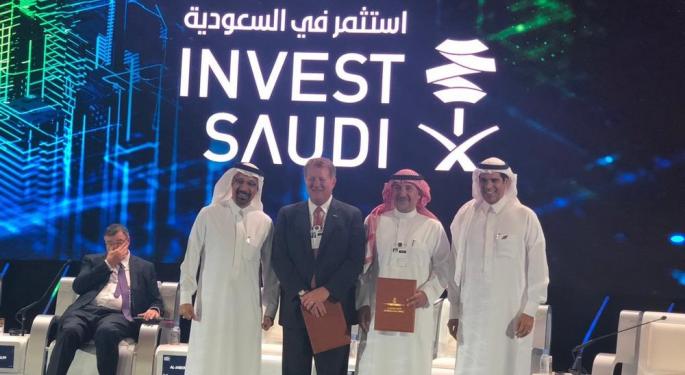 Distancing itself from the international uproar over the murder of dissident Saudi journalist Jamal Khashoggi, railcar manufacturer Greenbrier Companies Inc (NYSE: GBX) has signed a joint venture agreement with the Saudi Railway Company (SAR) worth $270 million.
The new business, which will focus on creating new rail routes in the Saudi kingdom, gives Greenbrier a foothold in one of the fastest growing G-20 economies in the world.
"We have a large pool of investors who are interested in Saudi Arabia," said Greenbrier president and CEO Bill Furman, who spoke to FreightWaves by phone from the company's headquarters in Lake Oswego, Oregon. "Depending on its success, this venture could grow into a real, long term partnership."
Greenbrier International president Jim Cowan signed the joint venture agreement with SAR CEO Dr. Bashar AlMalik during the Future Investment Initiative conference held in Riyadh last week. The international economic gathering yielded billions of dollars in deals, despite the fact that dozens of high profile companies and CEOs boycotted at the last minute amid allegations Saudi Arabia was behind the killing this month of Khashoggi inside the Saudi consulate in Istanbul.
"I have concerns about what occurred to the poor fellow," Furman said. "But I think [President Donald Trump] and their government is taking it very seriously. Often what appears in the Middle East is not what is. The royal family is very smart. I can't imagine them doing this."
Plus, Furman added: "It's not our job to evaluate that. We are investing in infrastructure. We are helping the people."
Under the terms of the joint venture, Greenbrier, the second largest freight railcar manufacturer in the U.S., will provide up to $100 million in new railcars, lift equipment and other terminal investments, and will operate intermodal and other freight terminals. SAR will provide locomotives and rail access.
Rail projects support Saudi Arabia's ambitious "2030 plan" to modernize and diversify the oil-dependent nation's economy while improving livability.
"They want to diversify away from carbon," said Furman. He said the venture will reduce the kingdom's reliance on trucks, alleviate congestion and help jumpstart new industry clusters and cities along rail lines.
Most of the freight in Saudi Arabia is transported by truck or pipeline.
Greenbrier announced the joint venture on Friday, October 26, the same day it released the company's fourth quarter and year-end earnings.
Matt Elkhott, an analyst with Cowen and Company, gave Greenbrier the thumbs up in his latest earnings update issued on Friday last week. "Fiscal [Q4] orders were well above our estimate," he wrote. "Guided FY 2019 revenue and earnings per share well above expectations." Elkhott noted the Saudi joint venture, and wrote: "GBX's deliveries to SAR have historically been high ASP and high margin."
The relationship between SAR and Greenbrier began in 2015, when Greenbrier was awarded a contract to manufacture nearly 1,200 tank wagons for SAR to use in the mining related transport of molten sulphur and phosphoric acid.
Since then, Greenbrier has continued to "study the strategic significance of Saudi Arabia vis-a-vis policy in Iran, Lebanon and Israel," Furman said. "The Saudis have been allies for 100 years; they are good people. They [also] have the largest reserves of energy and minerals in the world."
The joint venture has been over a year in the making, said Furman. Greenbrier will have first right to manufacture and provide railcars for the venture's railcar pool and establish a Saudi-based manufacturing/assembly presence.
He said the partnership will give SAR access to technology and knowledge transfer and advanced railcar and efficient network designs.
Down the road, Furman envisions a hub for a rail networks that expands to the UAE, Oman and other Gulf Cooperation Council (GCC) nations. He described Almalik as "a visionary guy," and noted that Saudi Arabian engineers "build twice as fast as Americans."
Related Links:
10 Companies Distancing Themselves From Saudi Arabia
Gordon Haskett Analyst Previews GE Earnings: 'I Think A Dividend Cut Is Inevitable'
View Comments and Join the Discussion!