Gordon Haskett Analyst Previews GE Earnings: 'I Think A Dividend Cut Is Inevitable'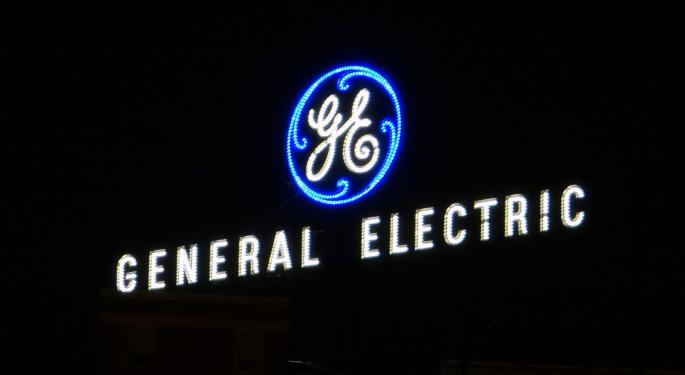 General Electric (NYSE: GE) investors may have their fingers on the "sell" button when the company reports Q3 earnings Tuesday.
John Inch, Managing Director and Senior Equity Analyst at Gordon Haskett, recently joined Benzinga's PreMarket Prep to discuss what GE investors can expect and exactly how bad the upcoming report could be.
Be Concerned
Inch, who had a Sell rating on GE way back in May 2017 when he worked at Deutsche Bank, said another aggressive dividend cut is likely inevitable.
"People should be concerned," Inch said on the Oct. 26 edition of PreMarket Prep. "GE also fired its CEO John Flannery after just four months on the job and after approving his plan to basically downsize the company--sell off health care, Baker Hughes and other assets to pay off tremendous debt. That plan was enacted fully by the board in June, and now the new board director is the new CEO, who has just delayed the earnings release."
Inch said the earnings release itself will likely be brutal given GE already announced it will be writing down a massive amount of goodwill from its struggling Power segment, but he said new CEO Larry Culp's plan will be the most important part of Tuesday's report.
"I don't think the earnings number will be as important as what the new CEO describes with respect to their situation regarding their debt, the liabilities, and the cash flow. Those are going to probably be the more important things than whatever they report on the adjusted EPs line," Inch said.
Recovery Signs
Inch has been a long-time GE bear as the stock has plummeted 61 percent in the past three years, but he's still watching for signs the company is righting the ship.
"GE is a long-term workout in my opinion," he said. "This is going to take a very long time to turn this company around and get it moving in the right direction."
Inch said the earnings reported won't even be a reflection of the new CEO or his plan because he has only been with the company for less than a month.
"There are two things that I would be looking for. The first would be what does he say about the decision to divest health care? Because I think it's telling. It suggests that GE really does need money because of all the debt and liabilities that they've built up.
"If...Larry Culp, were to say look, I've looked at the plan to divest healthcare and even though I approved it we've decided to retain healthcare now, I think that could be somewhat of a positive inflection insomuch as maybe their liquidity issues aren't as pressing," he said.
Cash Is King
Inch said the other critical issue for GE is cash flow.
"The cash is not good, and the latest cash guidance for $6 billion was already cut once, and now they've suspended the guidance on the cash flow," he said.
The big question for GE investors will be whether or not the company can even generate enough cash to pay its dividend, and he said GE will likely confirm on Tuesday it can't.
"I think a dividend cut is inevitable. The company does not generate enough cash flow to support its $4.2 billion dividend… We think the dividend it probably going to get cut in half again," he said.
Reducing GE's current dividend by 50 percent would cut its yield to about 2.1 percent, but Inch said the company has to be careful not to cut it too much or risk forcing dividend ETFs and institutional investors to dump the stock.
"What you don't want to have to do is cut as a new CEO and have to come back and cut again. Whatever he does, he needs to do it once, otherwise his credibility is going to suffer. GE can't go back to the well and hire somebody else. This is it," Inch said.
GE traded around $11.52 per share at time of publication.
Listen to the full interview with Todd Gordon at 32:45 in the podcast of the show below
PreMarket Prep is a daily trading show hosted by prop trader Dennis Dick and former floor trader Joel Elconin. You can watch PreMarket Prep live every day from 8-9 a.m. ET here. The replay can be found on Benzinga's YouTube channel, and the podcast is on iTunes, Google Play, Soundcloud, Stitcher and Tunein.​​​​
Related Links:
Barclays Says It's Time To Reconsider General Electric's Stock
Fresh Faces: GE, J.C. Penney Shares Revitalized By New Leadership
Photo credit: Momoneymoproblemz, via Wikimedia Commons
Posted-In: Gordon Haskett John Inch Larry CulpAnalyst Color Previews Top Stories Trading Ideas Interview Best of Benzinga
View Comments and Join the Discussion!