10 Companies Distancing Themselves From Saudi Arabia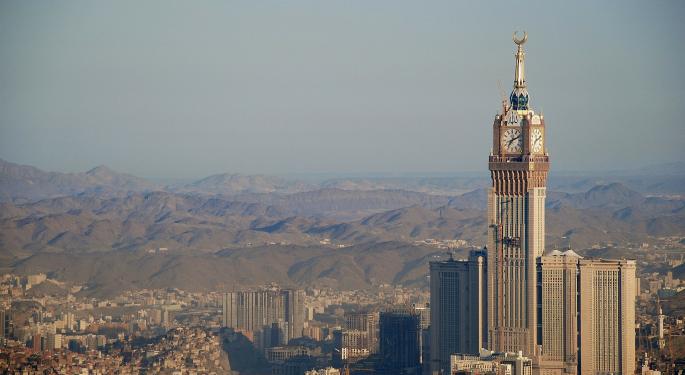 Journalist Jamal Khashoggi walked into the Saudi Consulate in Istanbul Oct. 2 to obtain documents for his upcoming wedding and hasn't been seen since.
Khashoggi is highly critical of Saudi Arabia and has authored articles calling out the kingdom and its officials. Saudi Arabia is very aware of the journalist's criticism, and Khashoggi had been living in self-imposed exile prior to his disappearance.
On Wednesday, Turkish news media published details from audio recordings that allegedly document Khashoggi's murder inside the consulate, according to The New York Times.
Numerous individuals and corporations have been pulling out of upcoming Saudi events and deals in the wake of the journalist's disappearance. This backlash has cost the country at least $1 billion in investments from the following key people and corporations:
Virgin Group: In a blog post, founder Richard Branson announced that Virgin Galactic and Virgin Orbit will suspend business deals with the Public Investment Fund of Saudi Arabia. The deals were worth at least $1 billion.
Harbor Group: The lobbying firm terminated Saudi Arabia as a client, severing an $80,000-per-month deal.
Glover Park Group: Glover is another lobbying firm that cut their ties with the kingdom; they've yet to comment on their decision. Saudi spent $27 million in 2017 on U.S. lobbying firms.
Uber CEO Dara Khosrowshahi: The kingdom is a large investor in Uber, but Khosrowshahi has chosen to not attend the Future Investment Initiative conference at the end of October.
JPMorgan: CEO Jamie Dimon said he will not make an appearance in Riyadh.
Ford Motor Company (NYSE: F): Executives at the automotive giant decided against attending the Future Investment Initiative conference.
Alphabet Inc (NYSE: GOOGL) (NYSE: GOOG): Google said the head of its cloud computing business will not attend the Saudi conference. Another Alphabet exec, Dan Doctoroff, pulled out of the $500-billion Neom megacity project.
New York Times Co (NYSE: NYT) - The Times was a sponsor of the FII event, commonly referred to as "Davos in the Desert." The newspaper is pulling out of the event; columnist Andrew Ross Sorkin said that he was "terribly distressed" by Khashoggi's disappearance.
CNN: The 24-hour cable news channel also pulled out of "Davos in the Desert."
Viacom, Inc. (NASDAQ: VIA) CEO Bob Bakish: The CEO of Viacom announced that he has cancelled all plans to attend the FII conference.
At the time of publication, Saudi has lost over $1 billion in investments from Virgin Group, over a dozen speakers and sponsors for its Future Investment Initiative conference and key members from its Neom project, a plan to build a smart megacity.
Other companies are also considering ending their business relationships with Saudi along with Virgin Group. The media conglomerate Endeavor considering the termination of a $400-million deal with the Saudi Public Investment Fund.
What It Could Mean
President Donald Trump said Saudi Arabia deserves "severe punishment" if it is responsible for Khashoggi's death. The Saudi stock exchange fell 7 percent on Oct. 14.
Saudi Arabia has already threatened "punishment" for any sanctions imposed against the kingdom, and said if it "receives any action, it will respond with greater action, and that the kingdom's economy has an influential and vital role in the global economy," according to the Saudi Press Agency.
"The kingdom affirms its total rejection of any threats and attempts to undermine it, whether by threatening to impose economic sanctions, using political pressures or repeating false accusations."
If oil production is used as a pushback during the dispute, the kingdom could disrupt multiple countries at once.
Saudi is a heavy investor in Silicon Valley, creating a dilemma for tech companies in need of capital that also have concerns about the kingdom's human rights abuses.
Related Links:
This Day In Market History: OPEC Cutbacks Send Oil Prices Skyrocketing
View Comments and Join the Discussion!
Posted-In: Future Investment Initiative Jamal Khashoggi Saudi Arabia The New York TimesNews Politics General Best of Benzinga