Toyota Again Trounces US Peers In North American Auto Sales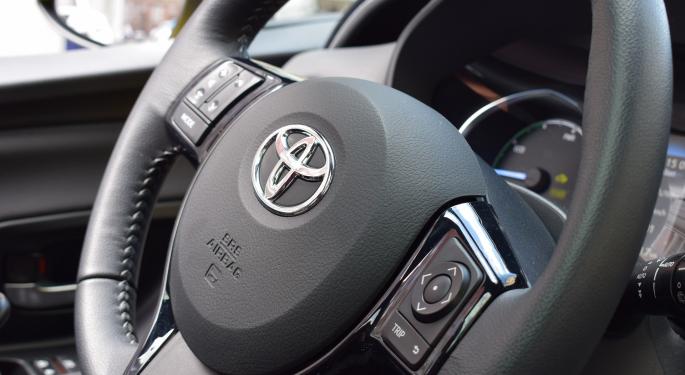 August auto sales were as healthy as Cox Automotive anticipated.
Toyota Motor Corp (ADR) (NYSE: TM) led the pack with 223,055 vehicle sales, followed by Ford Motor Company (NYSE: F) (218,504), Fiat Chrysler Automobiles NV (NYSE: FCAU) (193,718) and Honda Motor Co Ltd (ADR) (NYSE: HMC) (147,903). But the automakers could've done better, accoridng to Cox's senior economist.
"Given all the positive economic news, including a high stock market and low unemployment rates, we might have expected even more, particularly compared to last August, which was negatively impacted by Hurricane Harvey," Cox senior economist Charlie Chesbrough said in a report.
"This is why we believe all the positive economic news can't overtake the worsening buying conditions for consumers: the economy may be peaking right now, but the vehicle market likely peaked two years ago."
Automakers read the data differently. Ford said on a Tuesday conference call that it expects continued growth in the second half of the year despite increasing price pressures.
Experts contest the high expectations, particularly in the small car market.
"For the first time in U.S. automotive history, monthly car share is on pace to dip below 30 percent," Zo Rahim, research manager for Cox Automotive, said in a statement. "This is a dramatic shift — car share was near 50 percent just five years ago. With the drop, it's tough to forecast where share will finally level out, as consumers have decidedly killed the car. Our initial idea of the floor being somewhere in the low-30-percent neighborhood appears to be too high in a market that loves its trucks and SUVs."
Ford
Led by rises in both Ford (4.2 percent) and Lincoln (2.7 percent) brands, Ford recorded a 4.1-percent increase in sales to outperform Cox Automotive's 3.4 percent estimate.
Retail contributed a mere 1.1-percent peak while fleet sales popped 15 percent. Consistent with Ford's intended mix shift, car sales fell 21.3 percent, while trucks and SUVs rose 5.7 percent and 20.1 percent, respectively.
"It's back to the future for Ford," said Autotrader analyst Michelle Krebs. "Despite former CEO Alan Mulally's efforts to better balance its product portfolio, Ford is back to being largely a truck company."
Average transaction prices grew $1,400, which Ford claims is twice the industry rate.
Fiat Chrysler
FCA sales increased 10 percent against Cox's 10.8-percent forecast. The rise was driven by strength in retail (17 percent) and across the Jeep (20 percent) and Ram (27 percent) divisions. The latter brand broke two August records.
"Our August results highlight how the all-new Ram light duty is coming into its own," said Reid Bigland, head of U.S. Sales.
Chrysler declined 3 percent, Dodge 18 percent and Fiat 35 percent. The still-nascent Alfa Romeo grew 96 percent.
Toyota
Toyota North America reported a 2-percent drop in sales against Cox's forecast for a 1-percent increase. Toyota and Lexus declined 1.2 percent and 7.1 percent, respectively, despite each recording their best-ever months for light-truck sales.
The overall truck segment popped 7.4 percent to mitigate a 15.6-percent drop in car sales.
Honda
American Honda posted a 1.3-percent increase in sales to defy expectations of a 0.7-percent decline. Acura's 14.8-percent rise offset Honda's 0.1-percent drop, and an 18.9-percent pop in trucks overcame a 15.3-percent dip in cars.
The firm's electric vehicles recorded their best-ever monthly sales.
"Leveraging our manufacturing flexibility to increase our light truck supply continues to pay off for us," Henio Arcangeli Jr., senior vice president of the American Honda Automobile Division, said in a press release.
Related Links:
Ford, FCA, Honda Post Sales Growth As Toyota Languishes
View Comments and Join the Discussion!
Posted-In: auto sales Cox AutomotiveNews Retail Sales Top Stories Best of Benzinga