Ford, FCA, Honda Post Sales Growth As Toyota Languishes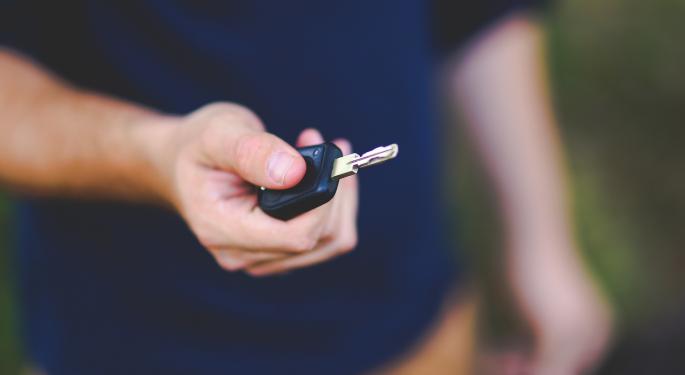 The auto industry didn't set as many records in May as it did in preceding months, but it continued a streak of outperformance.
Ford Motor Company (NYSE: F) led the pack with 242,824 units sold, followed by Toyota Motor Corp (ADR) (NYSE: TM) (215,321), Fiat Chrysler Automobiles NV (NYSE: FCAU) (214,294) and American Honda Motor Co Ltd (ADR) (NYSE: HMC) (153,069).
"Despite rising transaction prices and higher fuel costs, the new vehicle market remains strong," Karl Brauer, executive publisher for Autotrader and Kelley Blue Book, said in a press release.
Consumers are buying trucks and SUVs at an accelerated pace and offsetting the continuing decline in car sales, Brauer said.
The Autotrader publisher expects the trend to continue through summer and fall based on economic indicators, "though talk of tariffs and the specter of $4-plus-a-gallon fuel could end the party."
Ford Narrows Its Focus
Ford posted a 0.7-percent increase in year-over-year sales, reflecting a 1-percent pop in the Ford brand and 5.2-percent decline in Lincoln. The final figures far exceeded Cox forecasts for a 10.5-percent decline.
On a more granular level, the automaker's mix vindicated its recent decision to adjust its portfolio. A 9.4-percent rise in trucks (108,605) and 0.5-percent pop in SUVs (81,701) offset a 13.3-percent drop in cars (52,518).
Retail rose 3.5 percent, while order timing forced a 4.6-percent fall in fleet sales and average transaction prices came in $3,400 above industry levels.
Fiat Chrysler Flourishes
Driven largely by a surge in Jeep sales, FCA reported its best retail month in 13 years, with sales up 11 percent annually against Cox's 11.9-percent estimate.
"After a few years of painful portfolio restructuring, Jeep is firmly on the upswing, buoying FCA's performance with the brand's strongest May ever," Kelley Blue Book analyst Rebecca Lindland said in a release. " ... There's no stopping this iconic brand."
Jeep posted a 29-percent rise, compounding pops in Alfa Romeo (159 percent), Dodge (4 percent) and Ram (2 percent). The eponymous Chrysler (-18 percent) and Fiat (-46 percent) brands recorded significant declines.
In line with the industry trend, car sales fell (-8 percent) as utility vehicles (27 percent) and trucks (2 percent) rose.
Toyota Tumbles
Toyota North America sales dipped 1.3 percent year-over-year and fell short of Cox's estimate of a 0.8-percent rise. On a daily selling rate basis accounting for May 2018's extra selling day, sales were down 5.1 percent.
Although light trucks saw their best-ever May, they failed to float the North American divisions. Lexus fell 0.1 percent and Toyota 1.5 percent on a volume basis, with DSR falling 3.9 percent and 5.3 percent, respectively.
Honda Hangs On
Led by record May sales in trucks (9.2 percent), American Honda posted a 3.1-percent pop in total sales against a 1.1-percent Cox estimate. Cars fell 2.7 percent, and the Honda division popped 4.3 percent to offset an 8-percent decline in Acura.
Related Links:
Morgan Stanley Revisits Auto OEMs, Says Fiat Chrysler Has 'Strategic Potential,' Ford 'Out Of Favor'
April Auto Sales Fall; Fiat Chrysler's Jeep Is 'Back In The Game'
View Comments and Join the Discussion!
Posted-In: auto sales Cox Automotive Karl Brauer Kelley Blue Book Rebecca LindlandNews Retail Sales Top Stories Best of Benzinga