Strong June Auto Sales Could Represent 'Peak Market'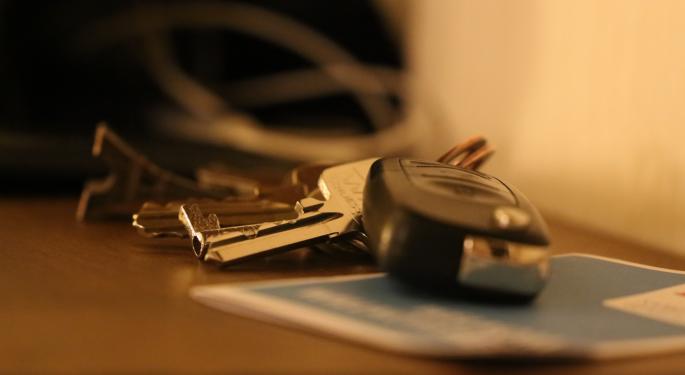 With the aid of an extra selling day, automakers reported positive but hard-to-replicate performancein June.
"All indicators tell us that we have reached peak market and it won't be getting better from here," Charlie Chesbrough, senior economist at Cox Automotive, said in a press release.
Ford Motor Company (NYSE: F) sold 230,635 vehicles, Toyota Motor Corp (ADR) (NYSE: TM) 209,602; Fiat Chrysler Automobiles NV (NYSE: FCAU) 202,264 and Honda Motor Co Ltd (ADR) (NYSE: HMC) 146,563.
Here are some of the major points of their sales reports:
Ford
Ford sales jumped 1.2 percent year-over-year, with a 2.9-percent pop in retail offsetting a 2.3-percent decline in fleet. The figure far exceeded Cox's forecast for a 1-percent decline.
The Ford and Lincoln brands each contributed to the overall increase with respective 1.1-percent and 2.8-percent increases. Trucks rose 3.2 percent and SUVs 8.9 percent against a 14-percent fall in cars.
For the entire first half of the year, Ford's fleet and retail sales saw 3.2-percent and 1.1-percent drops, respectively. Lincoln fell 10.8 percent and Ford 1.4 percent.
Fiat Chrysler
FCA's best June retail sales in 14 years marginally beat Cox's estimates.
The 8-percent year-over-year rise was driven by a 19-percent pop in Jeep, 6-percent in Ram, and 9-percent in Dodge. Chrysler fell 32 percent and Fiat 36 percent.
Year-to-date, all brands except Jeep and the low-volume Alfa Romeo suffered sales declines.
Toyota
Toyota Motor North America's sales were up 3.6 percent on a volume basis but down 0.3 percent on a daily selling rate basis, accounting for the extra day in June 2018. Cox had forecast a 1.2-percent overall decline.
On a volume basis, the Toyota division saw a 4.4-percent increase while Lexus posted a 2.6-percent decline.
The firm's aggregate year-to-date sales came in 3 percent above 2017 numbers.
Honda
American Honda posted a 4.8-percent pop against Cox estimates for a 3.7-percent decline.
Trucks rose 12 percent to compensate for a 2.4-percent drop in cars. Both the Honda and Acura brands celebrated gains of 5 and 3.5 percent, respectively.
The full first half of the year demonstrated a marginal decrease for the automaker.
Related Links:
Ford, FCA, Honda Post Sales Growth As Toyota Languishes
Auto Pair Trade: Goldman Sachs Buys Toyota, Steps To Sidelines On Honda
Posted-In: Cox AutomotiveNews Best of Benzinga
View Comments and Join the Discussion!