The Most Liked And Hated Disney Characters Of All Time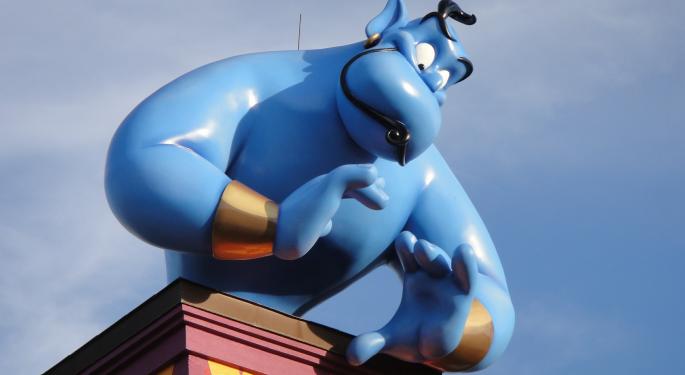 Walt Disney Co (NYSE: DIS) films have produced some of the most memorable characters in movie history and it seems as if the company continues to churn out an endless array of likeable and relatable characters year after year.
At this year's Comic-Con International in San Diego, a panel conducted by Marshall University outlined a study conducted each year from 2014-2018, surveying over 1,000 people to determine who the most likeable movie characters were. Disney dominated the list every year, with the Genie coming in at No. 1 in 2018.
Most Liked Characters
Genie (from "Aladdin")
Simba ("The Lion King")
Woody ("Toy Story")
Sulley ("Monter's Inc")
Wall-E ("Wall-E")
Edna ("The Incredibles")
Mulan ("Mulan")
Mike Wazowski ("Monster's Inc")
Tigger ("Winnie The Pooh")
Moana ("Moana")
Most Hated Characters
Lady Tremaine a.k.a The Wicked Stepmother ("Cinderella")
Evil Queen ("Snow White")
Gaston ("Beauty and the Beast")
Cruella de Vil ("101 Dalmatians")
Jafar ("Aladdin")
Mother Gothel ("Tangled")
Scar ("The Lion King")
Queen Of Hearts ("Alice In Wonderland")
Claude Frollo ("The Hunchback of Notre Dame")
Hans ("Frozen")
5 Aspects Of Personality
The study separated characters into personality and traits and then attached their style of love.
Personality is defined as: The unique and relatively stable and enduring internal and external characteristics including, thoughts, feelings and actions that influence behavior.
Traits are defined as: An aspect of personality used to categorize people according to the degree to which they have or show or manifest a particular characteristic.
Marshall's study then categorized each character into the five specific traits of personality.
Openness - How open a person is to new experiences? Ex. Woody, Wall-E.
Conscientiousness - How controlled or self disciplined is the character? Ex. Piglet.
Extraversion - Energetic, outgoing and optimistic. Ex. Goofy, Donald Duck.
Agreeableness - How compassionate, helpful and sympathetic they are.
Emotional Stability - How easily upset they get.
"We see some really cool things with what we consider more positive aspects of personality," Marshall's April Fugett told SyFy Wire. "What we see is that we have people across a broad variety of personality types who identify with and love the villain and it doesn't make you a whole lot different from someone [who] identifies with the hero."
Related Links:
Ever Wonder How Pixar Was Able To Feature So Many Brands In The 'Toy Story' Movies?
'Incredibles 2' Sets A Record Among Pixar's Highest-Grossing Debuts
Posted-In: Comic Con disney Marshall University San Diego Comic-ConPsychology General Best of Benzinga
View Comments and Join the Discussion!