'Incredibles 2' Sets A Record Among Pixar's Highest-Grossing Debuts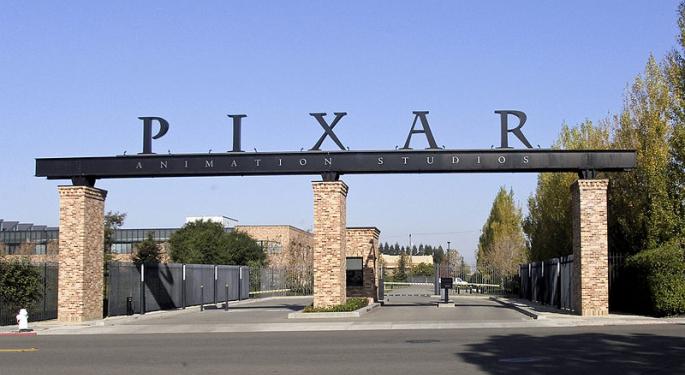 Walt Disney Co (NYSE: DIS) may have just clinched a sweep of the 2018 movie medal stand.
"The Avengers: Infinity Wars" ($257.7 million) and "Black Panther" ($202 million) posted the best domestic opening weekends of the year, and "The Incredibles 2" took third with $180 million.
The sum surpasses the record for animated-film domestic openings previously held by Disney's "Finding Dory," and it places "The Incredibles 2" at eighth for non-adjusted all-time domestic debuts and as the second all-time highest June opening.
These are the Pixar players it outperformed, with opening earnings adjusted for ticket price inflation:
"Finding Dory" ($142.8 million)
"Toy Story 3" ($129.9 million)
"Finding Nemo" ($106.7 million)
"Toy Story 2" ($102.3 million)
"Monsters, Inc." ($101.0 million)
"Inside Out" ($100.4 million)
"Up" ($83.6 million)
"The Incredibles" ($76.1 million)
"Toy Story" ($61.1 million)
"Cars" ($84.1 million)
Adjusted for ticket price inflation, "Incredibles 2" already ranks No. 18 on Pixar's list of top grossing movies, surpassing the lifetime earnings of both "Cars 3" and "The Good Dinosaur."
In its first weekend, it seized a quarter of the international film market with $51.5 million.
Disney hopes to continue its streak of 2018 successes — excluding the disappointing turnout for "Solo: A Star Wars Story" — with Marvel's "Ant-Man and the Wasp" and the live-action "Christopher Robin."
Related Links:
Disney's 'Avengers: Infinity War' Becomes Fourth Film In History To Make $100M In Second Weekend
'Black Panther' Gets Big Pre-Release Boost From Inner-City Advocates
Photo by Coolcaesar/Wikimedia.
Posted-In: Incredibles 2 PixarNews Best of Benzinga
View Comments and Join the Discussion!