'A New Revolution Of Medicine': Senseonics Brings Automation To Diabetes Care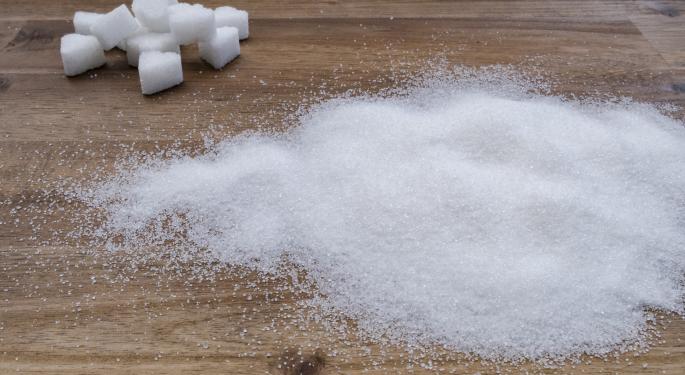 Automation and artificial intelligence are transforming everything from travel to finance to how garage doors are closed. The management of personal health is poised for similar disruption.
Fitbit Inc (NYSE: FIT) and Apple Inc. (NASDAQ: AAPL) have taken wearable-based health monitoring mainstream and set the stage to link sensors to drug delivery systems or therapy regimens.
"There's a lot that you can do with a small [device]," Tim Goodnow, president and CEO of the diabetes-focused medtech company Senseonics Holdings Inc (NYSE: SENS), told Benzinga. "Not only could it give direct feedback to the patient themselves or the caregiver, the doctors, in regard to any particular status in the moment, it's just a new revolution of medicine that we're heading into."
Autonomous Opportunities
Senseonics is at the vanguard of health automation. Its first step is commercializing the Eversense Glucose Monitoring System, which recently won FDA approval as the world's first implantable glucose sensor.
"We're actually observing a pretty significant transition in the managing of diabetes as a result of the advent of these technologies," Goodnow said of the wearable-implant combo.
The smart transmitter is embedded in the arm to provide discreet vibratory alerts and send real-time glucose information to a connected mobile app via Bluetooth. The product was developed with nighttime hypoglycemia in mind, as low blood sugar during the night causes about 400 child deaths annually.
The next step for Senseonics is integrating the sensor system with an insulin pump to automatically adjust glucose levels. The medtech company has partnered with Beta Bionics to develop and commercialize this first autonomous bionic pancreas.
While Senseonics' projects are focused on diabetes, indication expansion is not out of the question, Goodnow said, referencing major opportunities in womens and pulmonary health.
"At this point, we're still a pretty small company," he said.
"We've got just over 100 employees and diabetes is unfortunately a really big disease state, so we'll be here for quite some time, but the technology certainly has the capability to do more and I would expect that in the future."
The Diabetes Market
For now, Senseonics is capitalizing on its diabetes niche. Globally, the disease represents about $2 billion in revenue with a 35-percent compound annual growth rate, according to the estimates Goodnow cited.
"Unfortunately, it's a very big disease state," he said. " ... The opportunity to [reach] $10 billion is not crazy."
Senseonics intends to seize market share from legacy competitors Medtronic PLC (NYSE: MDT), Abbott Laboratories (NYSE: ABT) and DexCom, Inc. (NASDAQ: DXCM) with differentiated product. The uniquely implantable, six-month Eversense is seen to compare favorably against alternatives. The transcutaneous sensors made by rivals sit on the skin for seven to 10 days with blood access through a small open wound.
"Our penetration is about maybe 15 or 20 percent, so there's a lot of additional growth that can occur," Goodnow said. "Of course, unfortunately, there's a lot more diabetes that's coming as well."
Eversense has been on the market for about two years in Europe, where it's posted about 300-percent year-over-year growth. The U.S. lends broader opportunity as the world's largest individual market.
Near-Term Catalysts
Apart from Eversense commercialization, Senseonics is completing registration trials for the product's pediatric use and for a version of the implant that lasts one year. The pediatric trial will begin in 2019 and Goodnow expects the longer-lasting sensor to be out by 2020.
Senseonics also has a partnership with Glooko for integrated diabetes management.
Comfortable Finances
Senseonics debuted on the markets in 2016 and has not yet reported positive earnings per share. The firm has filed three offerings since its IPO, with its last in June raising about $150 million. Goodnow said he does not expect to file any additional offerings in the near term.
"We are very well-funded ... and we anticipate that we could bridge to profitability based on that large recent raise."
Senseonics does not issue guidance, but analysts target a turning point in early 2020.
Related Links:
Oppenheimer: After FDA Approval Of Tandem's Insulin Pump, Investor Focus Will Shift To 2018 Opportunities
Baird Sees 'Improved Odds' Tandem Diabetes Care Will Survive
View Comments and Join the Discussion!
Posted-In: Diabetes IFTTTHealth Care Top Stories Exclusives Tech Interview General Best of Benzinga