Pot Stocks, ETFs, Top News And Data From The Cannabis Industry This Week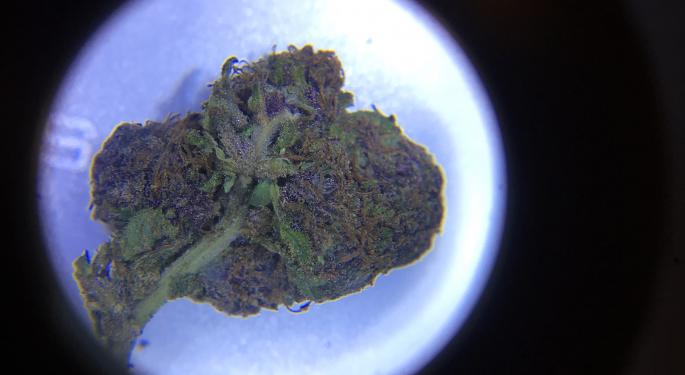 A bill to legalize recreational marijuana failed to pass in Michigan's State Senate and House of Representatives. Consequently, the decision has passed to the hands of voters, who will decide on the issue in this November's ballot. If passed, the ballot measure in question would allow adults to possess and/or sell and buy up to 2.5 ounces of cannabis.
"I was very pleased to see that the legalization effort is going to the people, instead of getting passed legislatively. The intentions behind our lawmaker's efforts to push this through were not good. They only wanted to do it, to keep progressive voters from heading to the polls and so they could have a little more ability to change the language with a majority vote, instead of a three-quarter vote that is required to change a law voted by the people," Jamie Cooper, owner of Michigan-based cannabis businesses Cannabiz Connection and Canna Media Works told Benzinga. "Had our lawmakers had the intention to pass legislation for the greater good of Michigan's economy and for what the voter's wanted, then I would feel differently. I was very relieved to hear people are going to get the opportunity to decide in November.
"Now is the time that we come together as an industry and as patients, get voters registered and educate them on the language of the initiative," she said. "My gut tells me the opposition is going to be strong, but together I believe we will win. We need to help voters understand how this will affect our state and communities in a positive way and help them understand that it isn't as scary as they think it might be."
On the financial front, the cannabis industry saw more deal announcements.
"Money continues to flow into the industry with Aphria raising C$225 million, Kush Bottles raising $36 million and The Green Organic Dutchmen selling more warrants for C$25 million," Debra Borchardt, CEO of Green Market Report said. "The acquisition activity has continued to be strong as well with MedMen spending roughly $53 million to buy Florida's Treadwell Nursery and the right to open 25 dispensaries in the state."
"It looks like we'll have another new cannabis stock soon as Canopy Rivers is lining up its reverse takeover of AIM2 Ventures and is also raising C$60 million," she added.
On a final note, Borchardt addressed the situation of legal cannabis in Canada.
"I'm sure all the Canadian companies are breathing a sigh of relief this morning after Bill C-45 passed. Adult use sales could begin by the end of the summer or September and that will be welcome news for companies that have made millions of dollars in investments to prepare for these sales. Finally, money will be coming in for those dollars that have been going out."
Responding to all of this, the United States Marijuana Index, which tracks 17 of the largest marijuana stocks in the U.S., gained roughly 3.6 percent this week, while the North American Marijuana Index, which also includes Canadian stocks, surged more than 4.6 percent.
Over the last five trading days, the Horizons Marijuana Life Sciences Index ETF (OTC: HMLSF) gained 7.1 percent, while the ETFMG Alternative Harvest ETF (NYSE: MJ) rose 6.6 percent. The SPDR S&P 500 ETF Trust (NYSE: SPY) advanced 1.6 percent.
Stock Moves
Here are some of the top marijuana stocks in U.S. exchanges and how the performed over the last five trading days:
In Other News
A consortium of cannabis-related media professionals are conducting a Cannabis Media Survey. You can answer following this link.
Long-running Hemp Connoisseur Magazine (HC Magazine), formerly known as THC Magazine, expanded its media capabilities to include an enhanced quarterly national print publication, an up-to-the-moment digital edition, and strengthened branding and video production capabilities, all geared towards the normalization and mainstreaming of the nation's fast-growing hemp industry.
"Our marijuana and hemp based customer base has been asking for more offerings and we listened," said CEO and founder David Maddalena. "We felt it was time to truly focus on the incredible benefits of hemp and bring it to the purview of mainstream culture."
Partnering with industry leading brands Green Thumb Industries (GTI) and Culta, LeafLink, the largest wholesale marketplace in cannabis, is expanding its operations into Maryland as the state towards the legalization of recreational marijuana.
"The traction we are seeing in Maryland and the partnerships we are cultivating in the state are exciting not just for our marketplace, but signify a maturing of the industry as we continue to support retailers and brands as they scale across multiple states," said CEO Ryan Smith. "The industry is expanding East from the West Coast where it began – with companies in the space now able to rely on one platform to showcase their offerings to buyers, patients and consumers, which is great for the industry."
Insurance Commissioner Dave Jones approved the first Cannabis Business Owners Policy (CannaBOP) in the State of California.
"Cannabis businesses need insurance coverage to help them recover when something goes wrong just as any other legalized business does," said Commissioner Jones. "This first-of-its-kind Cannabis Business Owners Policy or CannaBOP program will make it easier for more insurers to enter the market and fill coverage gaps for cannabis businesses. I encourage insurers to take advantage of this new standardized CannaBOP program to file more cannabis insurance products with the department to meet the needs of this emerging market."
Wilde Vertigga, an asymmetric, gender-neutral fashion line inspired by Oscar Wilde launched the first science-based Cannabis fragrance in collaboration with Eybna Technologies. The Wilde Kush aroma is based on a famous landrace strain, "Afghan Kush," which is one of the purest Indica strains on the planet. Originated in the Hindu Kush mountain range, Afghan Kush captures an earthy scent with hints of sandalwood, pine, and lemon. There are over 500 terpenes and other fragrance molecules in Wilde Kush.
"Through my investment in Eybna Technology and thanks to Eybna's advanced research of the cannabis terpenes, Wilde Vertigga succeeded to partner for the creation of the first of its kind, the fragrance from the kush strain," said Wilde Vertigga CEO and founder Lior Reitblatt.
The hosts and producers of Miami-based cannabis web series Stoner Girl Diary announced the expansion of their studios in Wynwood, Miami's world renowned Art District, home to Art Basel every year. The decision to expand was taken with a clear vision to offer monthly creator memberships to creatives who may need a place to produce video, conduct photo-shoots, record podcasts or even just set up their own private workspaces.
"Following YouTube's recent purge of cannabis entertainment channels, this new space gives creatives in similar industries the opportunity to flourish, without limiting or censoring the content they create," said Biscayne Boeck, creator and host of Stoner Girl Diary.
cannabisMD.com, a digital media company that provides comprehensive information on the potential therapeutic uses of cannabis and cannabidiol (CBD), launched this week. Although medical cannabis is now legal in 29 states, credible, comprehensive information on medical cannabis and CBD is still tough to find and understand. Seeking to bridge this gap, cannabisMD.com provides a one-stop destination for trustworthy information on the potential therapeutic uses of cannabis and CBD. Organized through a network of unique ailment-specific sites that include epilepsy, PTSD, chronic pain, AIDS/HIV, Alzheimer's disease, arthritis, cancer and Crohn's disease, cannabisMD.com's site provides original and curated content, including peer-reviewed research, patient testimonials, clinician forums, and scientific and academic papers.
"As a parent with a child who had epileptic seizures, I wish I'd had access to the type of information cannabisMD.com provides. At the time, there was no one-stop destination for parents like me to find trustworthy, ailment-specific information," said Rory Millikin, president and co-founder of cannabisMD.com. "I thought to myself, why can't I create it? cannabisMD is designed with patients, caregivers and loved ones in mind, to empower them to make informed decisions about medical cannabis and CBD."
Cannabis technology company Enlighten announced a new joint venture with multiple undisclosed technology companies to bring cannabis related businesses an array of enterprise level solutions, starting with the integration of Eyechronic, an in-dispensary education platform, into its suite of products. The company has also acquired certain assets of greenlite.io, including portions of its dispensary and non-dispensary portfolio.
Cannabis industry focused venture capital fund Phyto Partners announced capital commitments from limited partners totaling $14 million. This funding includes follow-on participation from LP's in Phyto's first fund, Phyto Partners I, launched in 2015.
Leading online educational platform Green Flower introduced the third episode of its "High Rollers" series, featuring a sit-down conversation with former High Times journalist and noted cultivator Kyle Kushman. Since the series launched three weeks ago, it's become the most-watched show on the new Green Flower 2.0 platform.
Recently public FSD Pharma Inc. (CSE:HUGE) reported that, in its first five consecutive days of trading, more than 259 million Class B subordinate voting shares have been traded on the Canadian Securities Exchange. According to the company, this is the largest total quantity of share volume ever traded by a CSE listed issuer within one week of trading.
Find out more about these and other news on Aphria, Green Organic Dutchman Holdings Ltd (OTC: TGODF), OrganiGram Holdings Inc (OTC: OGRMF), Canopy Rivers, and MedMen Enterprises (CSE: MMEN) with our friends at Marijuana Money:
Interesting Data
New Frontier Data expects cannabis use rates to continue to rise "as legalized medical and adult-use programs spread across the U.S. and become normalized. Rising usage rates coupled with natural population growth will result in a growing illicit market. However, the rate of growth for an illicit market will be tempered (roughly 2 percent average per year through 2025) due to the activation and growth of regulated dispensary sales in key state markets, i.e., California, Massachusetts, and Florida."
The legal market, which was about one-third of the size of the illicit market in 2017, is expected to grow to roughly three-quarters the size of the illicit market by 2025.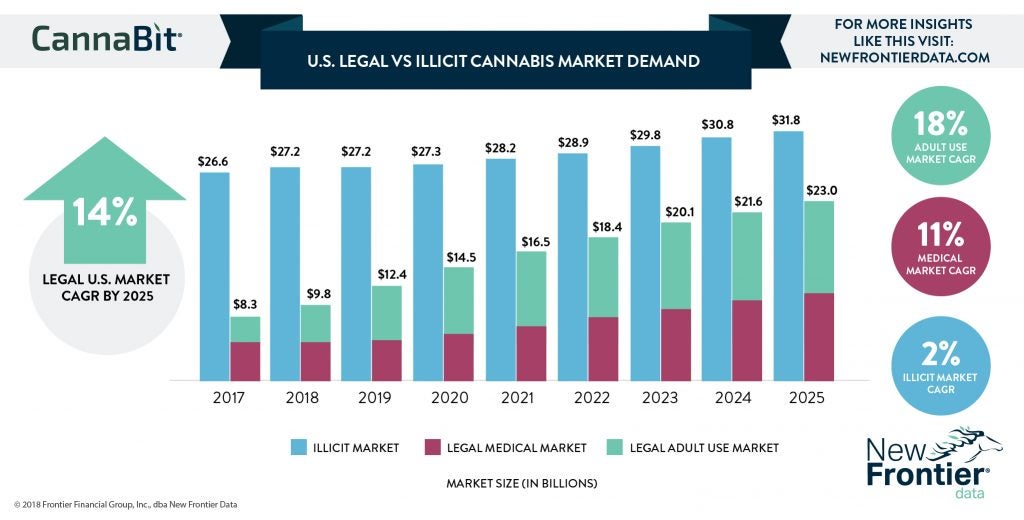 Job growth within the cannabis industry in 2018 has seen unprecedented growth, largely in part due to increased legalization among states and the prospect of new recreational markets opening up. Karson Humiston, founder and CEO of Vangst, the cannabis industry's largest staffing and recruiting agency, sees that the majority of companies in the industry are scaling very quickly and need to bring their product, service or technology to market as fast as possible. As such, Sales Representatives are one of the jobs being placed at the fastest rate, averaging a salary of $65,000 per year on target earnings, plus commission. Many filling these roles come into the industry with previous experience in alcohol sales, as well as SAS sales.
Another job being placed at companies at a rapid rate is Director of Cultivation, with salaries ranging from $120,000-$150,000. There is a huge demand for Cultivators with legal, compliant, large scale commercial cannabis experience (typically from Colorado, Washington, Oregon, etc.) willing to relocate to a newly legalized State and apply their skills and experience to a new company.
Salaries have steadily increased over the last five years and currently cannabis companies are very competitive with traditional industries, especially for mid-level hires. A dispensary store manager is paid, on average, in line with a manager of a bar or restaurant and sometimes even a bit higher. Operation Managers can command a salary between $90,000-$105,000. Executive pay in the cannabis industry hasn't caught up to traditional Executive pay. However, many Executives are compensated with a combination of salary and stock.
Events Calendar
June 8–9: The Midwest Cannabis Education Conference is coming to Chicago, featuring internationally renowned physicians and researchers like Mara Gordon, Dr. Cristina Sánchez and Dr. Paola Pineda. The experts will discuss the benefits of medical marijuana as an effective medication in the treatment of seizures, pain management, anxiety and PTSD, and cancer. In addition, Jeff the 420 Chef will demonstrate how to make cannabis-infused edibles.
June 9–10: High Times' famed Cannabis Cup is coming to Michigan. This event is for medical marijuana card holders aged 18 and above, and will feature performances by Lil Wayne, Ludacris, Machine Gun Kelly, Vic Mensa, Yo Gotti, Waka Flocka Flame, and Berner, as well as a DJ Set by Trick Trick.
June 10–12: Civilized is hosting its inaugural World Cannabis Congress in New Brunswick, Canada. The Congress will feature an expert and celebrity speakers, panel discussions, and more. The main topics of discussion include global cannabis innovation, enhancing business practices and advancing policy reform.
June 13: B2B cannabis provider Grassposts will host a special event to celebrate six months of adult cannabis sales in California. Lori Ajax, Chief of the California Bureau of Cannabis Control, and Cat Packer, Executive Director of LA Department of Cannabis Regulations, and Grasspost CEO Johnny Sayegh will host a panel titled California: A Fireside Chat.
June 14: Cannabis company Stone Road Farms, is hosting a party to celebrate the attainment of its state license and expansion throughout California. The party will feature a full bar, a customize-your-own-joint bar, and pop-up stations featuring some of L.A.'s hottest brands. Gabriel Garzon Montano will be performing. In addition, the company commissioned a 24k gold giant Elephant Tusk joint filled with the finest flowers and concentrates available on the California market which will be auctioned off to assist in the protection of African wild elephants. Price is expected north of $24,000.
"Elephants are being slaughtered in unprecedented numbers. Our generation could literally wipe the most majestic land animal off of the earth for all future generations. It's not just irresponsible — it's criminal. And preventable... We are partnering with reputable on-the-ground non-profits and sanctuaries to aid in anti-poaching efforts," said Lex Corwin, founder of Stone Road.
August 17–18: Benzinga is hosting its first Cannabis Capital Conference in Toronto, Canada. Speakers include:
Larisa Bolivar: Managing Partner, TCMS Global Executive Director, Cannabis Consumers Coalition
Marvin Washington: Former NFL Player and Cannabis Advocate
Tim Seymour: Managing Partner, Triogem Asset Management
Alan Brochstein: Founder, 420 Investor
Giadha Aguirre de Carcer: Founder and CEO of New Frontier Data
Javier Hasse: Author of Start Your Own Cannabis Business
Harrison Phillips: Vice President of Viridian Capital Advisors
Phil Carlson: Managing Director of Investor Relations, KCSA
Marc Lakmaaker: Director of Investor Relations and Corporate Development, Aurora Cannabis Inc.
Brett Roper: CEO, Medicine Man Technologies
Lewis Goldberg: Managing Partner, KCSA
Cynthia Salarizadeh: Managing Partner, KCSA and Co-Founder, Industry Power Women
Natasha Raey: Head of Public Relations, Sail Cannabis (MVC Technologies).
Picture by Javier Hasse.
View Comments and Join the Discussion!
Posted-In: Cannabis News Sector ETFs Broad U.S. Equity ETFs Emerging Markets Specialty ETFs Emerging Market ETFs Politics Best of Benzinga