Jeff The 420 Chef Explains How He Makes Medical Marijuana Edibles That Don't Taste Like Weed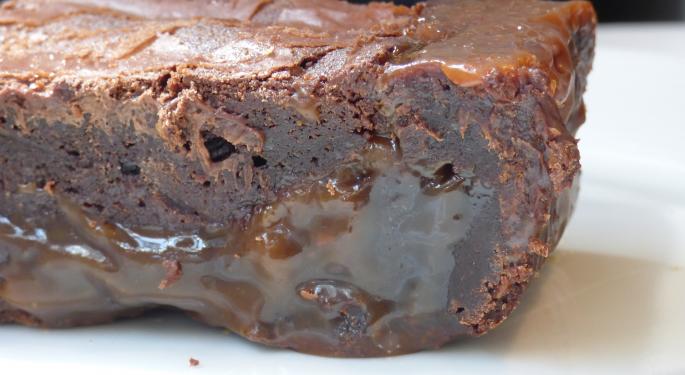 Cannabis legalization has resulted in the creation of all kinds of weird, unexpected, unconventional jobs, like rolling blunts for Snoop Dogg — for a whopping $100,000 a year. Among the many people with strange jobs, there's one who certainly deserves an article of his own: Jeff The 420 Chef.*
Jeff, a cook and baker often called "the Julia Child of weed," specializes in preparing dishes with cannabis in them. What differentiates him from other canna-chefs, however, is his method, which allows him to create "Light Tasting" and "Tasteless" canna-butters and canna-oils. This means that, unlike most edibles out there, Jeff's food does not taste of weed or "plant," if you will.
In addition, Jeff is a writer, published across multiple mass media outlets, and author of the book "The 420 Gourmet: The Elevated Art of Cannabis Cuisine."
Intrigued by this man and his odd job, Benzinga decided to reach out and ask him about it, and about what it means for the medical cannabis world.
'The Ganja Gourmet'
Benzinga: Why are your canna-butter and canna-oil recipes so popular?
Jeff: By taking out the herbaceous taste of cannabis from canna-butter and canna-oil, they will not taint the taste of the recipe. So, the recipe will taste just like it's supposed to taste, but it will still be medicated.
BZ: Tell us about your other endeavors.
Jeff: Another thing I invented is the THC calculator for edibles. Now, people can actually figure out the dosage of their edibles per serving — if they follow my light-tasting butter or oil recipe.
In addition, I'm getting ready to launch the Cannabis Cooking Channel, which will basically aggregate everything having to do with cooking with cannabis, from cookbooks and recipes to learning about other cannabis chefs out there. It's going to be a one-stop shop, an aggregate resource for cooking with cannabis.
BZ: People might wonder what are benefits of eating cannabis. Why would someone want to eat it?
Jeff: A lot of people are medicating with cannabis to treat [any of the] 144 different ailments [cannabis has been indicated for], from anxiety, pain management and migraines, to post-chemotherapy appetite loss and arthritis.
Edibles are a great way to medicate with cannabis if you don't want to smoke. So, you can get the medicine into your body through edibles; that's the next most efficacious way to get it into the system. But, you can't really put enough cannabinoids into your system, for example, to shrink a tumor or kill a cancer cell.
What you can do with edibles is you can help increase appetite or the opposite. Some people might want to medicate for weight loss. There are some new strains of cannabis that are coming out that have a cannabinoid in them called THCV, which is an appetite suppressant.
If you know these things and you know the different nuances of the different strains of cannabis, you can use cannabis to medicate for a whole array of different conditions. A friend of mine who's been medicating with THCV strains has lost 40 pounds already, just eating salad with THCV dressing. Then he doesn't really want to eat that much throughout the day.
Each individual strain has its own little magic and cannabinoid profile. If you learn to understand that, then you can actually use it to medicate for a lot of different conditions.
BZ: This takes us back to the calculator. Can you briefly explain how this works? What's the idea behind it? Why would patients want to go through an "elaborate process of calculating THC and CBD levels"?
Jeff: Calculating CBD levels is not as important when it comes to edibles as calculating THC levels. The reason is you can never have too much CBD. So, if you're putting CBD into your food, you are going to want to know just how potent it is. You can figure it out with the calculator.
However, the more important use of the calculator is so that you don't overdo it, or overmedicate, or have a bad experience by having too much THC. What the calculator does is, it takes into account all the lost factors along the way, from the time that you purchased your cannabis to the time you actually clean it, cure it, dry it, and infuse it into butter or oil.
For most people 10 mg of cannabis is enough to make them feel like they have had a glass and a half of wine on an empty stomach. So, the calculator helps you titrate the medicating process, so you'll know exactly what makes you feel right.
Legal Issues
BZ: You offer private meal preparations for medical marijuana patients in 31 states. So, how do you deal with legal issue like getting the cannabis? Is it like the people receiving you at their homes are providing the weed for you?
Jeff: Yes, that's exactly what happens, they have to provide the cannabis to me first.
When they provide the cannabis, then they are just paying me for the service of turning the cannabis into butter or oil and then cooking with it.
The reason why I love to do this is because I teach them how to do it themselves. I'll go out there once and I'll show them how to do it. Once they learn how, then they can do it on their own, and they can understand just how great the food tastes, how it feels when it's medicated [...] I love to be there if I can to walk them through the process, to walk them through how it's going to make them feel, and just teach them how to look for the proper strain that is going to help them and then how to use it properly.
BZ: Are you allowed to manipulate cannabis legally?
Jeff: Legally, as long as a person has a medical recommendation in a medical state or they have their cannabis in a recreational state, I can teach them how to use it. I can teach them how to make the butter, how to make the oil and how to cook with it, and then they continue on with it. So what I'm doing is just teaching people what to do.
Most of the time it's me guiding them through the process, and them actually making the butter and oil, and then me showing them how to use that butter or oil the first time around in something that we make. So for me, it's purely educational.
Expanding The Business
BZ: Do you have any plans to start selling canna-butter and canna-oil?
Jeff: I'm speaking with potential licensees and actually working with an oil company trying to develop something very unique under the Jeff the 420 Chef brand with oil and butters, but that's only going to be in medical states that will allow it and in recreational states.
It will be a license, so it's basically a licensed process, but they'll be able to sell Jeff the 420 Chef butter and oils, once I find a licensee for it.
I'm planning to have it done before the end of the year. We're planning to have it all set up and ready to go with product lines, actually cannabis licensed branded products by January 2018.
Now, if people want to learn how to make my light tasting canna-butter and canna-oil, they should sign up with Green Flower Media or check out my Instagram account.
*At his request, Jeff the 420 Chef's real name is not disclosed.
More From Benzinga:
Green Flower Media CEO Explains Why Cannabis Education Is Key To Improving People's Lives
View Comments and Join the Discussion!
Posted-In: Cannabis Education Entrepreneurship Health Care Top Stories Exclusives Interview General Best of Benzinga