How Peer-To-Peer Betting Could Make Sports Gambling More Lucrative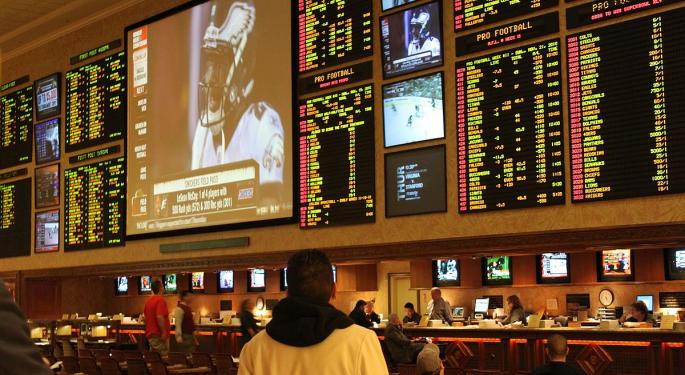 States may now be free to pursue legal sports betting, but due to high commissions, it's still a largely unprofitable venture for the bettor.
The house still wins, but the development of a peer-to-peer betting network could ultimately decrease the commissions on bets that the house takes, which would have a substantial impact on the evolution of sports gambling.
The average commission a bookmaker takes is around 7-10 percent, making sports betting a tough racket to get ahead in for the casual bettor.
The company Bettium is championing the first peer-to-peer betting network on the blockchain. The platform would significantly lower commissions on bets, effectively cut out the house and instead match a bet with an opposing bettor and simply charge a fee for making the connection.
Disrupting Gambling
Industries that have historically thrived off a lack of transparency are being disrupted. At the same time, commission-based businesses are losing influence in their respective industries. Robinhood is making huge strides in disrupting the multibillion-dollar brokerage business with commission-free trading. Real estate platforms Zillow Group Inc (NASDAQ: ZG) and Redfin Corp (NASDAQ: RDFN) have worked to lower the commissions paid on real estate transactions.
The idea of a peer-to-peer betting network is appealing to sports bettors, as it significantly lowers the typical house edge. The democratization of information is also one of most compelling aspects of peer-to-peer betting.
Since the player is not betting against a sportsbook, the potential exists for access to big data that the house would typically withhold from the bettor to be free for all to access.
P2P Betting Marketplace Plans Q4 Launch
Bettium has employed artificial intelligence to predict the outcome of all types of sporting events including eSports.
"We will be the premier platform for data-based prediction of sporting outcomes anywhere in the world and the go-to site for any professional or amateur who wants to capitalize on that knowledge," said Bettium CEO Nathan Hunt.
Hunt told Benzinga he expects all sports betting to occur on the blockchain in the future.
The CEO predicts that 10 percent of all sports betting will take place on Bettium within three years of the platform's launch. Initial user growth will come from reduced betting commissions that will range from 0.10-0.15 percent, far less than the standard comissions sportsbooks charge.
The company plans to launch worldwide in the fourth quarter of 2018.
Related Links:
Will Legal Sports Betting Force The NCAA To Pay Its Athletes?
A Decision Worth Billions: A Supreme Court Ruling On Legal Sports Betting Could Arrive Anytime
Photo by Baishampayan Ghos/Wikimedia.
Posted-In: Bettium Blockchain Nathan HuntNews Sports Startups Interview General Best of Benzinga
View Comments and Join the Discussion!