Will Legal Sports Betting Force The NCAA To Pay Its Athletes?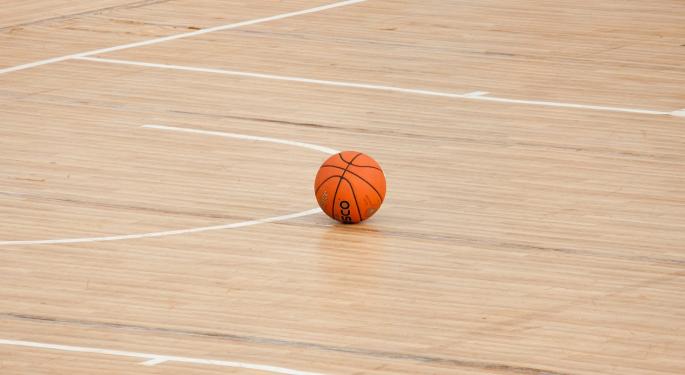 With states now free to pursue legal sports betting, the NCAA will likely face even more pressure to finally compensate its players with more than scholarships.
The National College Athletic Association is perhaps the most vulnerable to potential corruption among players in the wake of the Supreme Court's decision earlier this month.
"College players are bringing in billions of dollars to schools for no compensation for use of their image and talents. The way you would counter the issue — if they are getting paid, the lure of taking a bribe starts to go away," Matt Powell, sports industry analyst at the NPD Group, told Benzinga.
An NCAA spokeswoman pointed Benzinga to a statement the organization released earlier this month.
"While we recognize the critical role of state governments, strong federal standards are necessary to safeguard the integrity of college sports and the athletes who play these games at all levels," NCAA President Mark Emmert said in the statement.
Related Link: What The Supreme Court's Sports Betting Ruling Means For States, Leagues And Online Sportsbooks
Donaghy: Another Scandal Is Inevitable
It's the marginal players and teams who stand to benefit the most from the legalization of sports gambling, as it could drive interest in games and teams that previously would not have garnered much attention, Powell said.
"[Once there's] money on the game, people are paying more attention to it."
Leagues are strapped for new sources of revenue, but further profit can be found in the legalization of sports betting and additional jersey sponsorships, Powell said.
Tim Donaghy, a former NBA referee who was involved in one of the largest sports betting scandals in history, told CNBC another scandal is inevitable.
"With legalized betting, there's going to be more avenues to gamble and more opportunity, and eventually someone is going to get themselves into some trouble," Donaghy said.
Metta World Peace, the former Laker once known as Ron Artest, recently said he was offered $35,000 to throw a game at St. John's University in the late 1990s.
Artest is opposed to legalized sports betting, as he said it could endanger impressionable college players. But what if players were incentivized to stay away from dirty money, knowing that it would jeopardize potential compensation from the NCAA?
'The NCAA Is 2-4 Years From Blowing Up'
Jim Lackritz, a professor at San Diego State University, told Benzinga the NCAA doesn't want anything to do with betting — and that for players to eventually receive compensation, big changes are needed in the infrastructure of college athletics.
"The NCAA is not going to make a dime out of this," Lackritz said. The NCAA has taken a stand against sports betting and would prefer that college games are left out of gambling, he said.
"They are trying to stand on both sides of the fence, but they have to take this anti-betting stance."
Even if the NCAA declines to push for an integrity fee from gambling proceeds, they could still benefit monetarily from an increase in ratings, as it's commonly believed that people who bet watch more games than the average fan.
Lackritz, the co-founder of SDSU's sports management MBA program, said the NCAA does a bad job at policing illegal activity and doesn't want name-brand schools dragged down by high-profile investigations.
The professor predicts the NCAA will eventually come apart.
"I think the NCAA is two to four years from blowing up, and the power conferences will form their own version of the NCAA and take everything the NCAA is siphoning off."
A consortium formed by the conferences could create its own rules and a compensation system that does not jeopardize players' elgibility to play in college, Lackritz said.
Federal Lawsuit Could Determine NCAA's Next Step
Ricardo Valerdi, the director of the sports management program at the University of Arizona, said the most important catalyst for the creation of a proper definition for amateur athletes lies in a federal lawsuit filed against the NCAA that's set for a December trial in California.
The case focuses on whether to lift NCAA limits on compensation for Division I athletes. Valerdi said he doesn't believe the NCAA will go away, but will have to undergo some reform.
"They are trying to sort the difference between an amateur and a professional; those boundaries are very blurry," said Valerdi. Whatever comes out of the federal court case is going to have an impact on the gambling regulations and the definition [of] an amateur and a pro in the college sports context."
Posted-In: Jim LackritzGovernment Regulations Sports Top Stories Exclusives Interview General Best of Benzinga
View Comments and Join the Discussion!