Skechers Accuses Adidas Of Blocking Entry To Basketball Market In Federal Lawsuit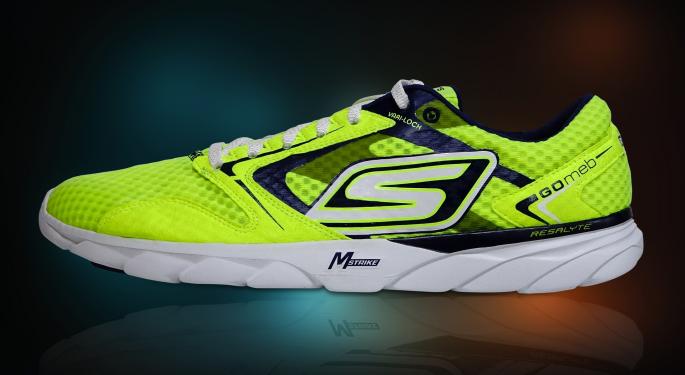 Skechers USA Inc (NYSE: SKX) has accused German footwear maker adidas AG (ADR) (OTC: ADDYY) of blocking Skechers' entry into the basketball shoe market in a lawsuit filed in U.S. District Court.
The lawsuit, filed May 9, came one day before a U.S. Appeals Court decision that blocks Skechers from selling a tennis shoe that Adidas said copied its design.
The latest litigation between the two shoemakers piggybacks on accusations that Adidas was involved with payments to prospective college basketball players in return for signing with Adidas-sponsored schools and eventual endorsement deals.
Skechers said in its lawsuit that Adidas' alleged corruption was a barrier to the basketball shoe market. Adidas "effectively blocked Skechers and other companies" and "unfairly bolstered the perception of the brand," according to Skechers.
Adidas said in a statement that Skechers' lawsuit, filed May 10 in U.S. District Court, is "frivolous and nonsensical and should be summarily dismissed," according to The New York Times.
A Skechers spokesperson did not respond to phone and email messages seeking comment for this story.
The Collegiate Landscape
Under Armour entered the AAU market in conjunction with its push into the basketball footwear market, knowing that grassroots penetration is needed to make an impact in the sport.
A precedent exists for attempts at entering the basketball market. Asics Corp (ADR) (OTC: ASCCY) found little traction in the past in basketball, a fiercely competitive environment that depends on the next generation of trendsetters and superstars in the sport.
The same can't be said for Skechers, a brand known for endorsing athletes after they retire, such as Tony Romo, David Ortiz and Mariano Rivera.
A footwear industry executive with more than 30 years of experience told Benzinga that Skechers' legal move is more about ego and CEO Robert Greenberg's lifelong ambition to compete in performance footwear.
"Greenberg is very shrewd and a very tough business guy, but there is no case for blocking them from entering the basketball world. Skechers has never been in the basketball world in the first place," said the executive, who asked not to be identified.
While the basketball market would represent a small piece of the company's business, it would be a validating move for the brand to enter the performance shoe market, the executive said.
Related Links:
With Dad Shoes In Fashion, Is Skechers Set For A Big 2018?
NBA Draft Recap: Big Baller Brands Scale Back Endorsement Deals While Basketball Slows
Editor's note: This story has been updated to reflect the timing of the U.S. Appeals Court decision and the filing of Skechers' lawsuit against Adidas and to remove a quote that incorrectly characterized the timing of the litigation.
View Comments and Join the Discussion!
Posted-In: Stan SmithNews Legal Sports Interview General Best of Benzinga