The Dropbox IPO: Everything You Need To Know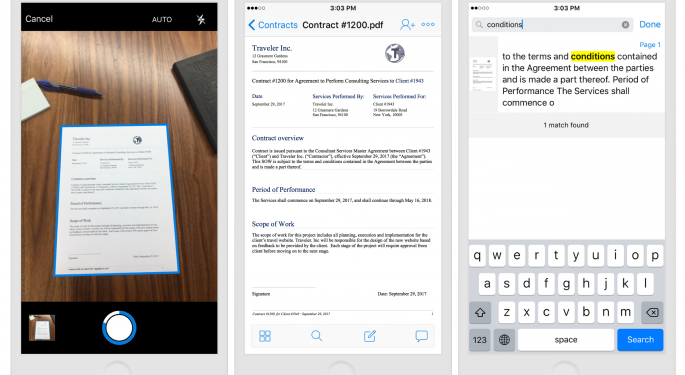 File sharing and storage company Dropbox priced its IPO through an amendment made Monday to its Feb. 23 S-1 filing.
This year could bring a number of tech IPOs, with a deep bench of tech unicorns that prepared for years for public offerings, according to IPO expert Renaissance Capital.
Low volatility, a reduction in corporate taxes and good public market valuations are thought to be contributing factors for 2018's tech IPOs.
The Offering And Share Structure
Dropbox proposes to offer 26.82 million shares of Class A shares, while selling shareholders will offer an additional 9.18 million shares.
If underwriters succeed in selling more than the 36 million Class A shares, they have an option to purchase up to an additional 5.4 million shares from the company at the IPO price less the underwriting discount.
The company has three classes of authorized common stock, namely Class A, Class B and Class C common shares.
The Class A common shares carry one vote per share versus 10 votes per share for the Class B shares, while the Class C shares have no voting right. Subsequent to the offering, the outstanding Class B shares will represent 98 percent of the total voting rights.
Dropbox qualified as an "emerging growth company" under the Jumpstart Our Business Startups, or JOBS, Act of 2012, the company said, giving it the leeway to reduce certain financial and executive compensation disclosures.
Salesforce.com, inc. (NYSE: CRM)'s venture capital arm Salesforce Ventures has agreed to buy $100 million worth of Dropbox's Class A shares in a private placement at the IPO price.
The Pricing
The estimated offering price range is $16-$18 a share (Editor's note: The company on March 21 revised this range to $18-$20), Dropbox said in the amended SEC filing. This would render the size of the offering at $576 million to $648 million.
At the high end of the IPO price, the size of the offering is the third-largest enterprise technology offering in the past three years, Bloomberg said.
The Valuation
Taking into consideration the 53.7 million Class A shares outstanding after the IPO; the concurrent private placement; the 339.3 million Class B shares; and the 5.4-million Class A share optional purchase from the company, the IPO values Dropbox between $6.4 billion and $7.2 billion.
This is below the $10-billion valuation the company fetched at its previous financing round in 2014. In 2017, the company reportedly opened a $600-million line of credit facility with six banks led by JPMorgan Chase & Co. (NYSE: JPM).
See also: 7 Big Companies That Could Tap The IPO Markets In 2018
The Listing
Dropbox intends to list its shares in the Nasdaq Global Select Market under the ticker symbol DBX on March 23.
The Business
Founded in 2007 by MIT students Andrew Houston and Arash Ferdowsi, Dropbox initially sought to make life easier by letting everyone access most important information anytime, from any device, but later went on to add the functionality of sharing and collaboration.
"Our mission is to unleash the world's creative energy by designing a more enlightened way of working," the company said in its filing.
Houston serves as President and CEO.
Initial seed funding was from Y Combinator.
The Numbers That Matter
Dropbox's revenues grew 31 percent year-over-year in 2017 to $1.1 billion, a slowdown from 40-percent growth in 2016 to $844.8 million.
The company has been bleeding on the bottom-line, posting losses of $325.9 million, $210.2 million and $111.7 million, respectively, in 2015, 2016 and 2017.
Dropbox turned cash flow positive in 2016 and reported $305 million in free cash flow in 2017.
Key Business Metrics
Paying users: 11 million in 2017, up from 8.8 million in 2016 and 6.5 million in 2015.
Average revenue per paying user, or ARPU: $111.91 in 2017, up from $110.54 in 2016 but down from $113.54 in 2015.
Number of registered users: Over 500 million across 180 countries.
Ownership Of Outstanding Voting Shares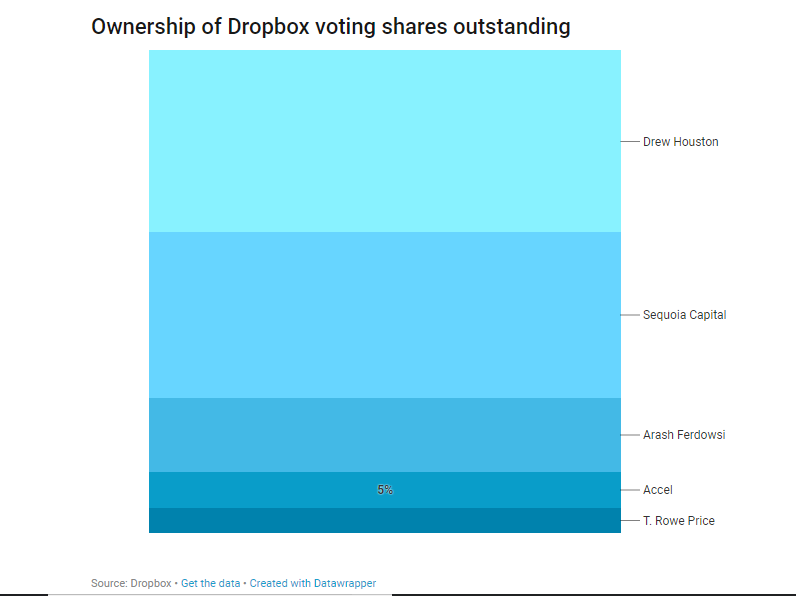 Source: Recode
The Underwriters
Goldman Sachs Group Inc (NYSE: GS), JP Morgan, Deutsche Bank AG (USA) (NYSE: DB) and Merrill Lynch, Pierce, Fenner & Smith Inc. are underwriting the Dropbox IPO.
Related Link:
Blue Apron, Yogaworks Race To The Bottom Of 2017's IPO Heap
Photo courtesy of Dropbox.
View Comments and Join the Discussion!
Posted-In: Andrew HoustonNews Education Previews IPOs Top Stories Trading Ideas General Best of Benzinga