BlackBerry Launches Jarvis Platform, An 'Ideal' Automotive Solution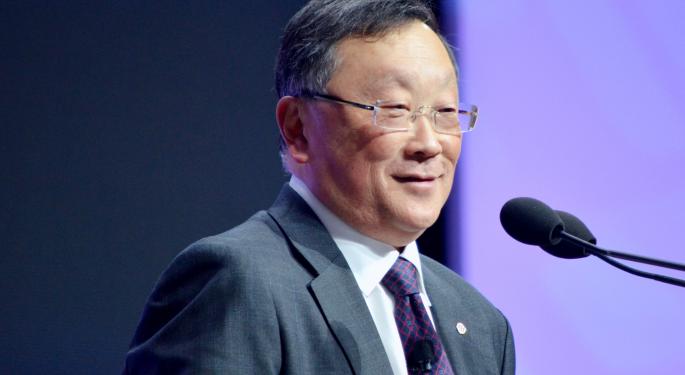 BlackBerry Ltd (NYSE: BB) introduced Jarvis, a cloud-based code analysis solution, at the North American International Auto Show Monday.
Jarvis scans binary code — from any file size, type or architecture — and offers insights on how to improve the code and its security.
Chen highlighted the Canadian software company's automotive bona fides while in Detroit, and said Jarvis is "an ideal solution for the automotive sector" as its focus turns to connected and autonomous vehicles with hundreds of millions of lines of code.
BlackBerry's operating system is in use in more than 60 million vehicles today, Chen said.
"I would argue that a car is a macro endpoint."
Ford Motor Company (NYSE: F) Chief Technology Officer Ken Washington appeared onstage with Chen. Ford, one of BlackBerry's automotive clients, uses the company's QNX software for its SYNC 3 in-car infotainment system.
In remarks that echoed a theme seen across this year's Detroit auto show, Washington said Ford is as much of a technology operation as an automaker.
"We're trying to think of ourselves as more of a software company," he said.
Coverage Across Supply Chains
Jarvis began as a tool used by BlackBerry to scan phone code, and was then enhanced for commercial use, said Sandeep Chennakeshu, president of BlackBerry Technology Solutions.
Code is uploaded to the cloud and scanned by the Jarvis platform, which then provides analytic dashboards with insights into the code.
"It gives you a lot of diagnostic capability as well as the ability to basically deliver production-quality code," Chennakeshu said during an onstage Jarvis demo.
The software's advantage is that it's confidential -- it doesn't have access to source code, the executive said.
Jarvis makes sense for automotive users, as manufacturers and every supplier tier can scan code using the same criteria, Chennakeshu said.
"You get complete coverage across the chain."
'We Did What We Said We Were Going To Do'
After BlackBerry's position as an early leader in the smartphone business — and then its swift loss of market share as Apple Inc. (NASDAQ: AAPL) iPhone and Alphabet Inc (NASDAQ: GOOGL) Android devices became ubiquitous — the company pivoted to software.
BlackBerry's focus is on enterprise users and protecting customers from cyberattacks, Chen said.
The CEO, 62, was told he was "crazy" when he assumed his post in late 2013, but Chen said he saw a "tremendous amount of technology and know-how" at floundering BlackBerry.
"Fortunately, we've been able to show the industry, and the market and most importantly our own employees and customer base that we're delivering what we said we were going to do."
Navdeep Bains, the Canadian minister of innovation, science and economic development, said BlackBerry is executing a turnaround.
"It is fundamentally rooted in the people and the company."
BlackBerry shares were hitting their highest levels year-to-date Tuesday morning at $14.27, and were up 4.5 percent at time of publication — still a long distance from the company's peak share value of $144.56 in 2008.
Related Links:
Benzinga Pro's 5 Stocks To Watch Today
Analyst: BlackBerry Owes Q3 Beat To Licensing, Continued SaaS Pivot
BlackBerry CEO John Chen announces the Jarvis platform during the North American International Auto Show at Detroit's Cobo Center on Monday, Jan. 15. Photo by Dustin Blitchok.
Posted-In: Android autonomous vehicles Ford iPhoneNews Events Top Stories Tech Best of Benzinga
View Comments and Join the Discussion!