With The Launch Of The QLine, Detroit Has Its First Streetcar In 60 Years: 'It Validates The City'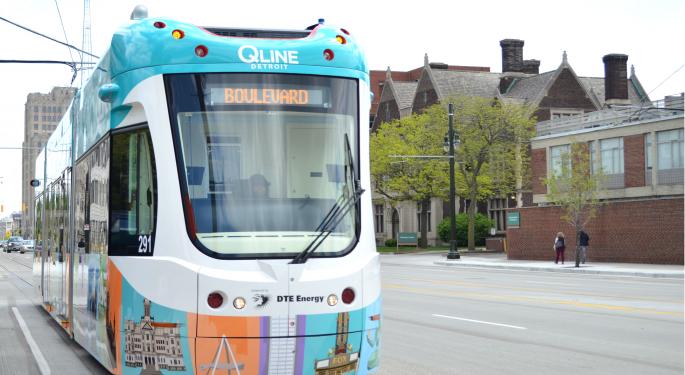 The QLine, Detroit's $140 million streetcar line on a 6.6-mile loop, opened to the public Friday after nearly a decade of planning and with assurances that it's intended as the first piece of a broader regional transit system.
The Kresge Foundation, Quicken Loans Chairman Dan Gilbert and Penske Automotive Group, Inc. (NYSE: PAG) Chairman Roger Penske were among the stakeholders who contributed millions to fund the public-private partnership behind the QLine, which runs north and south through Detroit's downtown, Midtown and New Center areas.
The last time a streetcar traveled a Detroit street was April 8, 1956. Mayor Mike Duggan noted the anniversary, and changing attitudes toward public transit, during Friday's opening ceremony in Grand Circus Park.
"We know now, 60 years later, that we lost something special," Duggan said.
The QLine supported American jobs, Penske said — the hybrid Liberty Modern streetcars were constructed by Brookfield, Pennsylvania-based Brookville Equipment Corp. — and investment in the neighborhoods it serves.
"$7 billion of investment [has been made] over the last 10 years along this rail line."
See Also: In The Motor City, Bikes Are In The Vanguard Of Development
A Decade In The Making
Gilbert's Quicken Loans and its affiliated companies employ 17,000 people in Detroit. The company purchased the naming rights to the streetcar, which is operated by the nonprofit M-1 Rail.
"I'm proud of the number of people who worked so hard over the past decade to make this happen, and it's an exciting day," Gilbert said.
The level of cooperation in government required to make the QLine possible could be deserving of "a Nobel Peace Prize," he said.
More than 70 disadvantaged, minority- and women-owned businesses found work from the construction of the QLine, said U.S. Rep. Debbie Dingell: "The inclusion was no accident."
Other speakers included Michigan Gov. Rick Snyder, U.S. Rep. Brenda Lawrence, U.S. Sen. Gary Peters, and U.S. Sen. Debbie Stabenow, who said the QLine is a watershed moment for Woodward Avenue. Detroit's main drag includes the first mile of concrete road that was paved in the U.S.
"There's a lot of history on this road — for Detroit, for Michigan [and] for our country. And now we're making it again," Stabenow said.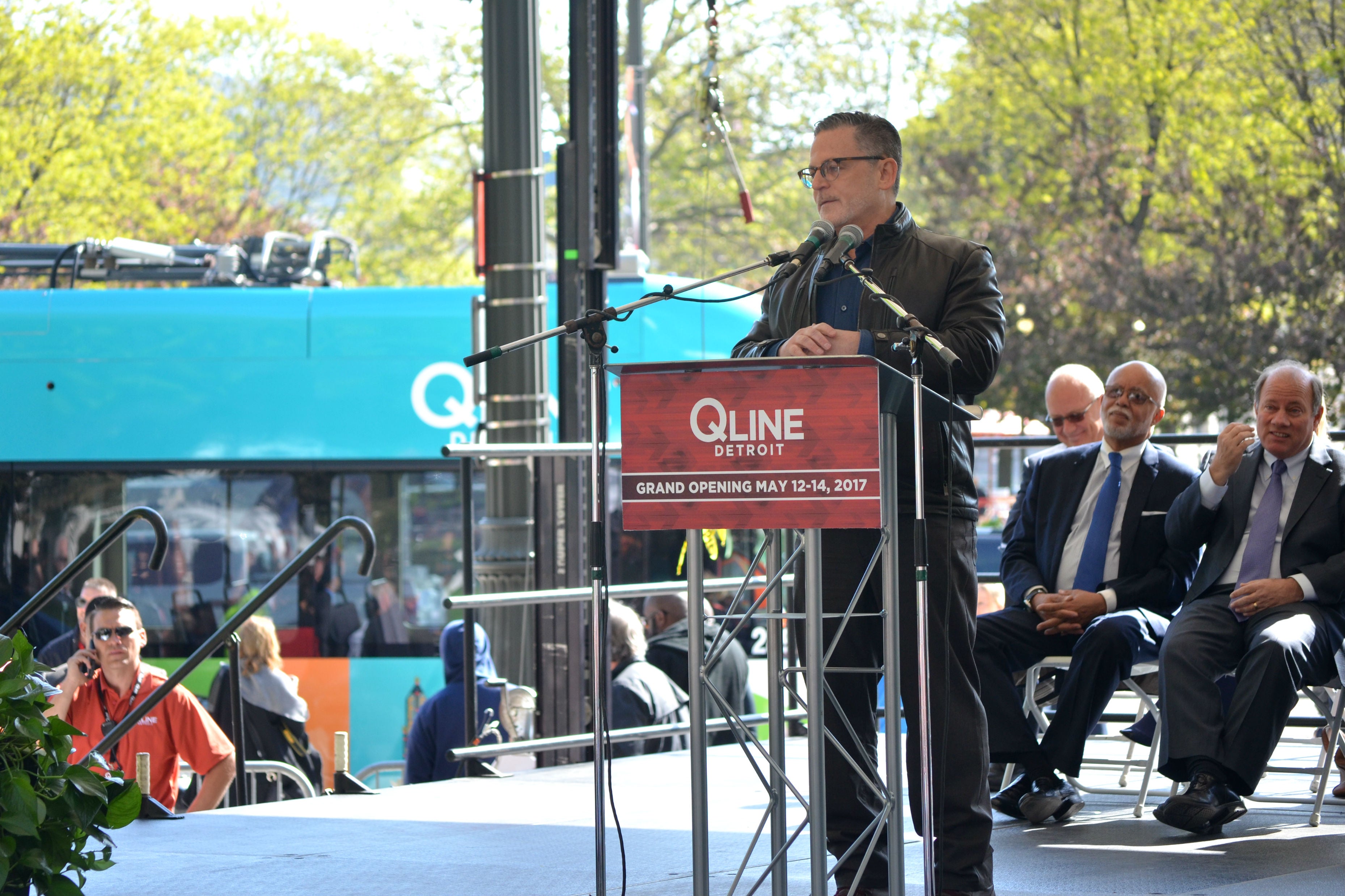 Story image: A streetcar is visible behind Quicken Loans Chairman Dan Gilbert at the Friday launch of the QLine in Detroit. Photo by Dustin Blitchok.
How To Use The QLine
Single QLine passes are $1.50, day passes are $3, monthly passes are $30 and annual passes are $285. Tickets can be purchased using the QLine Detroit app, at qlinedetroit.com and at ticket kiosks.
The streetcar system runs from 6 a.m.-11 p.m., Monday through Thursday, 6 a.m.-12 a.m. on Fridays, 8 a.m.-12 a.m. on Saturdays and 8 a.m.-8.p.m. on Sundays.
American streetcar systems typically average about 10 accidents a month in their first three months of service, according to The Detroit News.
Detroit City Council President Brenda Jones referenced concerns about how the QLine will interact with cars, bicyclists and pedestrians in her remarks.
"I'm still waiting to see the traffic mingle in with the streetcar."
Hope Remains For A Regional Transit Authority
A 20-year, $3 billion millage for a Regional Transit Authority, or RTA, was rejected by voters in Detroit and its suburbs on Nov. 8 by a slim margin.
The authority, designed as the linchpin for a bus rapid transit network in metro Detroit, was planned to eventually take over operation of the QLine. An RTA millage could be again put before voters in 2018 or 2020.
A group of protesters outside Grand Circus Park were audible for much of Friday's opening ceremony, and chanted "mass transit now!" before the event began. Protesters held signs reading "RTA '18," "Detroit Needs More Buses" and "Transit Uplifts Everybody."
Wayne County Executive Warren Evans addressed the failure of the RTA millage, striking an optimistic tone.
"I hope those of us who are sorry about losing the RTA vote know this is the first step in making that happen in the future."
M-1 Rail CEO Matt Cullen said he agrees with QLine "detractors" who criticize the system for its small coverage area within Detroit's 142 square miles.
"We remain confident that this can be the first step in a regional transit system."
'It Validates The City'
Despite a busy first day, with packed cars and wait times exceeding 20 minutes, the riders Benzinga spoke with were had only positive things to say about Detroit's new public transit addition.
Joyce Johnson, 61, who lives on Detroit's west side, was taking the QLine to Whole Foods.
"I love it. It's long overdue," Johnson said.
Idara Ubong, a 19-year-old bioengineering student at Wayne State University who lives in Flint, said she was taking the QLine downtown to shop for Mother's Day. "It modernizes Detroit," she said.
Michele Lundgren, a photographer who lives in the Cass Corridor, was waiting for the Qline at the Martin Luther King Jr. Boulevard stop.
"I love the sound of it — a little train running up and down Woodward. It's so cute," Lundgren said. She and her husband Carl recently visited Kansas City, where a 2.2-mile streetcar system went online in May 2016.
"It validates the city as being a 'real' city. This form of transportation is what you have in real cities," Michele said.
Posted-In: Dan Gilbert Debbie Stabenow Detroit M-1 RailNews Travel Top Stories General Best of Benzinga
View Comments and Join the Discussion!