How Matt Lauer's Departure Will Impact 'Today' And NBC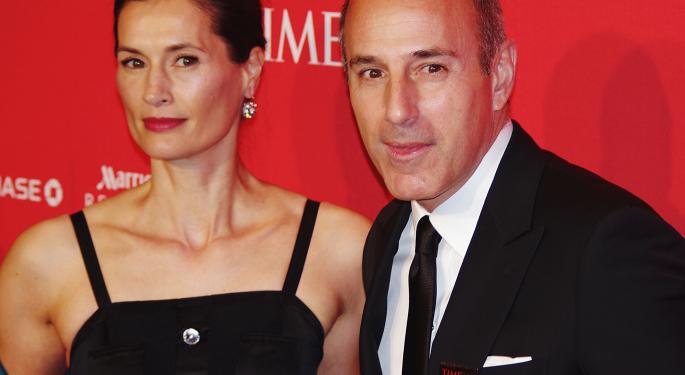 The "Today" Show will go on.
Savannah Guthrie and NBC's morning crew were back to the grind Thursday after co-host Matt Lauer, a 20-year veteran of "Today," was terminated following reports of sexual misconduct.
Lauer's loss was an immediate pain point for NBC -- a subsidiary of Comcast Corporation (NASDAQ: CMCSA) -- but guaranteed survival through audience and revenue preservation, according to media consultant Brad Adgate.
"They had to do this as soon as possible, and I think because of that they're protecting the show long-term the best they can and the trust they have with their audience and sponsors," Adgate told Benzinga.
By his assessment, the swift termination prevented viewer and advertiser alienation. Marc Berman, editor-in-chief of Programming Insider, agreed.
"Ultimately, I think the show is going to live on," Berman said. "'Today's' not going anywhere. It's going to live on NBC, but the validity of the franchise is now a question mark, and NBC's going to have to address that."
This Will Sting
The show's path forward won't be pain-free.
"In the history of 'Today,' nothing will compare to this," Berman said. "This is the absolute bottom barrel here… They've had numerous scandals, numerous things have happened on 'Today,' but this is by far the worst. You can't compared this to anything."
By his assessment, Lauer's scandal is of equal relevance to that of CBS Corporation (NYSE: CBS)'s Charlie Rose — but Lauer's platform was longer running, more widely watched and more appealing to advertisers.
And the man, himself, was an integral part of the network for many viewers.
"I think you can make the case that Matt Lauer was the most dominant personality on NBC News," Adgate said. "...He was so well thought of by his audience, which is why he lasted for 20 years and why they paid him $20 to $25 million per year. He had this persona that was tailor-made for the show. That's not to say that nobody else can do it, but how can you think of 'The Today Show' these last two decades and not have Matt Lauer come to top of mind?"
Considering Lauer's celebrity status, Berman expects fallout similar to that seen with the oustings of Jane Pauley and Ann Curry.
"I think viewers were very upset and they lost steam," he told Benzinga. "They got hurt because of that. These are shows that people wake up to, they watch it every morning, they know these personalities, they trust them, they feel like these are their extended families and friends, and when you have someone like Ann Curry suddenly leaving for no reason, that hurt the franchise."
But Lauer's case is more severe, and "Today's" largely female audience may respond differently to the circumstances around his departure.
"There was a trust level that viewers, particularly female viewers, had with these men watching them every morning," Adgate said.
They trusted Lauer as both "extended family" and a source of information, and as they now question his reliability, any doubt carries through to "The Today Show."
Does It Matter To NBC?
And fallout for "Today" carries through to the NBC franchise.
"These [morning] shows are enormous," Berman said. "Remember you have four hours of their schedule each day. That's a lot of time. This is a show that's been on the air for 65 years. This is an institution."
"Today" is a critical segment of the company's portfolio — a "cash cow," as Adgate calls it, generating more than $500 million in annual ad revenue. That's about 5 percent of NBC's total, according to Kantar Media.
"It's a two-hour block five days a week, and that's a good chunk of real estate that the show occupies on the network," Adgate said.
"Today" is important to NBC and Comcast, and Lauer's scandal and host instability are unwelcome as the segment trails ABC's "Good Morning America" and fields increasing competition from CBS in viewership.
Some anticipate a brief period of scandal-based ratings concession to the benefit of network rivals.
"I think short-term there might be some falloff and ABC might benefit a little bit from that, but I don't really see a seismic change at least for the near future in viewers gong elsewhere," Adgate said.
Where NBC's Talent Now Ranks
Prior to his departure, Lauer had been the most valuable news show host across all networks with a $25 million contract, according to Variety.
NBC still holds the highest contract, with Megyn Kelly's $18 million tying "Good Morning America's" Robin Roberts of Walt Disney Co (NYSE: DIS)'s ABC. ABC News' George Stephanopoulos ($15 million) and CNN's Anderson Cooper ($12 million) distantly follow.
Now, NBC has $25 million to play with and a major hole to fill.
Back To Business — And Beyond
Regardless of who's brought in, Adgate expects "Today" to continue with business as usual and viewers to keep the channel as "background noise" during their morning routines.
"I think the formats will continue and advertisers will continue to sponsor the show, and they'll have co-hosts and they'll have banter and they'll cover hard news and soft news," he said.
Life will go on without Lauer just as it went on without Charlie Rose, and NBC will rebound just like New York Times Co (NYSE: NYT), Fox News, CBS and others investigating internal reports of sexual misconduct.
And maybe, in a strange turn, Lauer's loss will actually drive ratings.
"When something like this happens, people are curious, so I imagine the ratings are increasing," Berman said. "More people are curious to see how is NBC dealing with it, so now more people are tuning in, but in the weeks to come and the months to come, you have to think: 'well how will NBC solidify its reputation again?'"
Image credit: David Shankbone (Own work) [CC BY 3.0], via Wikimedia Commons
Posted-In: Brad Adgate Charlie Rose Marc BermanNews Top Stories Exclusives Media Interview Best of Benzinga
View Comments and Join the Discussion!