Jeff Macke Talks Walmart's E-Commerce Share, Retail Misconceptions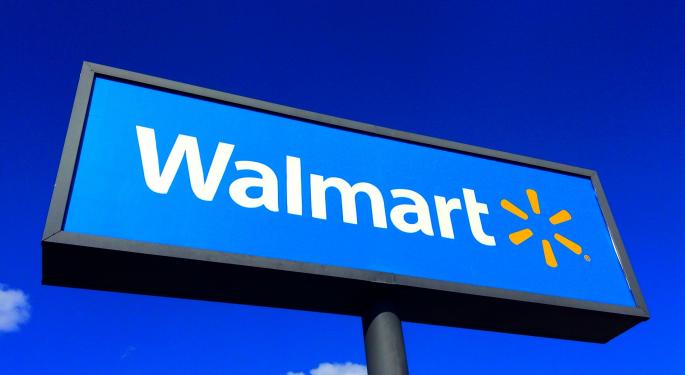 E-commerce as a whole is growing at an astonishing pace: E-commerce business makes up 8.2 percent of U.S. sales and is growing at 15 percent.
Wal-Mart Stores Inc (NYSE: WMT)'s recent quarter is a perfect example of e-commerce's ascension, after the chain grew online sales 50 percent, sending shares to new all-time highs. Walmart is paving the way for more than just one player to capitalize on e-commerce.
"That growth is crazy — it's a real live business. Walmart is taking share in every conceivable place and expanding their product offerings online so customers can shop however they want," author and investor Jeff Macke told Benzinga in a conversation earlier this month. "They are going to continue to take market share. Amazon.com, Inc. (NASDAQ: AMZN) is not a monopoly, they are just better than everyone else, but the industry will adjust. No one gets to keep all the market share."
It's built into Walmart's DNA to save people money and split the difference with customers, Macke said. And he said Walmart can appeal to millennials.
"Walmart is moving away from changing consumer tastes. All they should be worried about is taking and accumulating market share. You can still stick with winners as long as they are trying to establish the relationship with the consumer," Macke said.
"They have a lot of cash and resources and have 800 million feet of warehousing and retail space. The logistics matter hugely and Walmart has the best mouse trap. It's a timeless formulation, Amazon Prime is just two-day shipping plus a little something extra — that's largely what Prime is. Promise what you're going to give the customer, and then give them a tiny bit more and they are going to come back every time," he said.
Macke co-authored the book "Clash of the Financial Pundits: How the Media Influences Your Investment Decisions for Better or Worse" with CNBC host Josh Brown.
'The Market Is Fundamentally Misunderstanding Retail'
The most recent earnings reports from retailers Foot Locker Inc. (NYSE: FL), Gap Inc (NYSE: GAP) and Abercrombie & Fitch Co. (NYSE: ANF) blew past analyst estimates.
It doesn't mean that some of these companies aren't still struggling. Many of the stocks are just bouncing back after suffering devastating drops earlier in 2017.
"These stocks aren't fixed, but that does not mean they will blow up tomorrow. No one has the exact answer. That's why the stocks are fluctuating so much. Everyone knows that the future of retail is omnichannel, but not even Amazon has it figured out," Macke said.
These "left for dead" retailers are indicative of a bigger story that traditional retail isn't as dead as we think it is, Macke said.
"The market is fundamentally misunderstanding retail. People are buying more things than ever. There is a huge misconception that retail is dead and there is no way to profit but that simply is not true. It's never been easier to buy stuff."
The downfall of American department stores has served as the catalyst for the narrative that retail is dead, but in reality, what's changing is where purchases are made, Macke said.
"All department stores are just that, department stores. There is no reason for that to exist really. It is a limited model, but you don't need 10 of these aggregators, that doesn't make sense anymore. It is not an efficient way to shop."
Related Links:
Black Friday 2017: Here Are The Retailers Who Showed Holiday Promise
View Comments and Join the Discussion!
Posted-In: Jeff MackeRetail Sales Top Stories Exclusives Tech Interview Best of Benzinga