Mitch Albom Talks About Cadence13, 'The Netflix Of Podcasts,' And Return Of 'The Sports Reporters'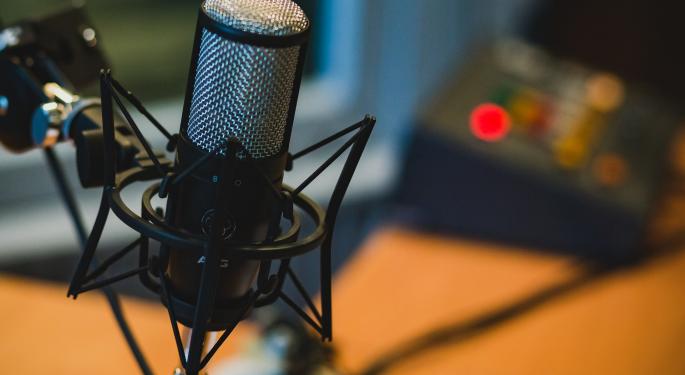 Just when it seemed like radio-format shows were a dying form of communication, Apple Inc. (NASDAQ: AAPL) came along and added support for podcasts to iTunes, breathing new life into the lungs of this struggling genre. Apple didn't invent the concept of podcasts, but it made it mainstream.
Today, it's estimated that 67 million Americans listen to a podcast every month, with average listeners consuming five per week. And popularity is surging fast; between 2015 and 2017, monthly listening rose by 45 percent.
Competition for the largest piece of the cake is becoming fierce. It's all about content, and there's one company determined to become the Netflix, Inc. (NASDAQ: NFLX) of podcasts.
Meet Cadence13
Cadence13, formerly DGital Media, is one of the leading creators of on-demand audio entertainment in the United States. Its programing partners include Time Inc (NYSE: TIME), Twenty-First Century Fox Inc (NASDAQ: FOXA)'s Fox Sports Digital, the UFC, Vanity Fair, Vox Media and Verizon Communications Inc. (NYSE: VZ)'s Yahoo Sports, among others.
The company offers about 60 unique podcasts, which generate approximately 7 million downloads per week. At first, much of the content came from third parties like Vox Media or Recode. However, as the business progresses, more content is produced in-house.
This is, in fact, the case of "The Sports Reporters," a TV show that ran for almost 20 years on ESPN. It was re-launched as a bi-weekly podcast on Cadence13 last month. The podcast is hosted by two of the show's former anchors, New York Times bestseller Mitch Albom, and award-winning columnist Mike Lupica, and features a rotating cast of renown sports writers like Bob Ryan of the Boston Globe, Christine Brennan of USA Today, Manish Mehta of NY Daily News, William Rhoden of the New York Times, and Lesley Visser of CBS Sports.
Benzinga recently had the chance to discuss the company with Albom and Cadence13 CEO Spencer Brown.
Some Background
Brown served as CEO at Cumulus Media Inc (NASDAQ: CMLS)'s Westwood One (formerly Dial Global), where he helped drive revenue from $25 million to more than $360 million, transforming the company into the United States' largest independent creator and distributor of national radio programming. He then decided to leverage his core competency around creating national audio, distributing and building audiences around it, and ultimately marketing and monetizing the audio, staring DGital Media.
"We decided to bring that model to a more modern iteration, that of on-demand audio, specifically podcasting," Brown told Benzinga.
Cadence13 recently closed an investment a strategic partnership with Entercom Communications Corp. (NYSE: ETM), the fourth-largest radio broadcasting company in the country, which invested approximately $10 million into Cadence13, receiving a 45 percent stake in the firm. The capital will be used to grow three main areas:
The reach of the sales team.
The size and speed of the production team.
The in-house development of proprietary technology.
Advertisers include Blue Apron Holdings Inc (NYSE: APRN), Harry's Razors, Quicken Loans, ADT Corp (NYSE: ADT), Lyft and Zip Recruiters, among others.
Guess Who's Back?
Upon hearing that Albom, author of "Tuesdays With Morrie," the best-selling memoir of all time, and Lupica, responsible for the "Shooting from the Lip" column, were re-launching "The Sports Reporters" as a podcast, excitement abounded. What prompted this rebranding?
"After 30 years of dialogue with the some of the greatest names in sports, we developed an audience that we came to think of as a community," Albom told Benzinga. "Once we connected with the team at Cadence13, we were convinced that podcasts offer a unique opportunity to re-engage with this audience from a new perspective. This new format allows us to dive into deep sports analysis, without the constraints of live TV. It gives us the freedom to connect these expert voices to our listeners across a wide range of outlets, from Apple Podcasts to Spotify."
So what did he mean by "the constraints of live TV"? How do podcasts offer a more flexible platform for listeners?
"For one, the podcast format allows us to engage with the leading and trending sports figures of the day in a much more efficient way," Albom explained. "Listeners not only get to listen to a more diverse array of opinions and expertise, they are able to do it on their own time, wherever they are. While broadcast has definitely made great strides in terms of video clips and snippets, podcasts really take an advantage in terms of accessibility."
The guests and topics will feel familiar.
"We're excited to engage with many colleagues who worked with Mike and myself at ESPN over the past three decades, now on a rotating basis ... Every Monday and Friday we'll have regulars like Bob Ryan, guests like Bill Rhoden, and so many more incredible sports professionals and commentators tackling subjects from President Trump's spat with the NFL to the latest news of the week."
"We hope it's as exciting for our viewers as it is for us," he concluded.
The Beauty Of Podcasting
"The beauty of podcasting is that it's limitless in terms of what can be generated," Brown said. "Our podcasts are designed to build both wide and narrow audiences ... Our interweaving theme is that we want to identify and partner with influencers in their various circles.
"We are not wedded to sports, or news, or politics ... We are wedded to people who already have audiences, or people that we feel can generate audiences because of their unique point of view. Of course, our team helps develop and build these audiences, because audience discovery and development is one of the most nuanced things in on-demand audio and podcasting.
"So, in a sense we've got a fully integrated offering where we can take the germ of an idea and, within a fairly short period of time, take that idea through fruition to where it's being broadcast and monetized."
View Comments and Join the Discussion!
Posted-In: Bob Ryan Cadence13Sports Exclusives Tech Media Interview General Best of Benzinga