Are Hurricanes Good Or Bad News For The Auto Industry?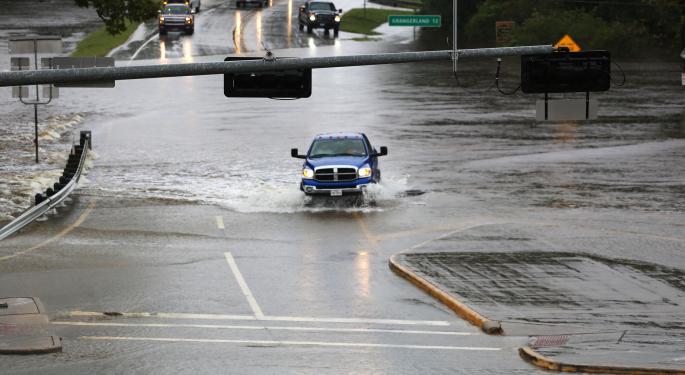 At first glance, the slew of storms striking the Gulf and southeast appears wholly adverse to the auto industry.
Local drivers suffer vehicle destruction and elevated gas prices. Fuel stations service fewer visitors. Resale consumers are duped into purchasing flood vehicles. Insurance firms see a swell in claims. Dealerships shutter and forfeit sales.
"We had anticipated that August would actually be the first month this year that was up over the previous year [in sales]. That didn't happen, and largely that's because of Harvey," Michelle Krebs, senior analyst at AutoTrader, said Friday on Benzinga's PreMarket Prep radio show.
The tempests also trash rental companies, between immediate business deceleration and the enduring effects of fleet damage.
"I suspect Florida's a huge rental car market," Krebs said, considering the potential effects of Hurricane Irma. "They're moving cars, but they will lose some for sure."
Glass Half Full?
But history suggests impact on the auto industry is neither permanent nor exclusively negative.
"We found that indeed shopping falls off, applications fall off, but as soon as the storm cleared, we saw that shopping went way up, applications for credit went way up," Krebs said. "There's going to actually be an uptick in sales [in Houston] because of so many vehicles lost."
The city is a big market, "a very car-centric market with very high ownership" seeing annual auto sales around 325,000. By AutoTrader estimates, Houston lost between 320,000 and 580,000 vehicles in Harvey, which amounts to about $5 billion in damages that will fall on automakers to replace, according to Krebs' calculations.
At the same time, she sees the storm's negative effects tapering off for rental companies as they order more cars to meet heightened demand.
Listen to the full interview with Krebs at 34:55 in the clip below
Related Links:
Trump, Democrats Agree On Package To Raise Debt Ceiling, Fund Hurricane Harvey Relief
________
Image Credit: "Hurricane Harvey Flooding and Damage" By Jill Carlson (jillcarlson.org) from Roman Forest, Texas, USA [CC BY 2.0 (http://creativecommons.org/licenses/by/2.0)], via Wikimedia Commons
Posted-In: News Topics Travel Events Top Stories Exclusives Media Trading Ideas Best of Benzinga
View Comments and Join the Discussion!